(Marvel Comics, 2015)
Story by Matt Fraction
Art by David Aja and Raul Allen
Colors by Matt Hollingsworth
This series has been one of the biggest surprises of the entire Marvel Now undertaking; Matt Fraction and David Aja set the bar in the stratosphere at the very beginning and have consistently reached or surpassed that standard issue after stunning issue. Hawkeye, as a character, lends himself so perfectly to this narrative with its dark humor, gritty realism and poignant human drama that there is a very genuine sense of emotional range just waiting for the right creative team to tap into, Fraction and Aja are quite obviously that team. The amazing thing about this issue is that it comes almost at the very end of their run yet it maintains all the power and panache that has come to define this brilliant series; witty, intelligent dialogue, uncompromising, realistic action and authentic emotion all rendered in slick, stylized imagery.
Hawkeye #21 is a precise amalgamation of what made this series so imaginative and original; it contains all the ingredients in one concise presentation which adds up to a rich, complex, multi-faceted narrative unlike anything else on the racks today. Fraction is like a mad scientist at work here as he combines edgy themes, antagonists that are at times bumbling yet violent enough to overshadow the comedic edge with an underlying humanity that is heart-wrenching and completely engrossing. His deep understanding of the science of storytelling has never been more evident than it is in this issue; the pace is brisk while revealing important details, the plot is progressed without feeling rushed or leaving anything out, this is great storytelling by a master of the craft.
There is an unmistakable and pervasive air of inevitability to this issue from the first panel on through the entire book that mirrors the story between Clint and his brother Barney which is unfolding concurrently. Fraction has used Barney as a narrative device at times to act as a sounding board for Clint to give voice to his inner feelings of inadequacy and to ground Clint in certain ways that only a brother could. Barney plays a major role in this narrative bringing about perhaps the most poignant moment of a tumultuous arc, as both brothers are irrevocably and permanently changed. Closure is stalking around every corner much like the clown who is literally stalking Clint through these pages. There is a tangible sense of ending as if the final seconds are ticking away on one of the most original series to ever see the light of day.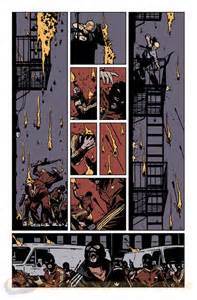 David Aja once again packs the visual punch that knocks this one out. Aja has such an intimate perception of what is happening in the story that his panels take on a cinematic quality, almost like viewing a film frame by frame. His use of images is so precise that you could follow the story without even reading a single word, that is the kind of chemistry shared by the best creative teams and these guys certainly are numbered among them. Colorist Matt Hollingsworth's use of muted tones and somber, subdued colors add to the poignancy of the narrative bringing a certain sense of beauty to the streets of this New York neighborhood. His choice of colors also grounds the action in much the same way Fraction's decision to keep Clint mostly in his civilian attire does. It heightens the sense of reality that very often is overlooked in a super hero comic book. This is perfection to the final heart-breaking panel.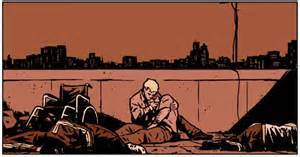 There is a bitter-sweetness to this issue that speaks to the narrative as well as the circumstances surrounding the series itself; parting is indeed such sweet sorrow and all good things must come to an end, but damn it sure does hurt to let go. Certainly Jeff Lemire will go on to tell some great stories with these characters and I will be here for all of them, but it will be a very long time before another Hawkeye series like this comes along. It the final moments of the Marvel Universe this is exactly the kind of brilliant story that should be being told in every Marvel title across the board; the kind of bombastic storytelling that says, "This is what the Marvel Universe was all about, for 75 years this is where the best stories were told." As Marvel takes the next step into the future let the past go out with a major bang not with phoned in stories that have no meaning. That's just my opinion True Believers. (5/5)
---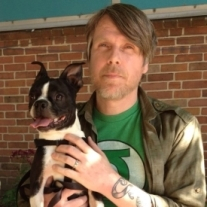 Shawn is an aspiring writer/ artist who has been reading, collecting and living comic books for over 30 years. He lives in Baltimore with his wife, their son, lots of cats, dogs and other various finned and furry friends.