(Marvel Comics, 2015)
Written by Kieron Gillen
Art by Salvador Larroca
Color Artwork by Edgar Delgado
Cover by Adi Granov
Marvel's return to publishing Star Wars titles has been a long time coming, but is off to a superb start with the flagship title drawing critical and fan accolades and now we have the first series to focus on the franchise's most iconic and complex villain, Darth Vader. Written by Kieron Gillen with art by Salvador Larroca, the series delves into the recesses of the dark Lord of the Sith beneath the paralyzing doubt and rage to shed some light on what exactly drives this one time Padawan of Jedi Master Obi-Wan Kenobi to the sinister extremes seemingly fueled by the opposing elements self-loathing and a megalomaniacal desire to rule the galaxy. Vader is a throwback to a time when the cenobitic Sith Lords adhered strictly to a militant rule of twisted spirituality and unwavering devotion to their masters. Gillen does a fantastic job of weaving in just enough elements of Vader's former existence as Anakin Skywalker to temper his malevolence with a tragic sense of innocence lost. The writer pulls Vader from the shadows he has been so often relegated to in other Expanded Universe works and cast him as the central figure of his own eponymously titled series proving in a single issue that there is much more to Darth Vader than we have seen thus far. Gillen focuses much of this first issue on Vader's role in the Empire following the events of "A New Hope" predominately the destruction of the first Death Star but also Vader's failure to avenge the death of this technological terror by killing the pilot responsible, Luke Skywalker, as we know now, his own son. This is the kind of rich, complex tapestry that Vader's story is woven into; it is a dark multi-faceted gem of contrasts, contradictions and character development.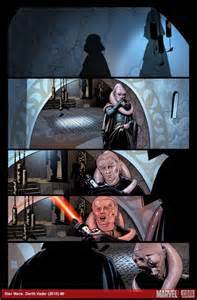 Gillen has done an impressive job in the past writing intriguing villains; his work on Journey Into Mystery is a prime example of how he has taken a villain and essentially transformed him into, if not the protagonist, certainly the driving character of the narrative with Loki. Similarly his Image book The Wicked and the Divine focuses somewhat more on the villains; he imbues these darker characters with tons of charisma and personality, an approach that is once again evident here in the first issue of Darth Vader. Gillen presents Vader as conflicted on many levels; he has failed his Emperor and in doing so has garnered Palpatine's disdain and at times outright contempt, he retains that imposing air that served him so well when dealing with underlings in the past however, he has lost all but a modicum of the official respect he held prior to his failure at Yavin. Palpatine is blatant and public about his reproaches toward Vader as he calls him out in front of others and in one scene treats him as an unwanted intruder when the Emperor is meeting with a shadowy agent. Gillen's Vader is a man in need of proving himself, of finding his footing after having the ground beneath him shaken and perhaps most importantly he is a man without a true understanding of his own past. These elements are all presented without an inner dialogue or the over use of flashbacks, instead Gillen just very adroitly crafts a narrative that enlightens us to the terrain through which Vader currently must navigate, both physically and emotionally. In employing this technique Gillen has steered his narrative much closer to the tonal quality of the original films than many other post cinematic endeavors while retaining much of the character enhancing mystery surrounding Vader.
This book is a perfect amalgamation of the original films and Gillen's writing style; the imagery is spot on as is the tone and pace of the narrative, granted this is a bit darker than Jason Aaron's Star Wars series proper but I think that is necessary because Vader doesn't lend himself to humorous situations or comedic banter. This book is by the very nature of the main character a heavier and more somber work, however, Gillen does not make it feel oppressively so. The overall effect is a work that is attractive to fans of the Original Trilogy while opening the door to those who have recently discovered the infinitely rich world of Star Wars.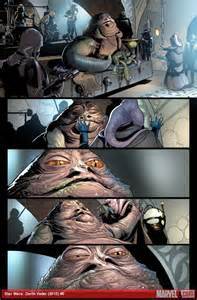 Visually the Marvel Star Wars books present artists with the daunting task of capturing the iconic images that have been burned into our brains for decades without feeling like they are simply regenerating scenes we have seen over and over. Like John Cassaday, Marvel's choice of Salvador Larroca to bring the world of Star Wars to life has proven to be an exceedingly wise one. Larroca has long been one of the most dynamic artists working at Marvel, his work on just about every one of Marvel's top tier characters including the X-Men, Fantastic Four and Ghost Rider has made him a fan favorite and go to guy for projects like this one. He very shrewdly weaves scenes directly from the original films into the panels of this issue enhancing the already cinematic sensibility captured by Gillen's script. Along with Larroca's ability to render the actor's likenesses extremely accurately, he is able to perfectly reproduce the iconic helmet worn by Vader in meticulous detail, a feat not so easily accomplished. Colorist Edgar Delgado also does an amazing job of capturing the rich colors of the films. He is able to bring a sense of realism through the use of subtly soft shadows giving the entire work an almost painted effect.
This second installment of Marvel's return to Star Wars is as impressive as the first. This creative team rises to the challenge and then some as they capture the tone and atmosphere of the original films. Gillen's story is engrossing maintaining a precise balance of nostalgia and new ground. Larroca does the same, visually nailing the likenesses of characters iconic and superfluous. This is an incredible new chapter in the mythology of Darth Vader and a must read for all Star Wars fans. (5/5)
---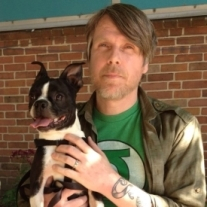 Shawn is an aspiring writer/ artist who has been reading, collecting and living comic books for over 30 years. He lives in Baltimore with his wife, their son, lots of cats, dogs and other various finned and furry friends.