The story you are about to read about Dallas Comic-Con: Fan Days is true.  The names have been changed to protect the innocent (not really).
It was a sunny morning in the Irving, TX Wal-Mart parking lot.  I was meeting my friend Rusty.  The day was sunny with a cool breeze coming in from the East.  Rusty was already there so we gave each other the normal limited speaking fist bump greeting, and proceeded into Wal-Mart to stock up on water, Red Bull, and sketch books.  All the essentials for the con we were about to attend.  The con starts at 10 o'clock, and we were already behind.  Rusty is on the camera today.  My name is Jonathan, and I'm here to observe.  This is our story.
Am I covering Dallas Comic-Con: Fan Days?  Yes.
Am I excited about this?  Very.
Did I just rip off the 60's TV show Dragnet with my intro?  Absolutely.
The Journey Begins
9:55 A.M.  We pull up to the Irving Convention Center, and are overwhelmed by the amount of cars that are already there.  The convention center parking garage is already full, so we jump in the line leading to the dreaded "grass parking lot".
10:05 A.M.  We are still inching towards the large plot of grass that will be my Chevy's home for the day.  The upside is getting to watch all of the con attendees walking by us.  One of the best parts of going to a con is the people watching.  We are not disappointed.  Back and forth, we try and peg who the people are dressed up as.  Daniel Bryan! Catwoman! The albino dreadlocked dude from Matrix 2…Or at least I hope that was a costume.
10:15 A.M.  The grass is ours!  Only $8, too!  Very surprised, and that means more cash to throw at artists and vendors on the floor.  Starting the day off on a positive note.
10:25 A.M.  We pass the inaudible bull horned rants of the hand full of extremist "Christian" protesters across the street from the convention center.  We aren't quite sure what their message is, but we are pretty sure it has something to do with not walking through the crosswalk without proper signal.  Good on them!
10:26 A.M.  We cautiously walk across the street while a neon red hand is flashing.  We hope the protesters are ok with this.  I mean we are following a police officer's instructions.  Fingers crossed.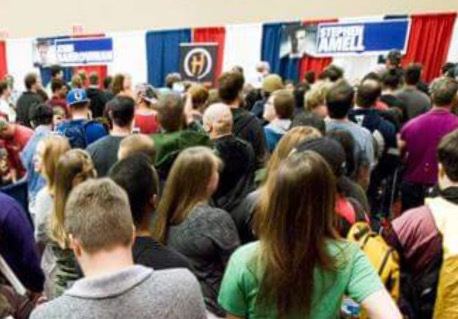 10:43 A.M.  After sitting in line to get our passes we have finally become fully fledged attendees of Dallas Comic-Con: Fan Days. 
Let the Con Begin!
Ok, from here on out I think we are ok not having a timeline.  No?  Fine!  Just for you OCD people, here you go.
10:44 A.M. – 6:00 P.M.  We enter into the main entrance, and are blown away.  Right off the bat we are overwhelmed.  There are so many venders it's hard to wrap your head around actually seeing everything.  They are centered in the middle of the convention floor with artist alley, and other specialty booths situated around the outside. 
Besides the venders, people are everywhere.  It is a little hard to walk around, but we need to start somewhere, so in typical American fashion, start on the left of the venders and work our way right.
If the venue of a con is the skin, then the meat of it is the venders.  This is where you can really dig in and find some really cool stuff.  The variety of booths is enormous.  From the mainstays, like the comic and figures booths to the unexpected booths, like the steam punk accessory place, you truly have about anything geeky you can think of.  Every vendor was different in its own way, and so every 10 feet you discover something new.  Whether you are into that specific thing or not, it's cool knowing that this particular corner of the comic and pop-culture world is home for someone.
As we ventured up and down the aisles, we decided to break off from the venders, and check out artist alley.  Artist alley is always a highlight at any con.  These are the pros that are "the real deals" of the floor.  We strolled by the likes of Val Mayerik, Andy Belanger, Mike Perkins, Chris Sprouse, and Joe Eisma.  After browsing various artists' tables, and exchanging a few pleasantries, we eventually ended up at Sam De La Rosa's table 
Sam was awesome.  He was super engaging, and was willing to take his time and talk about his work, and what he felt made a successful artist.  The gist: once you put your pen down on the paper, no matter what, you are judged on that.  So make it good every time.
After a great interaction with Sam we grabbed a few autographs from him, and decided to move along.
After a few hours on the floor we wanted to take a load off, and what place better than to check out a Q&A.  After looking at the con guide we discovered there were a lot of great panels to choose from.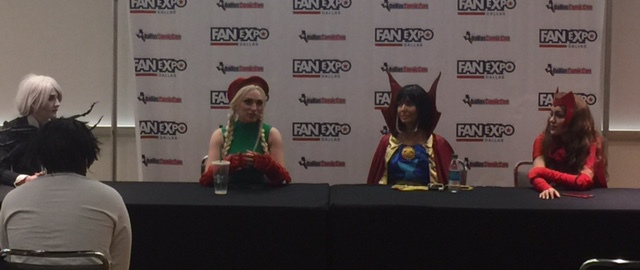 After getting jumped on by a con volunteer, for being in the Red Ranger himself, Austin St. John's VIP autograph line by mistake, we found the right room and walked into the cosplay panel with Krystle Starr, Jennifer Van Damsel, and Rosanna Rocha.  I'm not a cosplayer, so I assumed this would be only a place to grab a seat and relax for a little bit, but I was wrong.  It ended up being an interesting look into the world of female cosplayers.  The work that goes into it is insane, and the passion they have for it is second to none.  I left the panel having a greater understanding of cosplayers, and an appreciation for them that I didn't have before. 
Winding Down
Day 1 of Dallas Comic-Con: Fan Days was getting close to ending.  Rusty, my partner in crime for the day, and I made a final lap around the convention floor, making the larger purchases of things we didn't want to carry around all day. 
The day was almost over, and it had been a great one.  The Fan Expo guys put on a great con.  The floor was set up where things, although pretty crowded, seemed to flow pretty well.  The Q&A panel we went to was interesting, and well set-up.  The celebrities, including, Arrow's Stephen Amell, John Barrowman, and Brent Spiner, among many more, were there if that's what you are into.  Overall the con was fun, and I would definitely recommend this particular con to anyone in the area looking for a good time to geek out for a day or two.
We were about to leave, but there was one last thing that I needed to make this con a success.  Neil Adams has always been a hero of mine.  I respect him not only for his incredible artwork, but as a progressive force within the industry.  He has pushed the industry creatively, and has been instrumental in moving the industry forward with creator rights.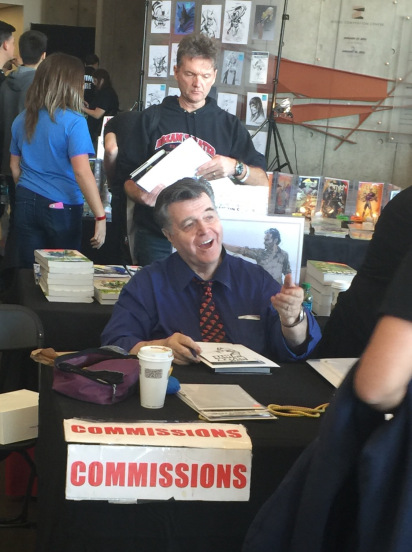 His booth was set up towards the outskirts of the main convention floor, so we headed that way.  To say it plainly and truthfully, I was a little bit star struck.  I picked up a Batman print, jumped in line, and there he was with his legendary smile and a Superman tie to boot.  I couldn't have asked for anything better.  Finally, I was to the front.  I handed his wife, Marilyn, my money, and exchanged a nervous greeting with him, and he couldn't have been more easy going and pleasant.  Before I knew it, I was outside of the convention center grinning ear to ear, personalized autograph from Neil Adams in hand.   
6:05 P.M. Rusty and I are laughing and walking back to my car talking about the day, and the great time we had.
This is what comic-con's are all about.  Fun times with friends and strangers alike, connecting over something we all love for a few hours.  We are able to feel a part of something bigger than us that at the same time embraces us all with open arms. 
In a few months, we in the Dallas area will have the 3-day Dallas Comic-Con, so there is always something to look forward to.  But until then, we will live off of our memories of Fan Days, and that will keep us sane until the next time we hand over a few bucks, and walk into the world we love.  See you then.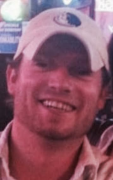 Jonathan Winchester is a writer from Dallas, TX where he lives with his wife Maddie and their annoying cat.  He believes Han was the lone shooter, that nothing looks better than a silver age comic in Mylar, and that there is no better feeling than walking into a dimly lit movie theater.
Twitter- @TexasWingnut