(Image 2016)
Written by Joe Harris
Art by Martin Morazzo
Colors by Kelly Fitzpatrick
Letters by Michael David Thomas
Design by Tom Muller
Well everyone, I'm back and bringing you a story that has never been so real. The weather across the country has been all over the place from blizzards at the beginning of the week to shorts and a t-shirts by week's end; the country's weather has people wondering what this means for the future of the world.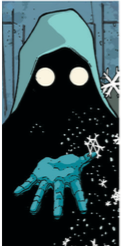 Well Snowfall #1 offers us one idea. Set in 2045, Joe Harris describes Snowfall as "… a future in which mankind has fucked the climate up so badly that it never snows anymore on its own." But it is what happens because of this that is what the comic is really about. Harris goes on to describe the setting of Snowfall as "… an America where corporate interests are so entrenched in our lives and politics that the climate finally going to hell merely presented a great opportunity to profit off disasters of our own making."
Snowfall reveals early on that this comic takes place in a utopian society, but as we all know, utopian societies are never what they say to be. And like many utopian stories, Snowfall, has people who wish to rebel against this corrupt corporate group called Hazeltyne Corporation and the "Cooperative States of America" that they have created. Snowfall starts with a fairy tale, about a princess in an endless sleep dreaming of snow and the White Wizard who will come to save her. I, like many utopian story readers, know that this fairy tale probably has some truth to it, and that the White Wizard will come and save the "Cooperative State of America." Or will he? A mayor of one of a resettlement calls the White Wizard a boogeyman of children bedtime stories, and yet, there is record snow falling to the point that buildings have collapsed and children have died.  Though this leads you to wonder, did the White Wizard really do this, or is Hazeltyne Corporation setting him up?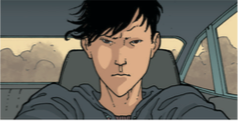 And if the White Wizard is responsible – it brings a whole new story line to consider. Utopian stories are usually black and white.  You have the ruling group that has brainwashed everyone that all is right and fair in the world, and you have the rebel group that sees past the lies to the truth of the ruling organization. In these stories the two sides go to war, and in the end the rebels win. It's a black and white story, just the way we like them. We live in a world where we like everything to be black and white. The bad guys all wear suits and have bald shiny heads and the good guys all wear red capes and have a giant S on their chest. The problem? We don't live in a black and white world. The bad guys smile when they see you on the street and go home to spouses and children and our heroes spend their nights at bars getting drunk and starting fights.  There is no such thing as a black and white world – and what if Snowfall is showing us that? What if the White Wizard really did kill those children? Whose side should you take? Do you join the corporation that has taken over the world by hurting it? Or do you want to join the hero of your childhood fairy tales, the man who will fight the overlords, but doesn't care who he hurts and kills in order to do it? So which side do you choose?
And this is the eye opening confusion that you jump into on page one of Snowfall. Full of strong characters with stronger beliefs, you wonder if the characters are what they seem or not. And even more so, you wonder if the world on the pages is as black and white as it first looks, or if it's a world of gray where neither side is all good and all bad. I guess only time will tell. So pick up Snowfall and get ready for a bumpy ride as you meet unforgettable characters and a world that will keep you second-guessing till the very last page.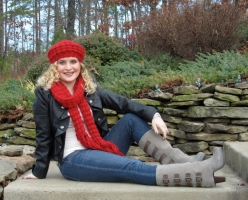 Ali is a creative writer with an emphasis on Sci-Fi/Fantasy and Comic Books. She first fell in love with superheroes when they were used to teach her to read. When not practicing at her dojo or out seeing the latest superhero movie with her friends, Ali can be found curled up on the couch with her dog and a good book.