What is Groupees.com?
That's the question I was asking when I first heard about this digital comic bundle.  So, thank you Google, I found out that groupees.com is a site that organizes games, music, and comics into bundles for charity.  What better way to help out and spread the comic love?
In this case, groupees.com has organized their "INDIE COMICS GROUPEE 2" with proceeds going to Direct Relief International.  For those of you who don't know, Direct Relief provides medical assistance around the world, from Syrian Refugees to helping to contain the Zika Virus.  It was ranked No. 1 on Charity Navigator's list of the ten best charities in the U.S.  (according to their website).
There are publishers on board that are real standouts in the indie publishing community.  Alterna, Athlita, Source Point Press, Wannabe Press, Warrior Innkeeper, Guardian Knight, and Vivid Publishing, all donated books to this great cause.  That in itself is a testament to the mindset of the indie comic community.  These people make comics for the love of the medium, and because of that they have a strong sense of community, both within comics and in the world as a whole.  These are good people.
The charity aspect of this aside, let's talk about the books you'd be getting in the bundle, should you choose to donate.
For a mere $1.  You get Wicked Game #1, Gears & Bones 1-4, Dreamkeepers Vol. 1, The Protectors #0, Katrina hates the Dead #1, The Black Suit of Death: The Ides of March, Jack of Spades Vol. 1: A Wild Card, and Metaphase.  For a buck.  And if you should decide to donate a dollar, how easy would it be to donate 3?  For an extra two dollars you get additional books.  Wicked Game #2, Sanitarium 1-4, Dreamkeepers Vol. 2, The Protectors #1, Ichabod Jones #1, Super Vampyre Bunny, and FUBAR: Declassified.  That's the equivalent of four trades and 17 single issues comics for 3 dollars, plus you get the "warm and fuzzies" knowing that it's going to charity.  And as a bonus, once they reach $1500 in sales, another book is added to you queue, Up The River #1.
So there you go.  Go over to groupees.com and check out their Indie Comics Bundle 2.  There are some great prizes and bonuses tied in to this, and time is running out.  (At this time, the deal ends in 6 days 15 hours.)  You get a pile of great digital indie comics to ever expand your mind and collection, plus the feeling of helping out, which in all reality is better than comics. 
For more information on Direct Relief International go to https://www.directrelief.org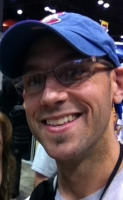 Brad Gischia is a writer and artist living in the frozen Upper Peninsula of Michigan.  He is married and has three kids and a dog, all who put up with his incessant prattling about comic books.
Twitter - brad@comicwasteland
https://wordbloonillustration.wordpress.com/