(Image Comics 2016)
Story: Jeff Lemire & Emi Lenox
Script: Jeff Lemire
Art: Emi Lenox
Colors: Jordie Bellaire
Letters: Steve Wands
Cover: Emi Lenox
Having made a pact to keep Plutona's body a secret, Mie starts to suspect one of her friends has broken their promise. Now, as Mie gets closer to the truth, a shocking discovery awaits this tale of five ordinary kids who happen to discover the body of Plutona, the world's greatest superhero, while out exploring the woods after school, reaches its penultimate issue with Plutona #4, the new Image Comics super-hero series by Jeff Lemire and Emi Lenox.
Following on from last issues chilling events, where Mieís little brother, Mike, discovered that nerdy cape-spotter / blogger Teddy had secretly moved Plutona's body with the intention of using the power in her blood to gain superpowers of his own, Plutona #4 ominously builds on the unsettling implications of Teddy's plan as the web of lies that inevitably spin out of it threatens to tear the kids fledgling friendships apart.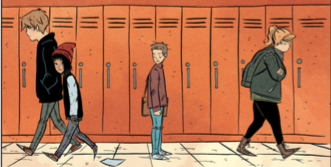 This fabulous breakout hit by writers Jeff Lemire and co-writer / artist Emi Lenox is, without doubt, an essential addition to your pull list. Foregoing all the usual bombastic superhero clichés and traits, Plutona is a wonderfully crafted story of everyday life, were fate has brought five friends together in the most extraordinary of circumstances. They are an eclectic bunch of characters, Ted is the uber-nerdy blogger, Ray is a rowdy tearaway with a sad home life, there's Diane who is very conscious of her weight, she also has a new puppy Loki, her friend Mie is the resourceful, popular one, and Mie's little brother, Mike, is always playing some video game or other. Lemire and Lenox have weaved a mesmerizingly frank story around these characters over the course of the series, covering everything from school life, teen angst, and the shock of finding Plutona's body, to forge a bond between them that will now be put to the test in Plutona #4 as events take a dark turn.
Beginning slowly, this issue finds Mie noticing that her little brother is acting even more sullenly than usual, it seems that Teddy has been ill and off school for a few days as well, and his return in Plutona #4 heralds the start of a series of events that will throw all of their lives into turmoil. With the media still oblivious to what's happened to Plutona, with speculation building that she might appear at a charity concert, Teddy continues to act very out of character, even turning his ire against Ray at one point. There are also fractures appearing in Mie's friendship with Diane as the green eyed monster of jealousy rears its ugly head.  Jeff Lemire and Emi Lenox make all the characters and situations in Plutona seem so believable that you cannot help but become caught up in the drama and angst, its heartbreaking to see the bonds between the friends being strained to breaking point, and the way that text messages often drive the narrative of this issue is so totally compelling and grounded in reality that the emotional beats of the story really strike a chord.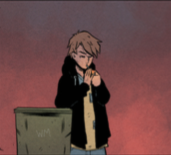 Emi Lenox's art for Plutona #4 is beautifully done, the bold panel layouts will effortlessly immerse you in the story with spellbinding clarity, and not a page goes by where you won't feel totally invested in these characters and their situation. The attention to detail is subtle, yet striking, from the telltale sticking plasters on Terry's fingers and the dark shadows under his eyes, all of his friends are gradually drawn into the haunting web of darkness that is closing in around his obsession with Plutona. It is here, in some of the more powerful scenes as the friends find themselves at loggerheads, that their expressions, awkward stances, and even flirtatious sidewise glances are all magically brought to life by Lenox's art, and Jordie Bellaire's wonderful colors heighten the tone and atmosphere of the issue even further to make it a truly sublime experience.
Noticing something is wrong with Mike, Mie is soon stepping in to look out for her little brother. However, while her differences with Diane remain unresolved for now, Mie learns that someone is busy sneaking into the woods in the dead of night, and nothing will prepare you for what happens nextÖ  Meanwhile in the backup story detailing the events set before Plutona's death, Plutona's fight with the White Wasp reaches a shocking twist, as Plutona unwittingly races into a trap believing victory is in her grasp.
Plutona #4 is another brilliant issue in this unique super-hero version of Stand By Me, with its excellent story by Jeff Lemire and co-writer Emi Leox, along with Emi Lenox's stunning artwork and the delicate colors of Jordie Bellaire, this phenomenal new Image Comics series continues to exceed all expectations with each and every issue. I cannot be recommended Plutona highly enough, don't miss it!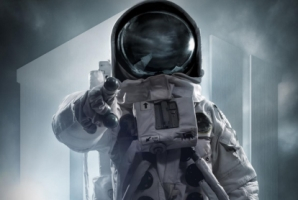 Paul Bowler is a self-Confessed Sci-Fi Geek, Doctor Who fan, and Zombie Disposal Expert. He likes movies, comic books, and all things PS3. He likes to write about his interests, would love to write a novel one day, and also enjoys chatting to the many people he has gotten to know on Twitter. When he's not busy being an Impossible Astronaut, he likes to take a break from his adventures in time and space to enjoy some of his favourite tv shows and movies, preferably with a nice cuppa tea & a sandwich! You can follow him on Twitter @paul_bowler, or find him at his website, Sci-Fi Jubilee.