By: Shawn Warner
     This Saturday marked my first Coast to Coast Comic Con, now as a veteran of several of the larger comic book conventions; I must admit this one was like none other in that it is a live streaming event.
Perhaps you are like I was and have little knowledge of this event in that case let me begin by explaining a bit; Coast to Coast Comic Con is, as I said, a live streaming event that is hosted in participating comic book shops the country, in my case I attended the event at the same shop I subscribe in, that being the mighty Twilite Zone Comics in Glen Burnie Maryland. Shop owner and all around great guy, Bumper Moyer was on hand to offer assistance and donuts to anyone in need of either. The event took place this year on March 4 and ran from noon to 8:00 p.m. eastern time. The guests included such industry big wigs as Jim Lee, Jim Zub, Charles Soule and Matt Kindt who appeared live via webcast from Emerald City Comic Con in Seattle. The speakers were hosted by Geeks of Comedy's very own Kevin White who served as master of ceremonies for the entire event.
Most of the big publishers including DC, Marvel, Dark Horse, IDW, BOOM!, Dynamite, Top Cow, Valiant and Diamond Select Toys were on hand as sponsors as well as presenters during the live event. Some of them provided limited edition C2C exclusive variant covers which were available for purchase at the host shops during the event, Twilite Zone had them all very prominently displayed for sale as well as an extensive collection of dollar box gems which were on sale for half price during the event. This along with having artist Shouri Majo on hand for commissions gave the entire event the feel of a real convention. I mean you could get a sketch, tons of great deals and attend panels with comic book big wigs, what more could you ask for from a comic con?
  After digging for dollar box gold myself I took a spot at the front of the shop where I could hear and see the live stream. Jim Lee spoke extensively about the new lenticular covers DC have in store for the upcoming "button event" which will crossover the Batman and Flash issues #21-22. Lee discussed the inclusion of Flashpoint Batman Thomas Wayne in the event which saw its inception a year ago in Geoff Johns' Rebirth one shot. He also spoke of Greg Capullo's return to the DC fold. As great as this news is the biggest thing for me to come out of Jim Lee's panel was the confirmation of Jay Garrick's return to the DC universe. When asked about his future plans Lee said he would be getting back in the trenches handling the penciling duties on 2 or 3 upcoming titles, however he would not reveal any names of characters or titles. He had much more to say when asked about DC's current domination of the weekly television schedule and how it effects the sales of books like Flash and Green Arrow; Lee affirmed that of course the added exposure of these shows has brought about an increase in sales particularly in trade paperbacks, but the real sales boast comes from the movies like Suicide Squad.
     Unfortunately I couldn't stay for all of the panels since I had my wife and our little furry companion Chloe with me; however I would have to say that the event was a resounding success and I am very much looking forward to next year's live streaming event. The crew at Twilite zone really pulled out all the stops to make this an event not just a televised interview show; form the Spider Gwen statue give away to the big in store sale, the day had something to offer everyone in attendance, even my wife ended up leaving with a pair Herman and Grampa Munster Mego style figures, which I might add I was able to get for her at an amazing price. So in my opinion, the future for the event once known as the In-Store Comic Convention Kickoff looks pretty darn bright indeed, particularly when paired with great local stores like Twilite Zone who go the extra mile to ensure the event is not only successful but loads of fun. Until next time my friends, Excelsior!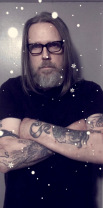 Shawn is an aspiring writer/ artist who has been reading, collecting and living comic books for over 30 years. He lives in Baltimore with his wife, their son, lots of cats, dogs and other various finned and furry friends.