To introduce Matt Miner is to introduce the quintessential indie creator. Matt is a man who has figured out how to translate his passions into a specialized media outlet. He is a man who has strong opinions, and those opinions are not, at first glance, easily translated into a comic book.
His first series with Black Mask Studios, Liberator, focused on people who would go to any length to save animals from abuse. That book was popular enough to spawn two follow-up series, Liberator/Earth Crisis and Critical Hit. Matt's latest book is called Toe Tag Riot, a zombie curse tale that cause the Westboro Baptist Church to label him an "insincere perv".
Matt Miner was kind enough to answer a few questions for us regarding his many projects and what the future might hold for this indie comic creator.
On Matt Miner –
Did you grow up reading comics? What were your favorites?
Of course I grew up reading comics! Favorites were everything from Dark Knight Returns to Groo the Wanderer and everything inbetween. Like now, I tended to go more for either funny comics like Groo or Spider-Ham or super gritty and violent stuff like The 'Nam or Punisher. But I definitely have a good and healthy love of all-ages superheroes, too.
Did you start out wanting to write for comics, or were you leaning towards a different medium? (ie, journalism, novels, etc.)
I originally wanted to write prose, and I still may do that. I went to school with the idea of being a writer, like as a living, and after years of rejection I stupidly gave up. Dumb thing is that I've read comics my whole life, in the early to mid 90s I lived in Portland – minutes from Dark Horse, and I never considered submitting anything for comics. It just literally never crossed my mind. So dumb!
What was your first published work?        
My first published comic was Liberator #1 and it came out the same day as my story in Occupy Comics #2. Pretty cool having 2 books on the shelf right out of the gate like that!
Were books like Liberator always the desired end point for you? Was it always a point with you to infuse your books with a strong moral stance?
Well it's just a part of who I am. I wouldn't say "moral stance" so much as "radical politics" are just going to be infused in my creator-owned writing to some extent because those beliefs are just a part of me. I know when to dial it back, though, and you won't find those messages in my work for hire work, at least as much.
What are you reading, comic or otherwise, that is inspiring to you?
I'm reading a lot of true crime stuff right now – studying up on serial killers like BTK and Dahmer for a thing I'm thinking of pitching in the future. The real-life nutjobs who actually do this supervillain shit are fascinating to me. Comic-wise I'm super into Saga, Deadly Class, Batman, and my friends Curt Pires and Chris Peterson have a book coming out called Mayday that is, seriously, my new favorite comic. It's SO good, so crazy.
Matt Miner's pull list – What are you reading now, and what writers inspire you?
Besides what I just mentioned, I'm reading Five Ghosts, Sex Criminals, Southern Bastards, Dead Letters, The Woods… I could go on for days. Garth Ennis is a big inspiration to me and I'm super looking forward to his upcoming Section 8 miniseries, but Preacher is without a doubt my favorite comic book of all-time.
You and Sean Von Gorman have a history of work together both with your story in Occupy Comics and your more recent release Toe Tag Riot, how did you connect with him?
Sean and I met on Twitter – it's a long story, but basically we got into a Twitter fight and ended up becoming friends afterwards. When Black Mask asked me if I wanted to contribute a piece to Occupy Comics about my experience with Occupy Sandy post-Hurricane Sandy, I asked Sean if he wanted to team up with me. We've worked together ever since.
How did you end up with Black Mask Sudios?
Well, I was getting ready to pitch Liberator and I found out about Black Mask and their Occupy Comics project. The company was very new at this point, but it seemed willing and eager to take chances on politically charged concepts. I asked one of the founders, Steve Niles, if I could pitch my animal-vigilante series and it went from there.
Would you ever want to write for a major character? What is your dream project?
Of course I'd like to write major characters! I have several dream projects but right now my ultimate would be to write Poison Ivy – she and I have a lot of the same views, and I love how she's a villain or hero depending on your point of view. Poison Ivy the eco warrior who operates in the grey areas is some of the best stuff and I'd love to tell some of those stories!
Liberator –
 You do a lot of rescue work yourself, what prompted you to turn that passion into a comic book?
There are real men and women who do the kinds of things that our characters do in Liberator and Critical Hit – they put on masks in the middle of the night and rescue animals and destroy property of abusers. I always thought those people deserved to be portrayed as heroes in the pages of comics, I mean to me they're basically real-life superheroes. The rescue work I do is less clandestine, but I have a huge respect for the animal liberation underground.
Do you think it's unusual, in today's market, for a comic to take on such a controversial topic?
Well, I think it's unusual that the topic is broached from a "pro" viewpoint, and probably more unusual that someone with a decent knowledge of how things work tackling it in comics destined to mainstream comic shops.
Have you had any unexpected pushback?
Honestly, we've had less pushback than I expected. I've been impersonated on Twitter and called a terrorist repeatedly, I've been ridiculed on fur trapper forums and warnings are sent out to furriers when new issues of Liberator and Critical Hit are to be released. All stuff I expected.
How has the reception been overall from the comic community?
Overwhelmingly positive. Very few people who disagree with the politics in the books bother raising a stink – mostly folks are just happy to find books with truly new concepts, whether they agree with the path the heroes in the book take or not.
With the Liberator/Earth Crisis series, you were able to team up with metalcore/punk band Earth Crisis to create a comic book/music compilation, sort of a multi-media super team. How did that collaboration happen?
They hit me up over Twitter and asked if I wanted to make a comic with them, to which I immediately answered "yes" or, more likely "fuck yes." I've been a fan of Earth Crisis' music for a long time and so this was a no brainer team-up.
Liberator has taken several titles, from the original series, to Earth Crisis, to the current incarnation, Critical Hit. Why did you choose to publish these in short, 3 or 4 issue runs, rather than just sticking with a continual run?
Each volume has a new direction, new spin, and so we wanted to signify that with the name change from Liberator to Critical Hit. With Critical Hit, our characters depart significantly from the traditional path that their real-world counterparts take and things go in a more comic-book violent direction.
Do you have a favorite moment from the series?
In Critical Hit there's a flashback scene where Jeanette and Sarah raid a fireworks store with a basement housing an underground dog-fighting ring. On the way out of the store with the dogs they decide to set fire to the place for good measure, and the resulting explosion of fireworks is a scene to behold. Jonathan and Doug absolutely killed that splash page and it hits all the right notes for me.
Toe Tag Riot –
 Toe Tag Riot focuses on a band cursed with success. It reads like a Tales from the Crypt episode, humorous at times, deadly serious the next. What were your inspirations for this book?
Inspirations were things like GWAR live shows, 1970s Japanese samurai films with the arterial blood spray, and the real world hate groups like Westboro Baptist Church.
As with the Earth Crisis book, you were able to get enough attention with this book that Andy Hurley, the drummer from Fall Out Boy, was featured in the first two issues. How did that collaboration happen?
Ah, Andy's actually in all 4 issues – issue 3 is on the stands 2/11! Andy and I started talking on Twitter since we share a lot of the same political views, we both do work for animals, and he dug Liberator. When Toe Tag Riot was starting up I asked if he wanted to be in the book and he was totally down. We're having a lot of fun with Andy's "character" for sure!
The Westboro Baptist tagged you as an "insincere perv". Did that change how you wrote the next issue of TTR?
 Hell no. Who cares what those clowns think? I figure if Westboro Baptist Church is against your work then you're doing something right.
Toe Tag Riot is a punk band, what bands inspired you growing up?
Minor Threat, Ramones, Descendents, Crass, Agent Orange, Fugazi, and Sex Pistols were some of my favorites as a youngster. I mean, there are literally hundreds of bands I could list as my favorites now, though.
Matt Miner's Playlist – What's on your iPod right now?
My what? Hahah.   What's on my phone right now is the Spring Breakers soundtrack, every GWAR album, a bunch of Ennicio Morricone soundtracks, and a ton of Joy Division, New Order, Sisters of Mercy, Project Pitchfork and Clan of Xymox.
My thanks to Matt Miner, who took the time out of his busy schedule to answer a few questions about himself and his work.
Matt has two comics releasing this week, Feb. 11, Toe Tag Riot #3 and Critical Hit #4. It's a testament to his writing chops that he's got two series going right now, and proof that your passion can also become a good story.
To see a review of Matt's newest releases click below
http://bagandbored.net/2015/02/10/review-matt-miner-double-feature-ttr3-and-critical-hit-4/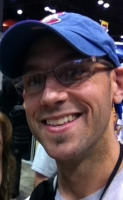 Brad Gischia is a writer and artist living in the frozen Upper Peninsula of Michigan. He is married and has three kids and a dog, who all put up with his incessant prattling about comic books.
Twitter - brad@comicwasteland