Greetings once again fellow Gothamites and welcome to the meeting of Bat-Fans we like to call The Weekly Bat Signal, where we the faithful gather to get all the Gotham gossip and converse about our very own caped and cowled crime fighter, The Batman. From Hollywood to the local comic book shops, we uncover all the latest details on The Dark Knight and discuss them in depth here in our community of Caped Crusader connoisseurs. This week we take a look at the dark world of The Joker's Daughter in the one-shot written by Marguerite Bennett with art by Meghan Hettrick, then it's over to Detective Comics #28 for the next chapter in Gothtopia written by John Layman with art by Aaron Lopriesti and Art Thibert and last but by no means least, we dive into all the monochromatic magnificence of Batman: Black and White #6. Lots of good Bat-Books on the racks this week so let's get right into our first one, Batman: The Joker's Daughter.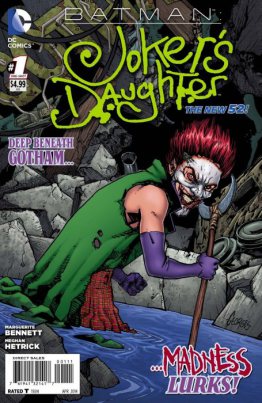 I was somewhat nonplussed by the villains month book featuring the Joker's Daughter, I didn't really see where it was going or how this poor, insane girl could possibly matter. I didn't completely dislike the book but I didn't like it anywhere near as much as I had hoped I would. I am admittedly intrigued by the character. As anyone who knows me can attest, the Joker is without question my absolute favorite villain of all-time, so if he in fact, has a daughter I am certainly interested in every facet of her story. When I heard of this one-shot I was not apprehensive at all especially since I am already a fan of Marguerite Bennett's writing on Talon and the most recent Batman annual, this was going to be the Joker's Daughter story I have been waiting for, I thought and boy was I right. This book is so dark, engrossing and poignant that it finally does justice to this strangely endearing yet deeply troubled character.
The girl's deluded thinking and misplaced paternal feelings attached to a serial killer present us with a pitiable character in spite of her own criminal ideations. This issue is the story of her journey in many ways not just her physical search for the Joker but her deeper search for her own identity. Her diseased attachment to a severed face and willingness to wear it over her own is indicative of her true desire to find an identity she feels comfortable with. This is a tale of redemptive suffering and delayed salvation. Bennett fills these pages with equal parts heartbreak and horror; her words are poignant and precise as she takes us deep into the Gotham underground and into the haunted hallways of Arkham on this spiritual trek in search of a damaged girl's soul and her deranged belief that the Joker is her father.
Visually Meghan Hetrick expertly navigates us through some extremely dark terrain. Her meticulous attention to detail exposes every scar, every stitch and every ounce of twisted longing in the character's eyes. Hetrick is equally impressive at handling the environment in which the story is set as she is with her character design elements. The book is truly gorgeous Bennett and Hetrick have collaborated on something truly special. If you didn't pick this up please grab a copy this week, if you can find one.
Next up is Detective Comics #28. Series writer John Layman hits his stride with this installment of his Gothtopia crossover. This issue focuses on the real Gotham now that the utopian façade has largely been dispelled and Arkham City is at the mercy of its inmates led by the Scarecrow. I like this story mostly for the odd chemistry between Crane and his unlikely band of cohorts, Professor Pyg and Harley Quinn among them. The crux of the issue is Batman's escape from Crane's influence and the clutches of his diabolical captors.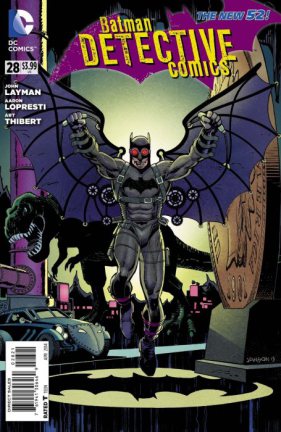 Layman has a tendency to over use narration when dealing with Batman at times, specifically here and in the referenced story from Batman annual #2. Not every aspect of his plan needs to be verbalized, much of that can be handled by Lopresti's artwork. Jason Fabok is conspicuously absent from this issue, mostly likely now handling work on Batman Eternal. Lopriesti does a fine job in his absence but Fabok's presence is definitely missed. Fabok brought a readily recognizable style to Detective leaving some mighty big shoes to fill.
Overall this issue is solid and enjoyable. Layman's narrative is intriguing, I have been a fan of his since Chew #1 and I have praised the work he has done on his Detective run. He has mastered the police procedural tropes that make both of those titles so entertaining and add a sense of realism to his stories. Visually this issue lacks a bit of Fabok's ultra clean line work and dynamic storytelling but Aaron Lopriesti definitely fills in nicely even though the two artists' style are vastly different.
The last book we are going to talk about is the final issue of the Batman: Black and White anthology. This issue ends the series on a very high note and is easily the best issue since #1. The stories and contributing talent are all top notch making this a must read for any real Bat-Fan.
The issue kicks off with "Clay" by Cliff Chiang. Chiang's narrative thematically deals with molding one's self-image while avoiding the influence of self-importance in the case of a very young Dick Grayson. The fight scenes are particularly innovative, Chiang choses some extremely dramatic angles from which to render Grayson's acrobatic combat style. He makes exceptionally good use of the black and white format, his painstaking attention to detail works to dramatic effect. I love this story and it sets the bar quite high for the rest of the issue.
"Bruce" is a story told from the perspective of one of Bruce Wayne's many temporary love interests. Written by Olly Moss with artwork by Becky Cloonan, this story is poignant in its portrayal of humanity and loneliness. Moss' narrative is perfectly brought to life through Cloonan's subtly nuanced artwork. Her depiction of the intimate moments is spot on as is her melodramatic take on Bruce's preoccupation with his other job. This is a clever look at the juxtaposition between Bruce and Batman, at the razor thin line that divides his two worlds. I would have to say this is one of the most unique stories in this series and one of the best as well.
"The Batman: Hiding in Plain Sight" showcases the multitude of talents possessed by Dave Taylor. Taylor uses a varied range of styles throughout this narrative, adapting each to a particular element of the story; from the heavily shadowed underground scenes to the delicate depiction of Gotham as seen from the sky, Taylor expertly employs a suitable style for each scene. His approach to composition fits well with the narrative and brings a certain sense of energy to the story. Overall this is another fine addition to this issue.
Adam Hughes brings Slam Bradley and Catwoman into the mix for "She Lies at Midnite" which is the only story that falls just a bit short in this entire issue. Visually, Hughes' work is stunning as always, his Catwoman is lithe and sensual without being sleazy and over-sexualized. The problem isn't with the artwork it's the portrayal of Batman as an easily duped fool. Hughes does write some entertaining dialogue for Slam Bradley and Batman, in fact the scenes the two detectives share are the only textual highlights of the short work. As if the characterization flaw of seeing Batman cripple a roomful of wrongly accused rival gang members while Catwoman is off committing another burglary isn't bad enough this version of the Dark Knight takes her out for ice cream when it's all said and done. Now I assume that is supposed to be funny however it just doesn't work, humor is something very few writers can get away with when it comes to Batman and Hughes clearly is not one of those select few. I could have done without this one but Hughes' gorgeous artwork and the Slam Bradley appearance almost make up for the atrocious writing, almost.
The final entry is "To Beat the Bat" by Dave Johnson, a dark tale told by a small-time hood over his years of run ins with the Batman. This guy just can't seem to get it right, the story is poignant and heart-rending especially the ending which almost leaves you feeling strangely sorry for the crook. I really loved this story; it has so much heart and emotion. Johnson taps into a relatable spot, everyone knows a guy like this so it's easy to feel sympathy for this character. You even get the feeling Batman feels some sort of grief at the end of this woeful yarn. The art is very suited to the time period of the narrative; it conveys a sense of nostalgia which works so well here. The ending is steeped in despair and a deep sorrow at a life mis-spent. This is a really great way to end this issue and this series.
This series was not as consistent as I would have hoped but it has more than enough shining moments to make it worth buying. This issue was a highlight of the run for sure but I would recommend the series in its entirety to any true Bat-Fan.
As we often do, we are going to close this installment of The Weekly Bat Signal with some news from Hollywood. This time it concerns the small screen world of Gotham. The cast of the upcoming Fox Television series will include; Ben Mckenzie as a young Jim Gordon, Robin Lord Taylor will be portraying Oswald Cobblepot/ The Penguin, Sean Pertwee will play Alfred Pennyworth, Zabryna Guevara as Captain Essen, Gordon's boss at the GCPD and Erin Richards will play Barbara Kean, an ER doctor and love interest of Gordon. That's all we have heard thus far in the way of casting, keep your eyes on the Bat-Signal for more Bat-related news from Hollywood and around the world.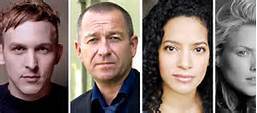 That's going to do it for another week; I hope you've enjoyed reading this week's edition as much as I've enjoyed researching and writing it. If so please join us here again next week, same Bat-time, same Bat-channel.
___________________________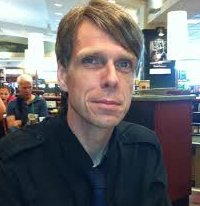 Shawn is an aspiring writer/ artist who has been reading, collecting and living comic books for over 30 years. He lives in Baltimore with his wife, their son, lots of cats, dogs and other various finned and furry friends.