(Image Comics, 2014)
Written by Kel Symons
Art & Colour by Mathew Reynolds
Lettered by Pat Brosseau
Having high expectations for a first issue of a new comic is only natural. It's the first time that the writer's creation meets its audience, and the roots and strands of all that's to come begin to spread and grow and take hold. I'm generally quite picky but when it comes to buying comics my pickiness is amplified. Or, should I say, when it comes to adding new series to my already balance-destroying pull list I take a lot of convincing. This is, of course, really just my way of cushioning the fact that I didn't enjoy this comic. Which is a shame because I'm really excited about Image - my favourite comic publisher bar none - picking up Bag & Bored and reviewing a #1 from the first batch they sent us felt like a big deal to me. And it still is. In fact, I feel like The Mercenary Sea is the kind of comic that makes Image special on a conceptual level: a rag-tag mercenary crew who want to escape their pasts searching for a mythical island and doing odd jobs for people, while the captain has a bounty placed on his head by a general. The scope and relative originality of the comic in 2014 makes it prima facie exciting, interesting, and worth reading. My problem with it was the execution I suppose. Firstly, I did not enjoy the segment where they were bartering in port. I found the exposition of character back stories through meeting a spy who starts reading their files out to them awkward. I also felt that too much time was spent bartering in port towards the end. At the beginning there was a similar peaceful visit to a tribe that gave Mathew Reynolds room to work and was a relatively effective opening to the book, despite the art not being to my personal taste. I say relatively because I felt that Symon's rendering of the tribe was a bit immature. The opening twist where they didn't attack and were actually friends with the capo, and all they wanted to do was eat popcorn and watch some western cinema, but they still made reference to cannibalism and the chief trading five of his wives… ach, you know, I just feel that whether tongue is sitting in cheek or sticking out, that sort of shit isn't particularly interesting any more. While the book is set in 1938 and its probably just a knowing attempt at vintage, we live a good sixty years after native writers started writing back against colonialism and imperialism, and the resultant compromised academic institutionalization of issues of colony took hold, which is manifest today in the largely kitsch field of 'postcolonial studies'. I think there's a massive amount to be said about that field, and there are leaps and bounds to go as far as discourse about East/West and Colonized/Colonial binaries are concerned – certainly about the inherently oppositional nature of the Manichean binary as a discursive tool, and certainly when writing a historical book. What I feel personally – and I don't mean this in a necessarily moralistic sense – is that that sort of encounter in a comic book isn't new or refreshing or interesting regardless of intention. I found it superficial and it made me feel quite pessimistic about Symon's vision going forward. Later, when the ship pulls into port the crew approach a bar emblazoned with Asian characters and the captain meets a woman called Ping. You know what? I'm done with this review.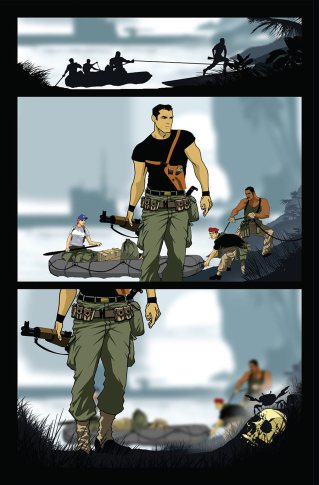 I'd like to say thank you to Image comics for picking up Bag & Bored. I hope my willingness to criticize adds weight to the praise I mete out at other times. Please read Revival – in my opinion the best current comic and a modern classic. Also, Rucka's Lazarus is worth picking up. A new Arc started with Lazarus #5 so that's a good jumping on point for new readers.
___________________________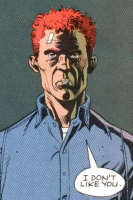 John is a writer, wrestling fan, and man of the people from Glasgow, Scotland. On a class outing to the library when he was ten, John stole a Sandman trade paperback because they wouldn't let him hire teenage books on his children's card. He's been reading comics ever since.