(Dynamite Entertainment, 2014)
Red Sonja: Berserker
Written by Nancy A. Collins
Art by Fritz Casas
Colors by Mark Roberts
Letters by Rob Steen
Main Cover by Joseph Michael Linser
Red Sonja #1 (Dollar Book)
Written by Gail Simone
Art by Walter Giovani
Colors by Adriano Lucas
Letters by Simon Bowland
Cover by Jenny Frison
I'm trying something a little different this week thanks to the Dynamite release of two titles with the same main character. Red Sonja has often captured our imaginations and hearts, whether it be the ogling admiration of a teenage boy or take-no-shit attitude of the strong female lead, there is an attractiveness to the character that cannot be denied. Even more so now, since Dynamite has gathered into its welcoming arms the talented Gail Simone (Batgirl, Welcome to Tranquility) to pen the main title, which she has been writing since late last year. This week is the re-release of the first Simone title, Red Sonja #1, a "dollar book" tractor beam to haul in new readers.
At the same time we have the release of Red Sonja: Berserker, a one-shot story by Nancy A. Collins. She is no less a scribe, known for her horror novels as well as writing for Swamp Thing, Predator, and Aliens comics from DC and Dark Horse respectively. The problem in contrasting the two books is not within the merits of their authors, but in the format of their story as the purview given by the overall form.
I'll say this. Both books have their merits, and I think both are true to the Red Sonja character in their own way. Both paint the picture, visually and within the context of the story, of a woman who is not happy with the role that is laid out for her in her world, one who is ready to do what she wants in any situation. Sonja has always been a woman who is described as a cold and calculating warrior, and there are moments of this in both.
Collins does take a moment though, and it plays into the larger story, to show that there is a maternal side to Sonja. I haven't read much of the original Howard work, but I'm sure, having read some Conan originals, that if it is similar in nature it was not heavy on the merits of motherhood. Collins shows how those merits could later effect the survival of said mother, and that despite her coldness to the "child" in this instance; she is not unmoved when something happens to that child. I get the feeling in this version that Sonja knows the score; she is a realist though not above taking the advantage to suit her needs. The pitch is perfect in this way.
The advantage Simone has is that she has longer to work. Her first issue is only the setup for whatever she and her team have planned and coming down the pike, whereas Collins must lay out the story and wrap it up in a comparatively short amount of space.
The Simone story shows Sonja as the warrior, the hard-nosed survivor, that I seem to recall from the original Robert E. Howard stories. She has a way about her that is wonderful to read, as when she is accosted by three men trying to rob her while she sleeps and she warns them, not because she thinks they'll beat her but because she's slightly drunk and afraid she'll get blood on her horse. That's the kind of stuff we loved from Simone when she wrote Batgirl, the willingness and ability to sort of fall into the character, to write a strong woman as she should be.
The art in each is of the highest caliber. The Jenny Frison (Revival, Hoaxhunters,) cover on #1 is a beautiful perspective drawing of Sonja. The interiors by Walter Geovani (Vampirella, Medieval Lady Death) are also quite nice. To compare the two, I think I liked the Fritz Casas (Miss Fury) art in the one-shot better, it was a bit more realistic looking, but both were stellar and that's just my opinion.
The mere fact that Howard created Red Sonja, and that she has survived this long and been rebooted several times by several different writers, shows that there is merit in such a character. There will always be another writer, another artist down the line that will take her in a different direction, but in looking at these two issues, we see that the basic premise has stayed the same. Red Sonja is a strong woman, in mind and body, who will not be trifled with, and in these days of that "twerking girl" (I'll not use her name and sully the site) and the one who named her baby after a color (ditto for her)…well, it's nice to see strong female characters like Sonja take the spotlight and crush it under booted heel.
___________________________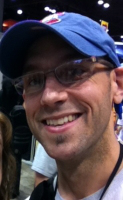 Brad Gischia is a writer and artist living in the frozen Upper Peninsula of Michigan. He is married and has three kids and a dog, who all put up with his incessant prattling about comic books.