(Dynamite Entertainment, 2014)
Writer – Bill Willingham
Artist – Sergio Fernandez Davila
Colors – Wes Hartman
Letters – Rob Steen
Main Cover – Joe Benitez
Character Designs – Johnny Desjardins
I've reviewed comics from Dynamite before and been impressed with the reboot they've done with their pulp characters.  They've all been enjoyable reads.  Then Bill Willingham was given the reins of Legenderry: A Steampunk Adventure, and their steam-powered wagon train went off the rails.
If you've never read anything by Willingham before, I would highly recommend his Fables series from Image, a re-imagining of the fairy tale universe that will have you scrabbling with broken nails through your local shop to get to the next trade.  Legenderry is comfortable territory for the talented Willingham, a short skip through a wormhole into another universe populated by pulp heroes and heroines rather than fables.  I dare say most of these could slip easily into the Fables world without so much as a "how do you do".
A quick disclaimer.  I am probably wrong in assuming that everyone knows what steampunk is, so I will give you the definition offered by Urban Dictionary, which I find to be pretty close to what I know it as. "Steampunk: a subgenre of speculative fiction, usually set in an anachronistic Victorian or quasi-Victorian alternate history setting. It could be described by the slogan "What the past would look like if the future had happened sooner." It includes fiction with science fiction, fantasy or horror themes."
In Legenderry: A Steampunk Adventure you get a Willingham writing to his strengths and enhancing those traits we love about pulp heroes through their steaminess.  He has an all-encompassing scope.  It's as if Dynamite said… "We have this list of characters…which do you want to use?" and Willingham grabbed the list and disappeared, returning with a script full of pulpy goodness.
In the first and second issues we see The Green Hornet and Kato and Vampirella.  The copyright credits at the beginning promise Red Sonja, The Six Million Dollar Man, Flash Gordon, and The Phantom, but knowing how Willingham can weave characters into a plot line, I wouldn't be surprised if there are others on the horizon waiting for their call up.  Just reading that small print at the beginning made me want to look ahead and find out who was going to be in this issue, a feeling I had when I first began reading the Fables series.  It seems that Willingham has found passion for a new project and it shows in the story.
Sergio Fernandez Davila has been working on the Red Sonja and Lord of the Jungle titles from Dynamite, and has brought his realistic style to this book as well.  There is a more angular approach to the figures that fits better with the angular world they live in.  Everything is based on the latest technology, which in this case is steam, but steam with a higher tech twist.
Legenderry #2 drops on Wednesday.  If you're a fan of the pulp heroes, Bill Willingham, Sergio Fernandez Davila, or any combination thereof, I strongly suggest you pick this up.  This is one of those series that I think will last a long time and many trades.  It's a steam-powerhouse, and sure to be a new favorite.  Full steam ahead!
___________________________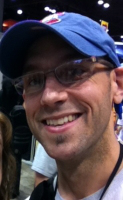 Brad Gischia is a writer and artist living in the frozen Upper Peninsula of Michigan. He is married and has three kids and a dog, who all put up with his incessant prattling about comic books.