(Boom! Box 2015)
Written by Noelle Stevenson & Shannon Watters
Illustrated by Brook Allen
Colors by Marta Laiho
Letters by Aubrey Aiese
This week we are looking at Lumberjanes #13. Now I myself haven't read the first twelve comics, but this is a great place to jump into this comic – and I have jumped on board. Now this particular issue was definitely more of a meet the characters comic, but there is a nice little hint of things to come, which definitely has you wondering what will come next – at least it does for me.
The comic starts off with what is clearly a camp of some sort with a woman walking through the camp. She soon comes to the flagpole where she hangs the Lumberjanes camp flag. The next few pages are the introduction of the girls of Cabin Roanoke.
First we meet Jo, whose fathers would prefer that she spend her summer at a robotics camp instead of the traditional camp they are taking her to. But she makes it clear that she would "…rather spend the summer with April. Can't I just have one more year where I don't have to worry about enriching my future?" Her fathers make it clear while they would like her to continue "applying" herself, they support her decision. They even stop and let her walk the last mile to camp since she doesn't want the other girls to see her pull up in a "James Bond" car.
Next we meet Ripley, a girl of mixed race and one of nine kids. When we first meet her she is getting picked on by one of her older brothers while another puts gum in her hair. She comes across as a bit shy to her counselor, and definitely is the youngest of the girls in her cabin.
Third, we meet April, a spunky fashion forward girl and the daughter of older parents. She shows her caring heart as the first thing she does upon entering the cabin is make friends with Ripley and helps her fix her hair from the gum incident.
Finally, we meet Mal and Molly. We don't get to see much of their family dynamic; as they are both alone once we meet them. Mal - a girl with a punk rock look – comes in a taxi and is explaining to the driver how she tricked her mother into letting her come to this camp. She also mentions that her mother really didn't pay much attention to the camp application as she was "determined to ship me off somewhere for the summer." As Mal is walking to the cabin she comes across a disheveled looking girl trying to hold all of her bags as well as read a camp map. As Mal helps her, we learn this girl is Molly and she is the last girl of Cabin Roanoke. Oh, and of course we can't forget about Jen, the camp counselor who seems just a bit overwhelmed by the girls who are quickly becoming friends – and of course not listening to her.
Now as I said, the majority of this comic is meeting the girls, but there are definitely some hints of things to come. So, reader, sit down on a log, roast a marshmallow in the fire, and let's find out if my suspicion comes true - that the ghosts of this camp story aren't all that fictitious after all.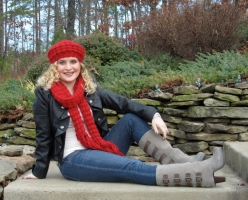 Ali is a creative writer with an emphasis on Sci-Fi/Fantasy and Comic Books. She first fell in love with superheroes when they were used to teach her to read. When not practicing at her dojo or out seeing the latest superhero movie with her friends, Ali can be found curled up on the couch with her dog and a good book.