(Black Mask Studios, 2015)
Toe Tag Riot #3
Written by Matt Miner
Pencils, Inks, and Letters by Sean Von Gorman
Colors by Savanna Ganucheau
 Critical Hit #4
Written by Matt Miner
Pencils and Inks by Jonathan Brandon Sawyer
Colors by Doug Garbark
Letters by Jim Campbell
Multiple projects. It's the wish and the curse of every working person. You want to stay busy and at the same time you feel so busy you can't catch up. As a writer, you always feel like you've got a couple of stories packed away in that trunk you call a brain, waiting for the right time to be let out into the world. Sometimes one of those ideas sees the light of day and gets the four-color treatment in its' own comic book.
Matt Miner has just that situation right now, times two. It's only a select few writers that have more than one project in the works, and even fewer who win the publication lottery. This week, Miner has two titles dropping on the same day, Toe Tag Riot #3 and Critical Hit #4.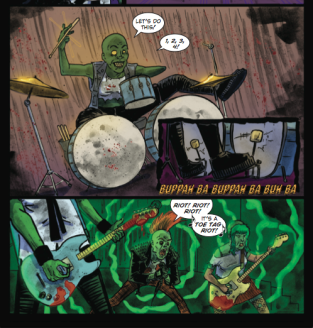 Toe Tag Riot is the chronicle of a punk band of the same name, who roam the country looking for dives to play in and the denizens of those dives to feed on. A witch cursed them because Dickie (the lead singer) may have had some congress with her granddaughter. Now they've traveled across the country with an eye on gigging near the Westboro Baptist Church. (They've already taken a bit out of Pat Robertson.) In this issue Andy Hurley of Fall Out Boy returns again to join the fray. This was another solid issue filled with gory punk and rockin' carnage. Sean Von Gorman (Pawn Shop) is a talent, making each and every bit(e) of this book a chewriffic treat. Savanna Ganucheau's colors make this look like a water-colored comic, lovely and just unusual enough so that it stands out on the shelf.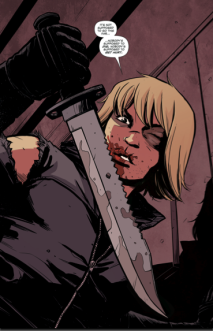 Critical Hit #4 is a departure from the gory fun of Toe Tag Riot, and the conclusion of the series. The third in the Liberator line of comics, Critical Hit combines the heroines from the first two series, Jeanette and Sarah, who joined forces in the first issue and have since found themselves in a whole heap of trouble. Issue 3 ended with them trapped in a shipping container in the woods, at the mercy of a bunch of hunters with itchy trigger fingers. Like the previous books, this one incorporates a bunch of flashbacks that show how the girls' friendship solidified, which makes the trust they put in each other make more sense as the story closes. Miner closes strong with this book, making me itch for a little more of Jeanette and Sarah.
Jonathan Brandon Sawyer (Imaginary Drugs) adds a more classically comic look to this book. His command of figure and layout is fantastic, and Doug Garbark's solid coloring make the book look as good or better than a lot of what you'll find near it on the shelves.
Matt Miner has proven with these two books that he can multi-task with the best of them, producing a serious look at what people will do to save animals and a book that seems the polar opposite with a zombie punk band, chewing on religious zealots. His passion for his subject matter is evident in both books, and what more can we ask of our comic creators?
*Toe Tag Riot #3 and Critical Hit #4 both release on February 11.
---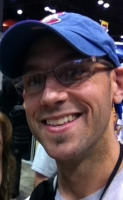 Brad Gischia is a writer and artist living in the frozen Upper Peninsula of Michigan. He is married and has three kids and a dog, who all put up with his incessant prattling about comic books.
Twitter - [email protected]