(BOOM! Studios, 2014)
Created & Written by Michael Alan Nelson
Illustrated by Dan Mora
Colors by Gabriel Cassata
Letters by Ed Dukeshire
There is no shortage of new books.  It's amazing to me that I spent so much time as I was growing up reading nothing but the X-Men and Superman and now, well, I can't tell you the last time I picked up a book by either of the big two.  (At least one that was released within the last five years.)  I'm so lost on the plot points after the Civil War that Marvel is a mystery.  The New 52 had me for a tenth of a second, and then they brought back all of the old-continuity characters (which they swore they wouldn't do) and it got all, to quote Dr. Who, "wibbly-wobbly".
Today though, as opposed to when I was a young, grass cutting and spinner-rack…uh…spinning youth, there are more companies with greater reach than there were when I was a child.  Smaller companies have embraced the digital format and because of that have gained a wide readership amongst the comic book crowd.
No company has embraced this new market, as well as expanding and enriching it, like BOOM! Studios.  They consistently put out new and well-made comics, and the #1's are continuous. 
This month it's Hexed, from the mind of Michael Alan Nelson.  With heavy-hitting titles like 28 Days Later and Fall of Cthulu under his belt already, Nelson brings Hexed to the racks, and it adds to the growing list of Boom! Studios titles that feel like must-reads from the get go.
It feels like Buffy the Vampire Slayer meets Thief of Thieves.  Lucifer (don't call her Luci) is an art thief for a prestigious house, who sponsors and hides her activities.  She begins the story in a very Bourne way, taking out opposing thieves on her quest for a painting.  Then she casts a spell carved into an apple…ah…you'll just have to read it.  But it's good.  Nelson has combined two very popular themes, the teen adventure and the thief, into one standalone story that encompasses the best of both worlds.  Lucifer is snarky and able but imbued with a sense of what is right that makes her likeable.  There are, of course, sinister elements at work around her, and already in the first issue she is making a sacrifice that wouldn't normally spell out a long run on the presses.  Despite the cliffhanger I feel like Nelson hasn't captained a sinking ship, only disabled the rudder and left us to bail water till issue 2.
Dan Mora is another gem that Boom! Studios has unveiled.  He has all of the talent and skill that would be required of any comic artist, and his designs for the more macabre aspects of this story are top notch and wonderfully weird.  (Pay special attention to the Harlot.  One of my favorites.)  Gabriel Cassata (Loki: Ragnarok and Roll) colors this, and, though colorists don't often get much attention as opposed to other on a book, use different tones to accentuate the forms.  In the Harlot pages, he uses striking contrast with the red tones in the background to make the figure pop in the fore, it's all wonderful work.  (Hug a colorist today.)
Hexed should be on your pull list.  Michael Alan Nelson and Co. are proof that small companies like Boom! Studios know how to put out comics as well, and they don't need years of confusing history to be enjoyable.
__________________________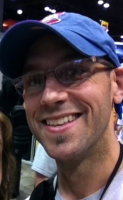 Brad Gischia is a writer and artist living in the frozen Upper Peninsula of Michigan. He is married and has three kids and a dog, who all put up with his incessant prattling about comic books.