(Image Comics, 2014)
Writers: Jim Zub & Will Hindmarch
Artists: Jeff "Chamba" Cruz & Royce "FooRay" Southerland
Letterer: Marshall Dillon
Skullkickers created by Jim Zub & Chris Stevens
Summary: Skullkickers is a zany adventure story about two warriors and their search for fame, money, and all-around glory in battle. Set in a fantasy realm usually, this issue takes a turn for the different and introduces 4 alternate reality versions of the main characters. To give you a taste of what these two might look and act like under different genre-specific settings. We have an ancient China setting, a Batman & Robin-spoof, a far-reaching space adventure, and finally a biker-gang zombie thriller.
Review: This is my first issue of Skullkickers. And thankfully, there is a small introduction at the beginning to make note of this fact and introduce me to the difference between this issue and other, previous issues. As I say, if your story is a continuation, it's always best to introduce your new readers with a small blurb at the beginning that says so. It was also a fun introductory read too, so I didn't feel absolutely confused by what was in store for me.
Jim Zub is actually someone I am familiar with, even if I haven't read any of his stuff before now. I've read his posts on his website about approaching making a comic, getting into the field, and pitching an idea. All of which have been very helpful to me. I had wanted to pick up Skullkickers for a while, but was just never able to get around to it.
The issue is actually pretty fun, and I can gather all I need to know from our heroes just by reading the stories. One's short with an axe, and the other is tall with a gun. They're best bros and they go on zany adventures. No matter the reality. That's all anyone should have to know to jump right in, so even though this issue doesn't feature the actual main character, I'm already prepared for when I eventually do meet them.
Wells does mention this isn't just a one-off introduction to these heroes either, but they're in fact tied to a larger story that will take place in the upcoming final issue of the Skullkickers series. So I can view this as a sort or prequel to something as of yet undetermined. Color me intrigued.
The stories are all different, featuring a different setting and slightly different variations of these characters in personality. With the first, the Chinese setting, being the most drastic (but also the most fun to me). They are short, and to the point though and I did find myself hoping some of them were longer. Especially the space-faring adventure one by Hindmarch. I think that's biggest crime to this story, the short abruptness to all of them. The Batman-Robin spoof is the funniest to me, and the weakest story is the Zombie-thriller. It just didn't capture me like the others did.
The art is great all around, really delivering a fun and dynamicness from both Chamba and FooRay (those are really fun names to type up). The characters have a rounded boldness to them that is I find fitting for their adventures, and for some reason reminds me of an UDON book art style (the people behind the Street Fighter comics).
I was actually rather thrilled with this issue, even if I still have yet to read a Skullkickers featuring the actual, main duo. All around good stuff, I just wish the stories were longer.
Final Score: 4.5 Skullkickers from Alternate Realities out of 5
___________________________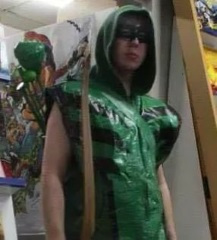 Derrick is a born and raised otaku with a love for comics, anime, manga and movies. The full list is pretty long, but that's just the basics. Stories set in space are his bread and butter.
You can find more of his writing at IndieComix.net