(Black Mask Studios, 2014)
Toe Tag Riot #1
Written by Matt Miner
Pencils and Inks by Sean Von Gorman
Colors by John Rauch
Lettered by Sean Von Gorman
Matt Miner, king of the Kickstarter komics, extra "k" for dramatic effect, is back, and with a hunger that can only be satiated by human flesh and punk rock.  Toe Tag Riot #1, the much-anticipated first issue of Miner's latest series, is on shelves Wednesday, and it is everything that you'd expect from Mr. Miner.
Along with longtime collaborator Sean Von Gorman, Miner drops his newest offering to the comic gods in the form of a zombie punk band, ready to chew up the competition and gnaw through the mores established by rock and roll icons.
Toe Tag Riot is not only the name of the comic but also that of the featured players in the story.  They are a band formed of various long-timers, those who stood out from other bands and couldn't handle the b.s. that goes with working with musicians.  Together they took a pledge to each other, and to someone or something else it seems, and they turn into zombies at will.  But the curse of fame also comes with all the other problems of being a modern zombie-about-town, and the hunger that drives your average stumbling chewer also affects our heroes as well.
This story, while recalling all of those horror comics from the 50's, also twists the tale a bit.  It feels like the aftermath of a Tales from the Crypt instead of a straight Crypt-style story.  As if, after the surprise reveal, there were another twenty pages for the writer to explore what zombie life would be like.  It has that tongue-in-cheek (not necessarily your own) humor that pervaded EC books, and it doesn't take itself too seriously.  It's refreshing in a time when serious comic stories abound, to find someone who is willing to inject a little silliness into their work.
Sean Von Gorman, who has worked on other Miner projects Pawn Shop and Liberator, brings his own brand of art to the book, a style that has tinges of King of the Hill artists Mike Judge and Greg Daniels, and the wonderful gore that is always splashed on the pages of a Geof Darrow comic.  Von Gorman has really begun to blossom as a steady comic artist and his style will only continue gain popularity.
Matt Miner has never pulled a punch when it comes to the ideas that he embraces and the beliefs he holds.  Those beliefs resonate through his writing, from his love of animals and their welfare in the Liberator series, and the strange ways peoples lives connect in Pawn Shop, to the zombie genre and punk music in Toe Tag Riot, Miner follows that age old adage "write what you know" and infuses it with "write what you love."  It's why everything he does is so effective and works so well.
So here we are on the cusp of another Miner title, and each and every one continues to rise above the one before it.  Sean Von Gorman's art evolves at the same time, bringing his own unique style to the ever-increasing list of Miner titles on comic shelves.  Toe Tag Riot #1 is worth the cost of admission, and if it feels like your comic stack is getting to be too much to handle, ask the zombie across from you for a hand.  It's probably getting a bit squishy by now.
---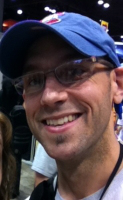 Name: Brad Gischia
Twitter Account: @comicwasteland
City: Ishpeming, MI
Brad Gischia is a writer and artist living in the frozen Upper Peninsula of Michigan. He is married and has three kids and a dog, who all put up with his incessant prattling about comic books.