(Marvel Comics, 2014)
Writers- Kieron Gillen & Marguerite Bennett
Artists- Phil Jimenez, Stephanie Hans, Tom Palmer & Romulo Fajardo
Angela made her Marvel debut back in issue 10 of the Age of Ultron event series, appearing more like a last minute addendum or ill-conceived afterthought than a heralded addition to one of the most celebrated cast of characters in modern history. Met with disdain by some fans and just plain disinterest by others, Marvel has done little to change many minds about this celestial wayfarer from the days of chromium covers and print runs more in line with creators' egos than actual sales. The result of brilliant writer Neil Gaiman and upstart artist Todd McFarlane, Angela was originally part of the Spawn mythology first appearing in issue 9 of the original series then in her own three issue mini-series also written by Gaiman but, this time drawn by the vastly superior artist Greg Capullo.
Since entering the Marvel Universe Angela's presence has been somewhat underwhelming to say the least besides her final page appearance in Age of Ultron, she has appeared in a Guardians of the Galaxy arc, which was quite good it seems Brian Bendis can make almost any character dynamic and entertaining as well as the Thor and Loki Original Sin tie-in mini-series. This time around Kieron Gillen is at the helm; his critically acclaimed run on "Journey Into Mystery" makes him an impeccable choice and extremely well suited for the job. His previous experience on a title with so many fantasy elements definitely serves him well as is evident after reading this first issue. Gillen's Angela is not an easy sell, she is unlikable, stoic and rather one dimensional, the saving grace of the issue is the angelic assassin's comrade in arms and apparently only friend, Sera, also an angel-not-an-angel of sorts. Sera is fleshed out in the sub-story co-written by Gillen with Marguerite Bennett where she goes on at length to more fully explain who exactly Angela is and bring us up to speed with such bits of information as why Angela is traveling with a baby in tow calling to mind Lone Wolf and Cub. 
In the main story we see Angela and "cub" wander into a town on the outer perimeter of whatever planet they are on, part old west ghost town part Mos Eisley space port, a wretched hive of scum and villainy, in search of Sera. Gillen's decision to have much of Angela's back story told in Sera's voice makes connecting with the lead character difficult and given her already off putting demeanor this becomes almost impossible. The dialogue is a bit stilted and corny in the way that fantasy dialogue can sometimes be but I can forgive that for a more heroic or at least affable character. This is certainly not indicative of Gillen's best work, however there is enough story to generate interest if not to excite. The action is largely centered on Angela's supposedly legendarily lethal fighting skills; she is depicted shark-like in her silent, cold precise killing style which she employs with ethereal swiftness. My main problem with Angela in this issue is that there is little to like or to dislike for that matter, she is almost a non-entity in her own book. The one thing we learn about her and her angelic ilk is that they possess an almost pathological desire to settle debts. Gillen touches on this aspect several times in the issue giving Angela the feel of a bill collector more than an assassin but it does at least give us some insight into what drives these angels who are not angels.
Phil Jimenez turns in some extremely solid pages for the main story. His work is highly detailed with a sense of realism to his interpretation of anatomy. There is an energetic flow and dynamic staging to his action sequences that keep the pace from lagging even in the exposition heavy scenes. The sub-story art is handled by Stephanie Hans; her watercolor method conveys a faery-tale sensibility and works extremely well with the subject matter. Both artists' styles work well together in spite of the contrasting dynamics. Visually, this book succeeds on just about every level; Palmer's inks and Fajardo's colors over Jimenez's intensively meticulous pencils results in one stunning page after another.
Overall this issue just doesn't give us enough Angela, the character still remains shrouded in mystery but not in an intriguing way more in an ambiguously unsure way that creates more confusion and questions as the story goes on. I really like the idea of this character and I hope Marvel finds an inventive, imaginative and coherent way of using Asgard's newest assassin but there appears to be quite a bit of work ahead to make that a reality. I will be back for the next issue but if things don't develop quickly I can't say for how many more, of course I believe in building a character and allowing a story to progress organically but at $3.99 a pop I need more than this issue delivered. (3/5)
---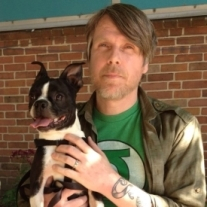 Name: Shawn Warner
Twitter Account: @shawnwarner629
City: Baltimore, MD
Shawn is an aspiring writer/ artist who has been reading,
collecting and living comic books for over 30 years.
He lives in Baltimore with his wife, their son, lots
of cats, dogs and other various finned and furry friends.