(Image Comics, 2014)
Review by Shawn Warner
Story by Rick Remender
Artwork by Wes Craig
Color Artwork by Lee Loughridge
Lettering & Design by Rus Wooton
The 80's were amazing years to be a kid; Punk Rock reached its political apex, Nintendo broke new ground in the gaming arena, The Bones Brigade set the skateboarding world on fire, hip hop was in its infancy, Star Trek had entered its next generation and I was a pre-teen outcast reading Spider-Man and wishing I could be bitten by a radioactive arachnid or at least be as "cool" as Peter Parker. Rick Remender definitely seems to remember those uncomplicated, care-free times of mis-spent youth in his new series Deadly Class set in San Francisco in during the tumultuous yet somehow serene Reagan years.
The series follows lead character Marcus, who is suicidal at the beginning of this issue, as he takes his lumps daily eking out a meager existence by picking pockets and begging on the streets, making his way by the skin of his teeth. Marcus is being consumed by his past mistakes and the results of too many bad decisions. However, unbeknownst to him he is being watched from the shadows by Saya, a member of a secret academy of young assassins called the Kings Dominion School of the Deadly Arts led by a mysterious little bald man. Saya has been watching Marcus for months and she sees something in him that she feels would make him an excellent candidate for enrollment at the academy, convincing the other students of this proves to be the real test.
Remender does a fantastic job of hooking us at the very start of this narrative. He establishes the era and the setting with the first page then dives right into our introduction to Marcus. We meet him on his daily grind of pan-handling and writing in his journal, his one prized possession. Marcus is at once engrossing and sympathetic, he is anyone of us who made a bad decision at a crucial crossroads; the honor student who ends up hopelessly addicted to heroin after one bad decision to try the drug for inspiration like so many of his literary heroes, the cheerleader who ends up in the porn industry after a bad decision to let her "boyfriend" record them together on prom night and the list goes on. Marcus is the mascot for the disenfranchised youth and Remender develops this character so well that you feel you know him by the middle of the issue. He is likable, intriguing and complex in that way that Holden Caulfield is complex. Marcus is just waiting for that one opportunity that will propel him out of the doldrums of his current situation and into the stratosphere of the life he just knows he was meant to live, a life of importance. It is either that or death for Marcus as he literally ponders his decision on a ledge, one bad decision away from oblivion.
Marcus' opportunity comes in embracing a hidden proficiency at killing, he doesn't even know he has it but when Saya brings him to the school Marcus' world changes, his life can now be lived with purpose, killing. Remender meticulously enlivens each one of the students, imbuing them with individual attributes, personalities and chemistry fertile with potential plots and premises. The interactions of these characters feel so natural and their voices are genuine giving the dialogue an added sense of realism. You will immediately want to learn everything about this cadre of young killers and the world Remender has created for them to live in.
Wes Craig's visuals are stunning, bringing to mind the emotionally charged work of Sean Murphy and the kinetic style of Paul Pope. His storytelling is energetic and vivacious. His pages come to life with an extremely inspired use of irregularly shaped and sized panels. Craig's art is scarcely contained as the images threaten to leap from the page. His character designs are spot on for the time period, he perfectly captures the era with attention to details like Chuck Taylor Converse and Doc Martens on their feet, tribal tattoos, fish net shirts and lots of black clothes. The hair styles scream 80's as well. This is a gorgeous book to look at over and over. Lee Loughridge does such a nuanced and emotive job of coloring this book that each page captures a different tonal quality. The use of muted and flat tones gives the entire work a somber feel that fits the narrative to a tee.
Overall, Deadly Class is comic book storytelling as an art at its finest. Remender and Craig have created a world that is unique and inviting yet dangerous. Deadly Class is a story told in shadows. The dialogue rings true, the action is balanced and believable and the plot is completely engrossing. I am reading everything Rick Remender is writing and this book is a perfect example of why you should be too. Comic books like Deadly Class are the reason why I can't wait for Wednesdays. I recommend picking up every issue of this series (5/5) and reading them frequently. So until next time, see you at the comic book store.
___________________________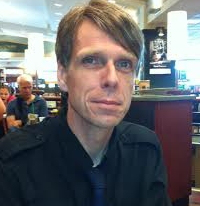 Shawn is an aspiring writer/ artist who has been reading, collecting and living comic books for over 30 years. He lives in Baltimore with his wife, their son, lots of cats, dogs and other various finned and furry friends.