(Dynamite 2016)
Writer: Nancy A Collins
Art: Kewber Baal
Colors: Schimerys Baal
Letters: Simon Bowland
Cover A: Tyler Crook / Colors: Vinicius Andrade
Cover B: Gabriel Hardman / Colors: Jordan Boyd
Cover C: Francesco Francavilla
Cover D: Rony Fleecs
Subscription Cover E: Robert Hack 
The iconic square-jawed demon-killing hero Ash is back, as Dynamite Entertainment brings us the latest chapter in its flagship saga: Army of Darkness Furious Road.
The world has gone to hell in Army of Darkness Furious Road #1, quite literally, set twenty years in the future, the Deadites and their unstoppable Army of Darkness have overthrown virtually all of western civilization. As a result of the Deadites victory, other supernatural species including creatures such as vampires, witches, and monsters of all kinds have struck an alliance with the remnants of mankind in order to survive and fight the Deadites in the apocalyptic nightmare the world has now become.
The last hope for humanity and their monstrous allies rests with the arcane ritual that will send the Deadites back to the hellish realm that spawned them. Now it's up to the rag-tad team whose numbers include the Frankenstein Monster, and Eva, the daughter of Dracula, to complete this perilous mission, but first they must locate the infamous spell book known only as the Necronomicon Ex-Mortis and confront its custodian, Ashley Ash Williams!

After the success of the characters return on the small screen in the first season of Ash vs. Evil Dead, and with season 2 on the way, there has never been a better time to check out Ash's comic book adventures.  When it comes to the comic books, we've seen the Evil Dead's eponymous chainsaw wielding anti-hero Ash tackle all manner of supernatural threats, now horrors most celebrated Deadite slayers next comic book adventure sees him cast into the harsh reality of the future in Army of Darkness Furious Road. This new five-part series from Dynamite Entertainment explodes from the page with gleeful goriness, as writer Nancy A. Collins propels us into a high-octane horror adventure overflowing with Lovecraftian weirdness and set in a twisted Mad Max style future where the Deadites have all but driven humanity to extinction.
This first issue serves to showcase and establish all of the  main characters in the team assembled to find the Necronomicon. Nancy A. Collins quickly introduces everyone on the team as Road Trip sees them battling their way through the Deadite horde on the outskirts of Detroit. The action unfolds at a furious pace, with familiar Mad Max tropes and the cackling lunacy of the Deadites visceral Evil Dead horrors melding seamless as one, and the fun doesnít let up after they reach the barricades of their destination either!
Kewber Baal's artwork for Army of Darkness Furious Road captures the apocalyptic tone of the series perfectly, and I love how we catch a glimpse of the Dynamite logo on a ruined building! From the opening moments we are thrust right into the middle of the teams daring mission as their convoy of vehicles race through Deadite ambushes, but it is arguably once they reach the S-Mart that we really get to see just how diverse and resourceful this team can truly be as they battle their way through more Deadites in scenes which stylishly highlight their abilities during a sermon of unflinching violence, and there's even a few magical surprises as well!
The Deadites all look as demonic and crazy as hell, indeed, they seem even more powerful than ever, and the sight of them laughing and burning when theyíve been set on fire is genuinely chilling. It all steadily builds up to the moment where Ash finally makes his entrance, it certainly proves well worth the wait, and the ensuing difference of opinions leads to an exciting face-off between Ash and Gnarly the Werewolf. Kewber Baal  does a great job with this first issue, the great cast of characters are all well realized, and the ominous atmosphere and gritty tone of Furious Road is enhanced further by Schimerys Baalís excellent colors. Army of Darkness Furious Road #1 also has some terrific multiple variant covers to look out for by Tyler Crook, Gabriel Hardman, Francesco Francavilla, Tony Fleecs, and Robert Hack as well!
Horror and Evil Dead fans are in for a real treat with this new Dynamite comic book series. It's bold, violent, campy, and bursting at the seams with fun references and in-jokes. The premise may seem like a crazy mash-up, but it works so well, there are lashings of gore too, and it's also a lot of fun. Army of Darkness Furious Road #1 gets the series off to an action-packed start, with its fast-paced story by Nancy A Collins and impressive artwork by Kewber Baal, get ready to fire up that chainsaw and enjoy some serious no-holds-barred payback for humanity as Ash and his motley crew unleash some gore soaked Deadite slaying action to save the world,  groovy!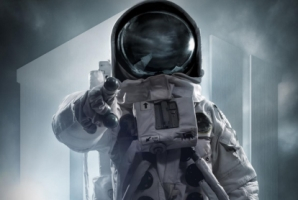 Paul Bowler is a self-Confessed Sci-Fi Geek, Doctor Who fan, and Zombie Disposal Expert. He likes movies, comic books, and all things PS3. He likes to write about his interests, would love to write a novel one day, and also enjoys chatting to the many people he has gotten to know on Twitter. When he's not busy being an Impossible Astronaut, he likes to take a break from his adventures in time and space to enjoy some of his favourite tv shows and movies, preferably with a nice cuppa tea & a sandwich! You can follow him on Twitter @paul_bowler, or find him at his website, Sci-Fi Jubilee.