By Shawn Warner
With the release of the much clamored for Deadpool movie just days away Marvel has been whetting our collective appetites for all things Deadpool for quite some time now. There has been a deluge of mini-series, one-shots, on-goings, variant covers and team-ups all featuring the Merc with the Mouth hitting the racks consistently since well before the idea of a Deadpool movie was ever considered even the most remote possibility; now that it is a reality, Marvel has ramped up the frequency of seeing Deadpool in multiple books on the weekly basis by tenfold.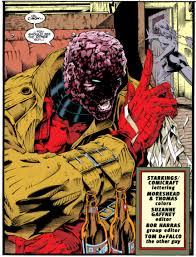 Created by Fabian Nicieza with the costumed being designed by background and foot-phobic "artist" Rob Liefeld, Deadpool was originally little more than fodder hired by the villain Tolliver to take out  time traveling mutant Cable and then take up residence on the D-List of Marvels one and done villains. In his costume completely stolen from Spider-Man, with the addition of Liefeld's trademark ridiculously abundant pouches, Deadpool was the butt of his own joke; even his name, Wade Wilson is an obvious pun aimed at DC's Deathstroke, Slade Wilson. It should come as no surprise to anyone who has ever suffered through anything Liefeld has attempted to write that this bit of clever tongue in cheek satire is credited to Nicieza. In 1991 the red and black clad mercenary made his debut in New Mutants #98; however the Deadpool we have come to know and love was still a few years from breaking through that pesky fourth wall in all his disfigured, mentally unbalanced glory.
     After a recurring albeit slightly less than starring role in the subsequent mutant series X-Force, Deadpool began popping up in other Marvel titles including The Avengers, Heroes for Hire and even a Daredevil annual. In 1993 Fabian Nicieza took on the character once more, this time in his own four issue mini-series titled Circle Chase and this time Nicieza was paired with the vastly more talented artist Joey Madureira. Joey Mad was not only a thousand times the technical artist Liefeld could ever hope to be, his style was so much more suited to the character and the narrative; his visually exciting storytelling bristling with kinetic energy was just what Deadpool needed to come to life. The very next year saw the second Deadpool mini-series this time by brilliant writer Mark Waid and dynamic artist Ian Churchill. Admittedly, Deadpool was not the type of character Waid felt comfortable writing but the series was entertaining none the less.
Finally in 1997 Deadpool was featured in his first eponymously titled on-going series; written by Joe Kelly with art by then newcomer Ed McGuiness this is where the Deadpool of today was first glimpsed and developed. Many of the cast of misfit characters associated with Deadpool also saw their origins in this series of particular importance; especially in light of their inclusion in the upcoming movie are Blind Al and Weasel. Kelly left the book in the capable hands of Christopher Priest who is quoted as saying that by issue 37 he has come to the realization that "it was okay to make Deadpool look stupid." The series ran a total of 69 issues before Gail Simone took Deadpool in yet another direction as Agent X.
     In 2004, Deadpool creator Nicieza returned to the character as writer of the Cable and Deadpool monthly series. At this point Deadpool has been firmly established as the sharp witted, foul mouthed Merc who breaks bones and the fourth wall with apparent ease and malice of forethought. The next time Deadpool would headline his own book would be in 2008 when Daniel Way and Paco Medina launched their genius on-going series. This ushered in a kind of Golden Age of Deadpool and with it came several more on-going series including in July 2009, the short lived but brilliant, Deadpool: Merc with a Mouth written by Victor Gischler with mind-melting visuals provided by the stellar artist Bong Dazo. This was quickly followed in November 2009, by the reverse numbered, Deadpool Team-Up written by Fred Van Lente with art by yet another amazing artist, Dalibor Talajic. Along the way Deadpool made memorable appearances in Wolverine Origins, Thunderbolts and Spider-Man to name just a few.
     In 2010 Gischler followed his Deadpool opus Merc with a Mouth by unfortunately teaming up with the lackluster Liefeld on the visually disappointing, background lacking Deadpool Corps. In this disenchanting debacle a tiny footed Deadpool is joined by several ill-conceived companions all with the word pool as a suffix added to their monikers and all woefully misshapen with such poor anatomy they appear to have been drawn and designed by a child, and not a particularly artistic or creative child, perhaps a blindfolded child. Anyway, suffice to say that Deadpool Corps is the one glaring misstep that tarnished the Golden age of Deadpool.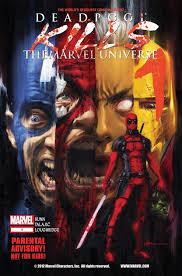 As bad as this series was it could not stop the Deadpool juggernaut that was tearing through the Marvel universe; Marvel Knights and Max both saw Deadpool arrive at those respective imprints with Duane Swierczynski and Jason Pearson bringing us Deadpool: Wade Wilson's War and David Lapham writing Deadpool Max with art by Kyle Baker. Marvel Now also brought us a new iteration of Deadpool and what a great book this turned out to be! Written by Gerry Duggan and Brian Posehn with art by Walking Dead co-creator Tony Moore this series boasted some of the absolute best Deadpool story arcs to date maintaining that biting comedic edge while introducing some really heartfelt and poignant elements to Wade Wilson's character. Duggan and Posehn went on to much more fully develop and flesh out Deadpool giving the character some much needed depth without taking away any of the razor sharp wit we have come to expect and love from Marvel's most crass and possibly most popular character since Wolverine. All of these creators have brought something to the character; some worked astonishing well others not so much (small feet not good) but all of these elements have resulted in the Deadpool we see monthly in the All New All Different Marvel Universe when we read Gerry Duggan's fantastic series as well as when we sit down in that darkened theater to be berated by the Merc with the Mouth on February 16th, so I for one think that a giant collective thank you is due these creative guys and girls who have severed as the parents and surrogate parents, aunts, uncles and friends of Deadpool.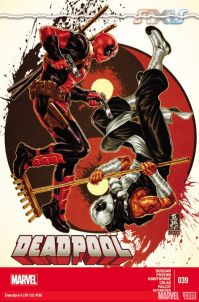 Last week Deadpool and the Mercs for Money #1 hit the racks; written by the impossibly busy and prolific Cullen Bunn with art by Salva Espin this current Deadpool mini-series calls to mind Nick Spencer's satirical and edgy Superior Foes of Spider-Man. Bunn's narrative is brisk and feels familiar, but not in a bad way, it's just full of the kind of things we love about this character. Espin's art is a sensationally good fit for this book as well as Deadpool in general. His dynamic, exaggerated, almost cartoony rendering of anatomy works wonderfully here. His energetic style of storytelling and seemingly innate understanding of movement give a certain poetic expression to his posing and body language. While the story is familiar the visuals are fresh and together that makes for one heck of an entertaining read. I will be here for #2 and beyond.
     Well True Believers that is going to do it for my Deadpool edition of State of the Marvel universe. I hope you have enjoyed reading it as much as I enjoyed bringing it to you. Don't forget to take your sweethearts to see Deadpool this weekend, the perfect Valentine's Day date. Until next time this is Agent Y saying Excelsior!
Shawn is an aspiring writer/ artist who has been reading, collecting and living comic books for over 30 years. He lives in Baltimore with his wife, their son, lots of cats, dogs and other various finned and furry friends.