(Madius Comics 2016)
Written by Robin Jones
Art by Gareth Sleightholme
Vikings and monsters and tales of daring-do.  What more could you want in a comic?  There is a long history of stories that follow the epic adventures of Norsemen who faced unparalleled danger by venturing out into the ocean and striking out for new lands and plunder.
Such real-life adventures have inspired centuries of stories, the most notable being Beowulf.  That tale made an impression on me as a kid, and I can see shades of that story in the new Madius Comics release, The King's Leap, from Robin Jones and Gareth Sleightholme.
Here we happen upon a longhouse filled with young vikings who sit around an aged crone and listen to her tales.  Like all children, they crave the scariest stories possible, and the crone tells the epic of Gulbrand.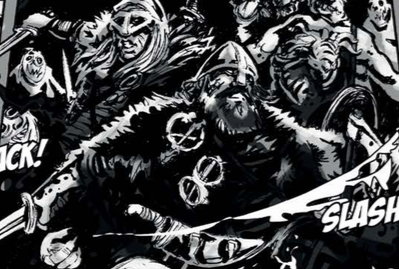 This king is the perfect hero.  Brave, loyal, fair, everything that you want in a ruler.  That kind of king attracts a certain kind of follower.  They are the best of the best.  When the kingdom is threatened by a thief of children, the king does what he must and gathers his warriors around him, and off they go into the mist to destroy the monster with sharp steel and flashing mail.  It's an adventure worthy of a bard's song.
Robin Jones has really captured the essence of the epic tale here.  Although The King's Leap follows the same pattern as Beowulf, it is certainly it's own story.  Jones certainly is able to build a convincing narrative and one that follows a specific path.  Gulbrand acts the way the way the hero should, and the fast-paced action leaves little time for the weighing of different choices.  There is also a great moment at the end of the issue that ends the story in the sweet spot, though you'll get no spoilers from me.

I was unfamiliar with Gareth Sleightholme's work before this, but I'll be sure to keep an eye out for it from now on.  The comic is done in grayscale, and Sleightholme uses this to maximum effect.  HIs drawings show an amazing amount of detail, and his action sequences are as fast-paced as the script.  Here there be monsters, and Sleightholme draws some fantastic ones, creatures that recall Lovecraft and those great beasts in Pacific Rim.
The King's Leap is a great little one-shot from Madius, a story that would seem at home on the big screen or told around a smoldering fire.  Robin Jones has captured the essence of the epic tale and twisted it with Gareth Slieghtholme's steady hand on the pen.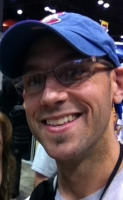 Brad Gischia is a writer and artist living in the frozen Upper Peninsula of Michigan.  He is married and has three kids and a dog, all who put up with his incessant prattling about comic books.
Twitter - [email protected]