Jump SQ (2014-Present)
Story and Art by Mitsu Izumi
Summary: As a gardener served in a rural manor, Awyn wished nothing more than peaceful days along with his lord's daughter, Marie. One day, he accidentally woke up a demon sleeping in a nearby mountain. What she wished was to have him as a servant before felling the heaven and turn this world into her garden. Awyn of course declined the offer. However, not long after that, the town Awyn staying was suddenly raided by Knights Templar who supposed to protect the country. Awyn was then presented with choices: Will he perish along with the garden and his dear ones, or become demon's servant and have this world perish instead… [7th Garden Wiki]
[[SPOILERS!!]]
Review: Comprising of the first 4 chapters of the series, 7th Garden is a rather interesting tale set amongst an Medieval backdrop while incorporating many elements from Catholicism. Such as it were in the days where faith ran corrupt with power once the Vatican was in charge of Europe so too does this story take those roots and feature a world where the faith is again corrupt.
Awyn is a young gardner in service of his mistress, Marie who's entire world is completely changed when one day he opens up a secret area of the garden he attends to find a sleeping demon hidden away. Now most of that's covered in the summary above but the arrival Wurde really does signal a change in not just the story but literally the world around them.
To repeat a bit more of the summary the Chruch attacks the village where an unsuspecting mass of people are blindsided by this force that is suddenly slaughtering them and from there Awyn is forced to choose whether to remain unmoving in helping these people he loves, or to take Wurde's offer of power as her servant in order to save them all.
Surprisingly the story does take a dramatic twist when Awyn, even with his new powerful blade presented to him as a gift for his servitude to Wurde, fails to save anyone and his town a mistress are slaughtered right before his eyes. But to add to the surprises once Awyn has passed out from fighting to exhaustion, upon his awakening he discovers the village has gone completely back to normal. As if the slaughter had never happened.
We later learn the Church remembers they attacked the village however, like  Awyn, can't figure out how everything has returned to normal. And so more knights of various levels and strengths are sent out to slaughter the demon village once again in search of Wurde. This frustratingly becomes the norm as each chapter then begins to feel like a monster of the week story.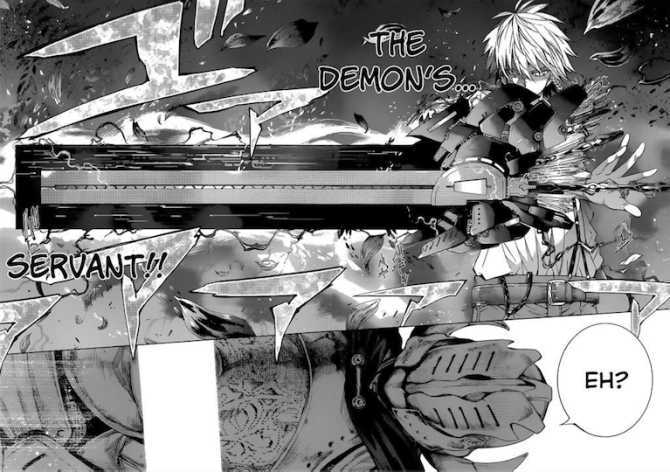 Instead of progressing the story forward and allowing Awyn and Wurde to embark on an incredible journey to discover this world and learn what's really going on with the Church – especially after Wurde drops the bomb that this world is led by 6 angels and she plans to kill each and every one of them out of revenge – the manga instead chooses to keep both of these characters within the confines of their village while making the villains come to them.
I really don't like this lack of story progress as it keeps the narrative feel stiff and boring when you look at it from an action-series p.o.v. Which is desperately tries to be. By chapter 4 one of the Angels and her servant are brought to the village to destroy it themselves. And while we get some great backstory on the angel's servant we still see almost the same fight formula happening over and over that not even the first boss battle seems interesting.
Now there is a big twist at the end of this volume that has me very intrigued but I won't say what happens on that front. For the most part I enjoy all of the characters, many of whom get some great depth added to them allowing for the full cast to feel a bit more rounded than they would normally. But I do feel a bit of that is at the detriment to the overall story but because of the ending to volume 1 I'm withholding my full judgment on that for now.
The art for 7th Garden is absolutely beautiful, the story may be weak in some areas but the visuals more than make up for it. You can definitely this is where Izumi excels and prefers to place their emphasis when crafting a world. The scenery is beautiful to look upon, the characters all have great design to them, Wurde is incredibly attractive and Awyn is quite the bumbling badass.
I'm very interested in seeing where this series goes from here. It hasn't completely sold me yet but it definitely has some points of intrigue. I can't wait to read volume 2 and find out what meaty revelations lie within.
Final Score: 3 Knights of the Corrupt Church out of 5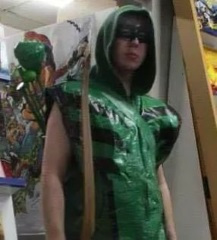 Derrick is a born and raised otaku with a love for comics, anime, manga and movies. The full list is pretty long, but that's just the basics. Stories set in space are his bread and butter.
You can find more of his writing at IndieComix.net
@KazekunForever