(Seven Seas 2012)
Story & Art by Okayado
Storyline Ongoing
Summary: It's every day life with Monster Girls in this ecchi comedy, telling the harrowing tale of a young man named Kimihito Kurusu who builds a harem of young, attractive girls with animalistic features. From a Lamia (half-snake, half human) to a Centaur (half-horse, half-human) and more.
In this world, a new law has passed allowing for the co-habitation of these "monster races" and humans, and but some races are still in need of human contact before things become truly normal. Thus Kimihito is unwillingly thrown into the role of "host family" for these girls – sort of like exchange students; whether he likes it or not.
[SPOILER WARNING!!]
Review: Another fun chapter for Monster Musume as Miia gets out there to find a job! One thing I enjoy about this series is its easy accessibility as a fun series with generally no overarching story and several one-shot chapters so that you can jump in at any point.
This is another one of those chapters where we focus more solely on Miia as she attempts to find a part-time job after she realizes everyone else around the house is doing their part to pay for their rent and utilities around the house.
Unlike everyone else, Miia is actually a part of the inter-species exchange program and essentially a cultural student. So she's kind of the exception in that she's supposed to live with Kimihito and doesn't have to pay for all that stuff.
To her credit though she decides to help out her darling. Both because she cares about him and two to make sure she's not outdone by her fellow roommates. Which is in line with her character but still commendable.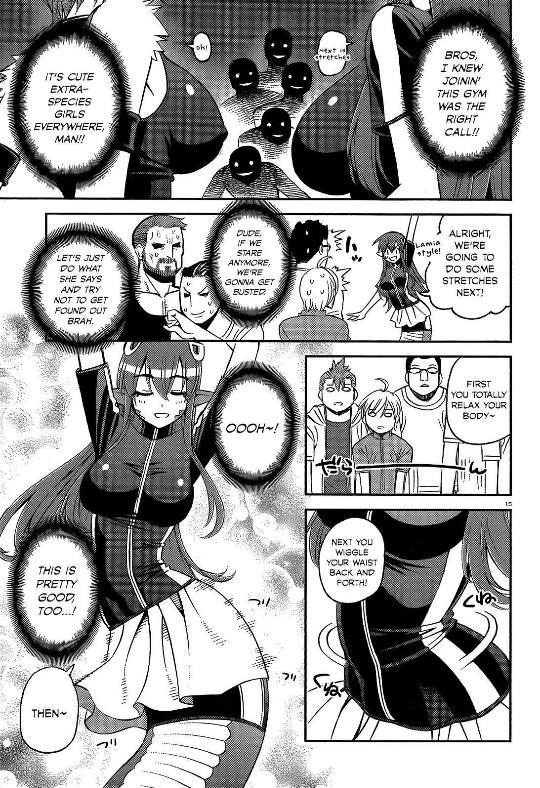 So throughout the story we get to see her meeting up with various past characters in the series and teaming up with them to see what job would be a good fit for her. These characters/jobs range from Polt the athletic Werewolf that runs the local gym, allowing Miia to dabble in personal training. To the return of Merino and the farm on the outskirts of town where Miia is almost forced to give milk for its "nutritional advantages." That was my favorite part of the chapter because we got to see Merino again. I love Merino.
Though she struggles to find a decent job due mostly to her unique look, that being a large tail that just can't fit everywhere, ultimately she finds the right fit for her as a part-time shrine maiden which I think is pretty fit for Miia as a character. Plus she looks really cute in her shrine maiden outfit.
This was a really fun Miia chapter overall and it evens finds time to focus a bit on Centorea at the end as well as she attempts to find a job and gets hired by Smith to protect Kimihito from the oncoming storm of monsters that found themselves illegally in the country quite a few chapters back.
I'm excited for next chapter as it will be a Centorea focused chapter. But for this Miia chapter I truly enjoyed it as well.
Final Score: 4.5 Beautiful Goat Women out of 5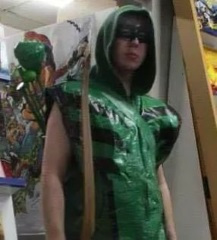 Derrick is a born and raised otaku with a love for comics, anime, manga and movies. The full list is pretty long, but that's just the basics. Stories set in space are his bread and butter.
You can find more of his writing at IndieComix.net
@KazekunForever