(Titan Comics - 2016)
Writer - Cavan Scott
Art - Staz Johnson
Colors - Rodrigo Fernades
Letters - Rob Steen
I just finished binging on season 4 of Vikings from the History Channel.  Say what you will about the programs featured on that particular cable station, Vikings, although perhaps not perfectly historically accurate, is a completely enjoyable drama series, one that hooked me pretty quickly and had me chanting along with the warring tribes "Ragnar! Ragnar! Ragnar!"
So it's pretty perfect that I've just had the chance to read through Titan Comics' spinoff comic.  This book takes place, as bluntly stated on the credit page, between seasons 2 and 3 of the show, so…SPOILERS…some of the characters that have since gone to Valhalla on the show are still alive and burying short axes into the heads of Christians.

To summarize, Vikings follows the adventures of Ragnar Lothbrok, the viking king, and the assorted crew that follows him to England to pillage the kingdoms of Mercia and Northumbria.
The comic, written by Cavan Scott (Doctor Who: The Ninth Doctor) happens right in the middle of the tense infighting between Floki and Ragnar over Ragnar's love of all things Christian.  Floki doesn't trust Ragnar's intentions, and anyone who claims allegiance to the Norse gods easily sways him.  I haven't read the previous issues, but Scott keeps the themes from the show relevant in the comic, so if you're a fan you can pick up the threads pretty quickly.  Ragnar has a man named Felmar captive, a job for King Ecbert, and they are returning him to face the King's justice.  The story has all of the little plot twists that make the show so enjoyable, and all of the fighting and viking stuff as well.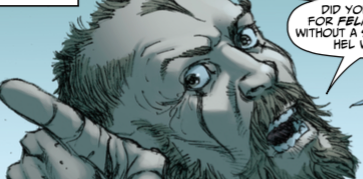 The art, provided by Staz Johnson (Robin, All-Star Western) with colors by Rodrigo Fernandes, is great and fits the book well.  His characterizations are close enough to recognize the characters, but just far enough away to still be able to have a little fun with them.  His Floki  is particularly animated, which strengthens the likeness to the character from the show. 
Vikings the comic is just what a fan needs to get through the dry spell, either between episodes or, like now, between seasons.  Fear not, Season 5 has been approved by The History Channel, though we'll have to wait.  Lucky for us that Cavan Scott and Staz Johnson seem to be huge fans of the show as well.  They provide backstory that is consistent with the show, enough so that it seems like a season we may have missed.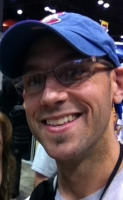 Brad Gischia is a writer and artist living in the frozen Upper Peninsula of Michigan.  He is married and has three kids and a dog, all who put up with his incessant prattling about comic books.
Twitter - @comicwasteland