(Amazon Studios 2015)
Starring - Craig Roberts, Ennis Esmer, Jennifer Grey,Gage Golightly, Paul Reiser, Richard Kind
Why is it that the coming of age story is such a target for entertainment, and why is it that some of the best shows have been those? The Wonder Years and Freaks and Geeks come to the front in my mind. What was it about that show that connected with me? I suspect that it was because, when I watched it, I was about Kevin's age. (Amazing how quick those character names will come back…)
Amazon Studios has jumped into the television series brawl with it's own lineup of new shows. The obvious advantage to the online distribution has been gone over, in that it makes the binging of said shows much easier. Amazon isn't shying away from the format, and has recruited some great talent for Red Oaks, a show that premiered at the beginning of last summer. I binged it last week.
It's 1985. David is home from his first year of college, and unsure of his major choice of accounting. He gets hired at the Red Oaks Country Club as the assistant tennis pro, and spends the summer in a state of almost constant confusion because he feels his life choices must be made now. Richard Kind plays the curmudgeonly lovable father and Jennifer Grey is Davids' just-as-confused-as-he-is mother. The family dynamic is all shades of awkward and perfect. Grey and Kind's relationship is on the outs, but their love for their son is obvious in the choices they make throughout the season.
Most of the plot takes place at the club, for obvious reasons, and the cast there is strong as well. Paul Reiser is fantastic as the club president, Getty, a filthier-rich-than-thou trader who exults in cash and power, and becomes a mentor to David. There is Skye, Getty's daughter and a conundrum to David, who is fascinated by the very differentness of her. Secondary storylines include those of Wheeler, played by Oliver Cooper, the head valet and drug dealer, also David's best friend, and Karen, David's on-the-outs girlfriend, played by Gage Golightly. My favorite tangential storyline is that of Nash (Ennis Esmer) the Egyptian tennis pro, a womanizing has been, who's trapped in the job he's got, no matter what he does to change it.
Each episode is about half and hour, so they're pretty easy to binge through, and you find yourself wishing that there would be a few more minutes, a couple more episodes by the end of the season.
The talent is undeniable. Craig Roberts captures David's confusion, and makes you remember what it was like at that time of life, waiting for the future to come to you and terrified about what would happen when it did. Paul Reiser, Richard Kind, Jennifer Grey, and Ennis Esmer make up a cast that would be enviable on any network show.
Red Oaks is the newest and best coming-of-age show out there. Why are they so great? It's kind of interesting when you look at them. It seems that the best of them are time-centric. I loved the Wonder Years because I connected with Kevin on an age basis. I loved Freaks and Geeks because I remember that music and that time. (I was young, but I remember the early 80's.) And I love Red Oaks because I lived it.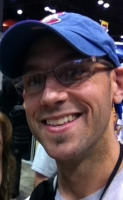 Brad Gischia is a writer and artist living in the frozen Upper Peninsula of Michigan. He is married and has three kids and a dog, all who put up with his incessant prattling about comic books. Twitter - [email protected] https://wordbloonillustration.wordpress.com/