(Dynamite/Dark Horse 2015)
Writer Corinna Bechko
Art Javier Garcia-Miranda
Letterer: Simon Bowland
Colorist In LIGHT Studios
Cover: Gabriel Hardman
Cover Colorist: Jordan Boyd
If there's one thing guaranteed to catch your attention, Aliens / Vampirella #3 with its stunning cover by Gabriel Hardman, is bound to stand out from the crowd and be a must-read for fans of the Vampirella or the Aliens franchise. Humans have established a base on Mars, an ancient mystery has been discovered underground, Vampirella was sent in to help the crew investigate, where monstrous creatures awaited them in the darkness. Now, following a failed rescue attempt, Vampirella and Lars are alone, trapped underground, and outnumbered by the deadly Xenomorphs. Their allies on the surface are their only hope, but can a vampire ever really trust a human?
Aliens / Vampirella #3, continues the new six part series from Dynamite, by writer Corinna Bechko, with art by Javier Garcia-Miranda, and colors by In LIGHT Studios, the premise of having two horror icons like Vampirella and the acid-blooded Xenomorphs facing-off against each other on Mars is appealing to say the least, and this third issue certainly raises the stakes for Vampirella and Lars as they battle to survive against the Xenomorphs.
Corinna Bechko moves the plot along at a bisque pace, with the crew of the base debating how to deal with the situation below ground now the Xenomorphs have been unleashed, and their plans don't bode well for Vampirella and Lars. The crew of the relief ship also learn what's been happening on Mars, but protocol prevents them from breaking the quarantine. I like how Corinna Bechko establishes more about the crew on Mars and the Relief Ship during this issue. The ancient base beneath Mars Base One could be tens of thousands of years old, Vampirella and Lars gain access its systems, and soon the fate of the Nosferatu becomes clear.
All the familiar themes and tropes of the Aliens franchise are here, long shadowy corridors, a base under-siege, characters separated from the main group and in dire peril, and the Xenomorphs waiting to strike unexpectedly from around ever darkened corner. This series has taken a couple of issue to really get going, but with the crew now firmly established, and Vampirella getting to make more use of her skills and abilities, Aliens / Vampirella #3 is really beginning to feel like the action-packed express elevator to hell we've been waiting for.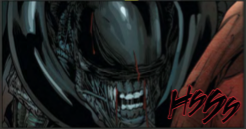 The art by Javier Garcia-Miranda is excellent, the characters are well defined, and Vampirella looks terrific. Scenes set in the cool metallic corridors of the Mars base and in space on the Relief Ship contrast well with the dark, gothic looking subterranean base, where Vampirella and Lars face the battle of their lives in order to survive. The raw power and speed of the Xenomorphs is captured in all their frenetic, screeching, acid-spattering, glory by Javier Garcia-Mirandaís artwork. Colorist In LIGHT Studios drench the blood-soaked entrances and footage from the past with bold crimson hues, and the thrilling final moments provides a grim mist-strewn dash though long abandoned chambers that builds to a nerve jangling climax.
The Aliens franchise is renowned for its strong female lead characters, and Vampirella is certainly a perfect choice to battle the Xenomorphs. Corinna Bechko and Javier Garcia-Miranda have done an excellent job with Aliens / Vampirella #3, the mash-up of these Dynamite and Dark Horse comic book properties has a wealth of potential, and now that it's hitting its stride this Aliens / Vampirella mini-series is really starting to impress.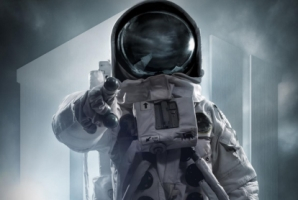 Paul Bowler is a self-Confessed Sci-Fi Geek, Doctor Who fan, and Zombie Disposal Expert. He likes movies, comic books, and all things PS3. He likes to write about his interests, would love to write a novel one day, and also enjoys chatting to the many people he has gotten to know on Twitter. When he's not busy being an Impossible Astronaut, he likes to take a break from his adventures in time and space to enjoy some of his favourite tv shows and movies, preferably with a nice cuppa tea & a sandwich! You can follow him on Twitter @paul_bowler, or find him at his website, Sci-Fi Jubilee.