(Marvel Comics 2015)
Written by Marguerite Bennett and G. Willow Wilson
Art by Jorge Molina and Laura Martin
A-Force #1 is easily one of the most high profile books to come out of the Secret Wars event if for no other reason than to quiet the lingering criticisms that Marvel is not female friendly enough in terms of publishing titles with female led teams or lead female characters. This book deals with the somewhat unfounded (at least in my opinion) assessment by introducing a team comprised of some of Marvels top tier heroines and written by the equally amazing team of Marguerite Bennett, current Angela: Asgard's Assassin writer and Ms. Marvel scribe, G. Willow Wilson. Marvel has obviously taken these comments to heart to respond with such big creative guns and the result is one of the best offerings in the Secret Wars event so far. There is so much more to offer here than a statement on contemporary gender roles; these two ladies can write! The characterizations are genuine, from the dialog to the bombastic action scenes it all rings true. However, the superb writing is only half the reason this book is so impressive; the artistic team of Jorge Molina and Laura Martin provide a lavish feast for the eyes. Set in the picturesque area of Battleworld known as Arcadia, Bennett and Wilson's narrative provides ample opportunity for the artists create an imaginative world, one that is very different from the other realms of Battleworld we have seen thus far. Arcadia is also different in the way it is governed and protected; ruled by the munificent and fair She-Hulk and defended by a band of heroines including Dazzler, Spider-Woman and Captain Marvel to name only a few, it is truly a land apart in the otherwise more militant Battleworld.
Although A-Force is written by a team of female creators it is not a platform from which a feminist agenda and propaganda is espoused, not that that is entirely a bad thing, but this comic does not engage in male bashing of any kind; in fact it seems that the all-female make-up of the team is more happenstance than part of any neo-feminist attack on the old boys network perceived by some to run the comic book industry from some Avengers Mansion or Bat Cave hidden from sight. Instead the writers make it plainly known that Arcadia is the altruistic Eden we see it as because of the contributions of all its residents, men, women, adults and children all have a role in this society.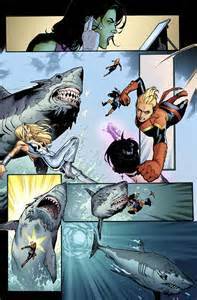 This first issue gets right to the action in a big way; the team must face a giant flying mega-mouth shark not seen since prehistoric times. This is the type of campy, bizarre fun we have come to expect from Secret Wars, only turned up to eleven and set in the chaotic, Thunderdome-like arena of Battleworld. Another wonderful aspect of A-Force is that, more so than any other Secret Wars tie-in we have seen so far, it truly stands on its own merits as an entertaining and exciting read. The adventure, drama and even at times the humor all blend to make this book a fast-paced, first issue worthy of sticking around long after the smoke and debris of secret Wars has cleared. The team dynamic created by Bennett and Wilson is well crafted and diverse, their authentic incarnations of these characters are the foundation of that dynamic and what makes it work so well.
Visually, Molina shows off some serious storytelling chops as he maintains an exact balance between the larger than life action and the smaller, more quiet and emotional moments that offer us glimpses into these characters and what makes them tick. His effective use of facial expressions and body language also goes a long way in bringing these heroines to life. Molina's page composition and use of panels works extremely well, especially in the high energy action sequences. Laura Martin's vivacious color choices electrify Arcadia and add an element of kinetic energy to Molina's images and really turn the vibrancy on the entire narrative way up. This is a perfectly matched creative team in light of the material, but having said that, I would read anything this team put out.
A-Force #1 wastes no time on heady exposition, it hits the ground running in combat boots and never looks back. Writers, Bennett and Wilson expose just enough detail pertaining to Arcadia's political infrastructure without beating us to death with hushed conspiracies and ubiquitous secrecy and shadowy figures, these types of tropes work exceedingly well in some of the other Secret Wars tie-ins but this is another animal altogether. However, I do hope that we get some of the pertinent details concerning Arcadia's history and some of the characters' back-stories but as of now I am loving the brisk pace of this story and its integral connection to Secret Wars proper and the overarching narrative. Life beyond Secret Wars is uncertain at best for every Marvel character at this point but the House of Ideas has made it clear A-Force is a keeper, as for in what iteration and to what degree we will have to wait and see True Believers. Until then, make mine Marvel (unless it's Batman) Excelsior! (4.5/5)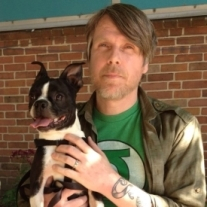 Shawn is an aspiring writer/ artist who has been reading, collecting and living comic books for over 30 years. He lives in Baltimore with his wife, their son, lots of cats, dogs and other various finned and furry friends.