(Comix Tribe 2015)
Created by John Lees and Iain Laurie
Story by John Lees
Art by Iain Laurie
Colors by Megan Wilson
Letters by Colin Bell
Ever feel like someone has been peeking into your brain when you're not looking? John Lees and Iain Laurie may have been doing just that to me, because they've scared me again, and this time I didn't even have to pay for it.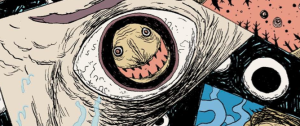 Comix Tribe's resident harbingers of horror have returned to the dreary island of Merksay and have dragged us back to the terrifying world of Bonnie Shaw in And Then Emily Was Gone #0, a Free Comic Book Day offering.
Because this is a #0 as well as a FCBD, it's a prequel to the five-issue run that debuted last year to great acclaim. This story is titled "The Strange Case of Billy McTaggart" and shows just how Emily might have been taken had we seen that portion of the original story. To spoil it would be to spoil the comic, and this is one that you deserve to read for yourself, but suffice to say that John Lees and Iain Laurie are back on point with the creepies. I knew it was coming, just like you do in any great horror story, and still I turned the page, still I was scared because it was exactly what I thought it would be. That's a sign of great storytelling, and it's something that Lees and Laurie do to perfection.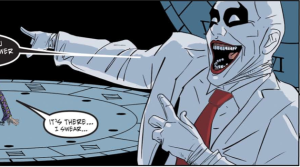 As if Comix Tribe wasn't rocking it hard enough with the above book, they also included a preview of another of their titles, Oxymoron, in a short called "Counterclockwise", written by John Lees and Tyler James.
For those of you who haven't heard of Oxymoron, and I'm one of you, it seems that he's some kind of vigilante in clown makeup. It's almost as if the Joker were the protagonist in this comic, and it's about as wonderful as you'd think it would be.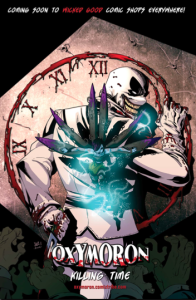 Oxymoron has gotten the idea in his head to go back in time and "wrong the greatest rights in history". One can only imagine what the effects of such meddling would cause, and in the case of the ultra-violent Oxymoron, it's bound to be one hell of a ride. Lees and James have a wonderfully psychotic time in this book, and I can't wait to read it. Alex Cormack draws this one, and the art is a startling difference from the highly stylistic look that Iain Laurie uses in ATEWG. Cormak's style is much more traditional, but it's wonderful all the same. You can see the influence of the Joker's look, but at the same time the story is such a great idea that you get by that a couple of panels in.
Comix Tribe, though a fairly small company, has got some big guns in its arsenal. John Lees and Iain Laurie paved the way with And Then Emily Was Gone, and not we're seeing more from Tyler James and Alex Cormak with Oxymoron. These good people have proven that a small company with great content can be a serious contender in the market. And Then Emily Was Gone #0 should be on your FCBD pull list.
(And don't forget the Ryan Stegman cover art! Fantastic!)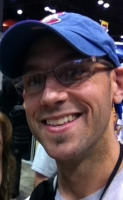 Brad Gischia is a writer and artist living in the frozen Upper Peninsula of Michigan. He is married and has three kids and a dog, all who put up with his incessant prattling about comic books.
Twitter - [email protected]