(.hack//G.U.: The World Magazine 2007)
1 Volume, 13 Chapters Total
Written & Illustrated by Sumimaru Koichi, Inumaru, Keena Aruto, and Sumihit
Summary: A collection of short gag stories featuring various characters from the .hack//franchise. As well as an additional tale featuring Atoli and Haseo from the .hack//G.U. games.
[SPOILERS!!]
Review: I didn't plan on reviewing this book, because it's just your usual four-panel gag comic that makes fun of the franchise it comes from. So this may end up being a short review, however there is just enough meat here to talk about something.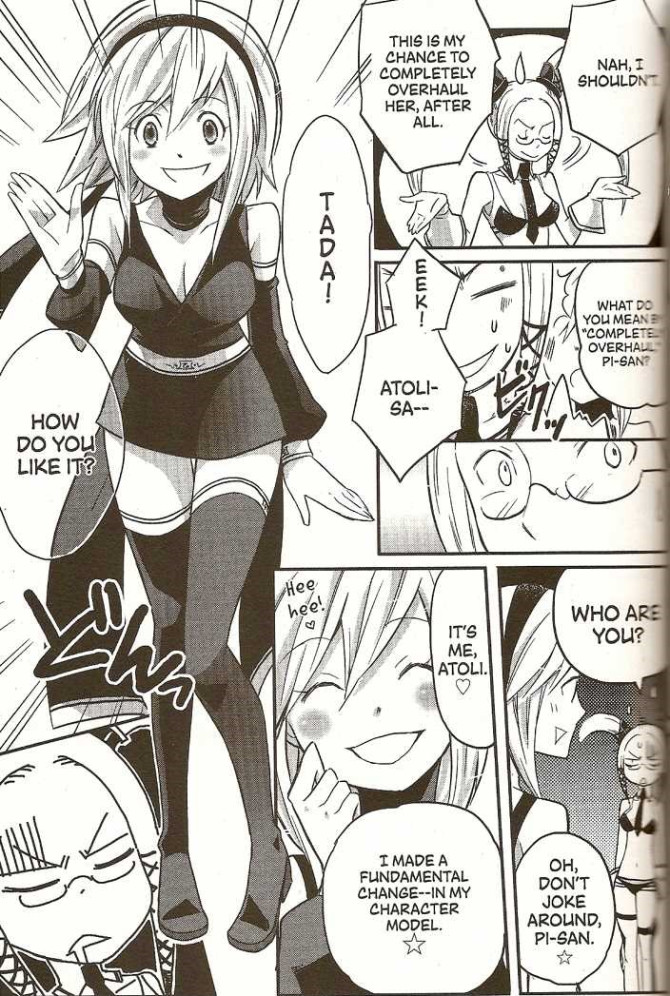 Especially with the last chapter Peaco's Story which is a full story in traditional manga fashion rather than 4koma fashion. The bulk of this manga is made up of fun, gag stories that sees Kite, BlackRose, Atoli, and Haseo teaming up to adventure around The World. What makes these stories so great however is how the character's play off one another with their slightly changed personalities.
Kite is more selfish and full of himself, constantly making fun of how much more powerful he is than Haseo. And also constantly messing with him, going to such lengths as making the Tri-Edge markings around town to make Haseo believe that Tri-Edge has returned.
Atoli is a bit more front about her love for Haseo, much to his chagrin. Leading to a lot of moments where her obsessiveness for him gets the better of the guy in some largely comedic ways. If you haven't noticed yet, Haseo is the butt of most jokes in this series.
Other characters come in and out, constantly being made fun of, such as Endrance and his feminine features. Ovan makes sex jokes about his "third arm" a few times – there's quite a few sex jokes in this actually – which is great if you know the character at all.
It's a lot of fun. There's also some semblance of progression as well with a loose story to tie everything together. With these characters meeting up to hang out to eventually becoming their own guild with Kite as their leader, God help them.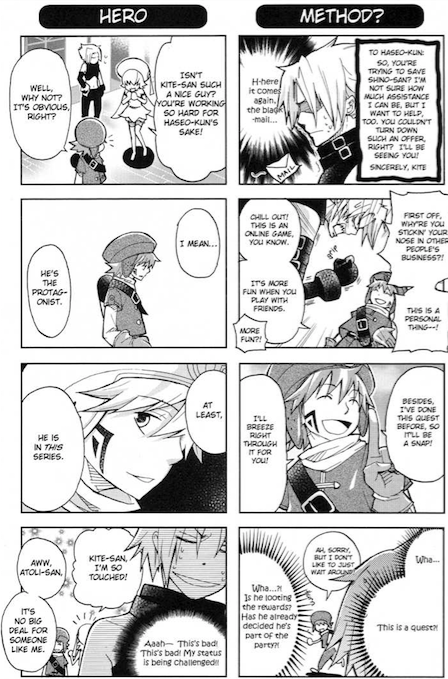 Unfortunately, not every joke is a solid feature. For every 5-6 great jokes there's 1-2 that don't stick the landing. Of course, this might just because of cultural differences. The Japanese comedic style is generally centered around 3 things: sex jokes, cultural jokes, and puns. Cultural jokes are the hardest to get translated correctly for English speakers, so I'm not surprised not every joke is the brightest it could be in my eyes. To a Japanese speaker all of these jokes could be absolute gold.
The art is all very chibi and fun to look at. Simple, and cartoony. So there's not a lot more I can say on that front. It's gag comedy, so in that respect the art here works really, really well.
Peaco's Story is the last chapter of the book and is told in a more traditional manga style to tell a slightly more serious story. And I wasn't sure what to expect going into it and was pleasantly surprised to experience a short, touching tale of Haseo and Atoli and their growing relationship. Not romantically, but definitely as friends.
It sees Atoli unsure of how to approach Haseo who is constantly trying to avoid her because of her overbearing and overcheerful personality. So thanks to Pi's advice she decides to create a second character named Peaco to meet-up with Haseo and see how he reacts to a different female with a more reserved personality. Somehow Haseo is able to tell it's Atoli behind the new character model but that doesn't stop him from being really kind to her and showing her his "favorite spot" in all of the game which happens to be the Atoli's favorite spot as well.
This story takes place canonically after the 3rd G.U. PS2 game and is just an endearing tale of their growing friendship and respect for one another. And also shows a lot of growth for Haseo because when he first met Atoli at that spot, he made fun of her for caring about bits of 1's and 0's, proclaiming that her favorite spot was just a bunch of data.
If you like the .hack//franchise at all, and you're familiar with it, it'll be easy for you to understand what makes these jokes so great as well as appreciate Peaco's Story. If not, then this nearly inaccessible to you. For me though, .hack//4koma was a wonderful read all the way through and I couldn't of asked for anything better.
Final Score: 4.5 New Character Model's out of 5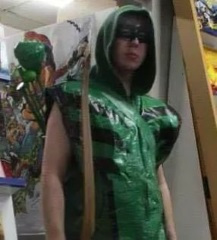 Derrick is a born and raised otaku with a love for comics, anime, manga and movies. The full list is pretty long, but that's just the basics. Stories set in space are his bread and butter.
You can find more of his writing at IndieComix.net
@KazekunForever