(IDW 2016)
Writer: Amy Chu
Art: Elena Casagrande and Silvia Califano
Colors: Arianna Florean
Letters: Robbie Robbins
Regular Cover: Cat Staggs
Subscription Cover: Gordon Purcell & Monica Kubina
Prepare to believe in a whole new reality in IDW Publishing's The X-Files Deviations, a world where fate took a very different path after the young Fox Mulder was mysteriously abducted by aliens in 1973 instead of his sister, Samantha, and never seen again. Now another Mulder has become the believer working at the FBI on the X-Files, Samantha Mulder, and despite the reservations of her skeptical new partner, Agent Dana Scully, Samantha won't rest until she discovers the truth about what really happened to her brother.
This March marks the beginning of Deviations, a special event series from IDW Publishing where familiar themes and characters are explored along alternate timelines. The event will feature The X-Files, Ghostbusters, G.I. Joe, Transformers, and Teenage Mutant Ninja Turtles. Deviations will take an iconic moment from these series and drastically change its outcome, and follow the new chain of events that subsequently unfold. Now in The X-Files Deviations, writer Amy Chu (Poison Ivy: Cycle of Life and Death) and artists Elena Casagrande and Silvia Califon (The X-Files Season 10 issue 6 & 7), and colorist Arianna Florean bring us a decidedly new and different take on the X-Files mythos. We know Fox Mulder was driven by his sister's abduction on a quest to find the truth, but what if their roles had been reversed, would Samantha Mulder's life have followed the same path as her brothers? This is the primary question that Amy Chu, Elena Casagrande and Silvia Califon have set out to answer and explore with The X-Files: DeviationsÖ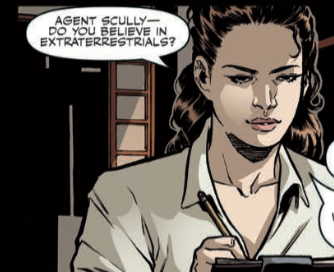 Following a brief flashback to extraterrestrial events in Massachusetts, 1973, The X-Files Deviations quickly settles into its stride. The initial set up embraces the Deviations premise was skillful aplomb, its almost as if writer Amy Chu has transported us back to the Pilot episode of The X-Files TV show itself as we see Agent Dana Scully reassigned to the X-Files, before we revisit that iconic first meeting between our two favorite X-Files Agents - only this time of course its between Agents Dana Scully and Samantha "Spooky" Mulder.
In a bizarre way I was expecting the dynamic between Scully and Samantha Mulder to be radically different, but Amy Chu demonstrates just how good a handle she has on these characters by making the chemistry between them seem very much like the traditional Mulder and Scully that we know and love. Sure, there are some subtle differences, but all the familiar character traits and X-Files tropes are in place right from the outset, just as they were back then in that very first episode in 1993, and even the case that Samantha Mulder and Scully set out to investigate in The X-Files Deviations manages to cleverly mesh with numerous themes and events established during that first season. Amy Chu has done a fantastic job bringing a new spin on these events, whilst staying true to the characters, and the way that The X-Files Deviations manages to resonate so powerfully with the labyrinthine mythology of the X-Files in just one issue like this is incredible!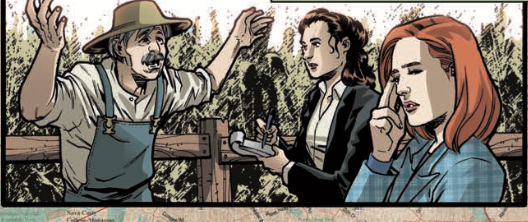 The art by Elena Casagrande and Silvia Califano is uniformly excellent, the concise page layouts allow the story to unfold at a steady pace, and the attention to key details and the characters likenesses are all spot on. I really like how Samantha Mulder has been brought into the limelight for this story as well, although she has taken on many of - what would have been - her brothers character traits as a believer, she's also a very distinct individual in her own right, and it is interesting to witness that unique bond developing with her skeptical new partner from the slightly different perspective Deviations offers. Samantha Mulder's and Scully's investigation into the old case files of missing teenagers is relayed via an eye-catching collage of panels overlaid across the map of the incidents, before their journey finally brings them to an old, abandoned, yet strangely familiar location.
Revisiting such a key moment as we do here in The X-Files mythology and turning it on its head like this is a bold move, and it works. Amy Chu's story converges seamlessly throughout the course of this issue with the art of Elena Casagrande and Silvia Califano, none more so than here, during the flashback sequences to the moment where Mulder was abducted instead of Samantha; as the sheer terror and spectacle of events play out with a life-changing twist of fate. The colors are also excellent, with soft hues and dark shadows balancing the emotional beats and different locations in the issue perfectly. This issue features a stunning regular cover by Cat Staggs, and there's also a great subscription cover by Gordon Purcell & Monica Kubina as well.
The X-Files Deviations is a bold, innovative, and brilliantly crafted issue. With its involving story and great characterization by Amy Chu, impressive artwork by Elena Casagrande and Silvia Califano, atmospheric colors by Arianna Florean, and refined lettering by Robbie Robbins, The X-Files Deviations brings a fresh new slant on the X-Files in the context of the Deviations format, and can only be judged as a resounding success in every way. The only complaint I can level at The X-Files Deviations is that it's just a One-Shot special, because I guarantee that final page will leave you desperate to find out what happens next! I for one would love to see more of The X-Files Deviations from IDW, where the truth, albeit a little differently, is out there!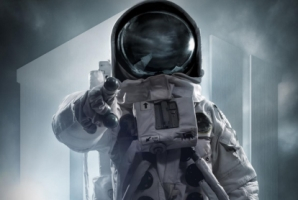 Paul Bowler is a self-Confessed Sci-Fi Geek, Doctor Who fan, and Zombie Disposal Expert. He likes movies, comic books, and all things PS3. He likes to write about his interests, would love to write a novel one day, and also enjoys chatting to the many people he has gotten to know on Twitter. When he's not busy being an Impossible Astronaut, he likes to take a break from his adventures in time and space to enjoy some of his favourite tv shows and movies, preferably with a nice cuppa tea & a sandwich! You can follow him on Twitter @paul_bowler, or find him at his website, Sci-Fi Jubilee.