(Boom! Studios 2016)
Writer: Kyle Higgins
Illustrator: Hendry Prasetya
Color: Matt Herms
Letterer: Ed. Dukeshire
On August 28, 1993 children all over America, including three-year-old me, sat glued in front of the television as the Power Rangers formed for the very first time. I watched the show for years and had all things Yellow Ranger. And even after I had stopped watching, the show stayed with me throughout my life, which is why I was so excited to do this review.
Like many superhero children shows, Power Rangers was presented in an easy to follow format, but full of many adult concepts lurking just below the surface. And as any superhero comic book reader knows, comics are full of these adult concepts that don't need to lurk below the surface.  And Mighty Morphin Power Rangers #1 is looking to be just like any other superhero comic.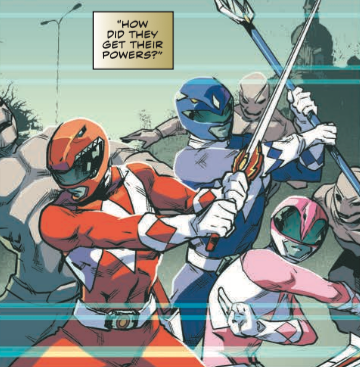 The comic starts halfway through the first season of the show, with a recap telling of how the Green Ranger has left our villainess's, Rita, side and is now a member of the Power Rangers. While most of the first issue was information that the reader will need for future stories, the theme it set is one of my favorites – the conflicts of your inner self.  The first issue is a day-in-the-life-of Tommy Oliver aka the Green Ranger. Unfortunately, the comic was predictable in showing that Tommy is still struggling with the whole good vs. bad thing.
However, what wasn't predictable is what the struggle between good and evil leads too – and that is the struggle of where Tommy really belongs. We see Tommy struggle with where he should sit at lunch, how he should protect people in training simulations, and even struggle to answer a question he was asked by two want-to-be reporters – "What does the Green Ranger mean to me?" And it is this question that truly shows his struggle, since the Green Ranger himself can't answer it. And it is this question that really makes the comic hit home.  I for one have asked myself "Who is Ali Cardaropoli? What does she mean to people? What do I mean to myself?" So hoping you don't think I'm crazy for talking to and about myself, haven't we all wondered about our place in the world? Wondered about our self-worth to others? Well, if you haven't, than I recommend that you stay clear of this comic, because you won't be able to appreciate it, but if you have, than give this a read.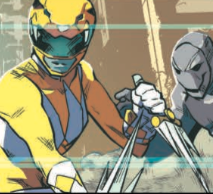 Now granted, it might only be Issue #1, but I have a really good feeling that Mighty Morphin Power Rangers is going to take us through one hell of a ride in trying to answer the question we all want answered – where do I belong in this world. And of course, it's going to be full of monster butt kicking; it wouldn't be Power Rangers without it. The adult, and kid, in me can't wait to see what Issue #2 will bring.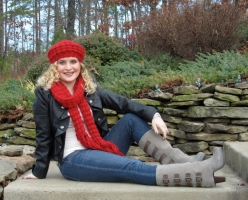 Ali is a creative writer with an emphasis on Sci-Fi/Fantasy and Comic Books. She first fell in love with superheroes when they were used to teach her to read. When not practicing at her dojo or out seeing the latest superhero movie with her friends, Ali can be found curled up on the couch with her dog and a good book.