(Scout Comics 2016)
Written by A.C. Medina
Art by Kevin Shah
Colors by Ross A. Campbell
Cover by Jean-Francois Beulieu
Letters by Micah Myers
Sometimes it's all about the cover.  I know it's an awful way to decide what to read.  I know that my middle school librarian, Mrs. Paulson, would be horrified.  (Along with my librarian mother.) 
In this case, it was simply the name of the book.  Elasticator is just a great comic name.  One that doesn't give too much away, less than you think actually.  Once I saw the Jean_francis Beulieu covers to issues one and two…well let's just say that it didn't hurt my intentions to read this book.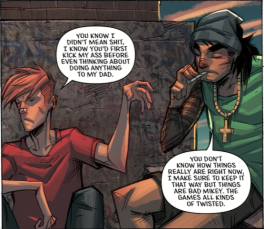 Mikey Mazzagatti is a kid who has just had his life flipped by the economy.  His dad lost his job and within months his house was gone, his family has moved, and tensions were running high at his new house.  Then, after fighting with the local hoods, he meets Tiggy Fuentez, and the two of them become fast friends and business partners.  Tig is a drug dealer, one of four that run the drugs for the whole city.  Mikey becomes a seller for him.
The whole first issue is the introduction to  Mikey's current predicament, that he is in custody and bloodied.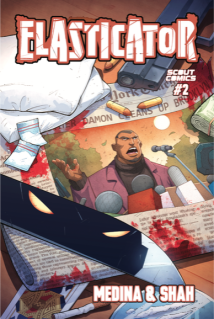 Issue two begins with a shootout at the drug factory and the introduction of Luther, a politician who is running for a seat on the city council.  This issue throws the whole system that Tig is a part of into chaos, and so it goes for Mikey as well.  We see a rounding out of the story, and a little more as to what may be going on behind the scenes.
A.C. Medina has a well laid out script.  It's fast-paced.  My one criticism would be that it seems a long time coming to the revelation of why and how Mikey is Elasticator. But I don't have the whole picture either.  If this is a prequel kind of story arc, then that will be the end game.  I like that he's gone back to the "hero as teenager" archetype that we all love so much with Spider-Man.  It's solid and it works and it's enjoyable.  You don't ever get out of synch with Mikey, even when he's doing immoral things.  That's the sign that you have a strong protagonist, and Medina has structured the story so that even the tertiary characters like Tig are likable sidekicks.

Kevin Shah's art is out of this world, and I struggled to come up with a comparison that would be easily identifiable to anyone.  It took until page 24 of issue 2, but I realized then, in this panel with the fist bump, that he reminds me a little of when Jamie Hewlett draws Tank Girl. It's those little lines that he leaves in the midst of the hands, not a direct comparison I know, but that's what it reminds me of.  He's also got a great flair for page layouts, with long shots interspersed with smaller panels that keep the pages looking really interesting even when not much physical action is going on.
So there we are.  Issue 3 of Elasticator is available for pre-order in March, and soon you'll have another issue waiting for you.  Issues one and two are a strong foundation for what you very well be a long running comic.  The adventures of Mikey Mazzagatti are ongoing and sure to keep you on the edge of your seat.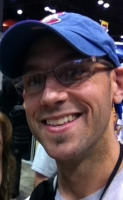 Brad Gischia is a writer and artist living in the frozen Upper Peninsula of Michigan.  He is married and has three kids and a dog, all who put up with his incessant prattling about comic books.
Twitter - [email protected]