(Image 2016)
Writer - Jason McNamara
Artist - Greg Hinkle
Editor - Joel Enos
I'm past the "spoiler reveal".  If you don't want to know what happens, it's pretty easy to avoid a spoiler for a day or two, and for the most part, even if I get a spoiler, I'm so far behind in film and television watching that I'll forget it by the time I actually consume the media.  That being said, and much to the detriment of what I do on this site…
I highly recommend that you not read this review.  The Rattler, by Jason McNamara and Greg Hinkle, is best consumed without any knowledge of it's contents.
For those of you who have continued to read on, thank you and I'm sorry.  The twists and turns that happen in this newest graphic novel from Image Comics are so around the bend and amazing.  I'm going to try to keep this as spoiler-free as possible still, because the less you know the better when reading this.  Even the few pictures I'm putting up are cropped so as not to give anything away, just to show the style of art.

I'm going to review this in the order that things struck me as I read it.  First of all, the art by Greg Hinkle (Glory, Airboy) is a wonderful mix of caricature and realism, a trend in mainstream books that has gained a strong foothold in the last five or ten years.  That slight change to the regular form of the human body helps to soften the grisly tale within, but in a way makes it a little more real as well.  Because the story is focused on Stephen, on what his experience is, you find that the tremor-thin change in "realistic" style alters your reality enough so you're more immersed in the story.  It's grey scale with "Sin City" splashes of red, a style that works just as well now as when Frank Miller did it then.  Hinkle has that great artists' eye to leave some backgrounds nearly blank, while other are beautifully rendered in exquisite detail.  His caricature doesn't extend so far into the realm of freakish so that when the a death happens it still has a realistically gruesome quality.
Jason McNamara (Shorthand, First Moon) writes a fast-paced comic.  The first 12 pages go quickly, cinematically.  But you find that you're reading faster and faster, trying to figure out where this story is going.  I don't think I've read through a hundred page comic as fast before.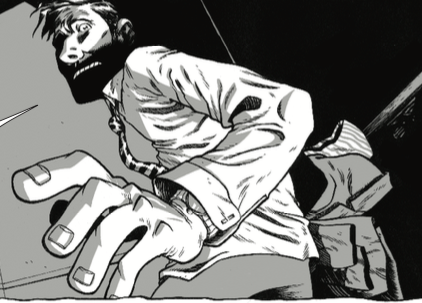 Stephen Thorn is a victim's rights crusader, a man touched by tragedy early in his life that he's turned into a career.  As a young man, his girlfriend was kidnapped before his eyes.  This led him to developed Thorn Law, a program that fights to keep dangerous criminals behind bars, and to keep track of them once they've left custody.  It's controversial, and has made Stephen any number of enemies.  When Stephen goes to the bedside of his dying father he has a revelation, or perhaps a visitation, that changes the way he thinks about Catherine's disappearance.
And that's all you're getting.  I already feel like it's too much.
The best way to describe it is cinematic.  I don't feel like I'm stepping out on the proverbial limb to say that this is going to be a film.  McNamara's pacing rivals an Elmore Leonard script.  His twists and turns are Tarantino.  His tone is Cormac McCarthy.  And that's after only reading it once.  I'm sure there are things that, on my inevitable second reading, will come out, but like all of those great writers, I won't have a problem revisiting this.
The Rattler, a riveting, screamingly, dark and wonderful story, has captured my imagination.. McNamara and Hinkle are a great team, the style of art and tone of the story a match that I would love to see again. The Rattler is an amazing book that I'm putting on my short list for "best of the year".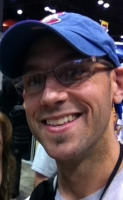 Brad Gischia is a writer and artist living in the frozen Upper Peninsula of Michigan.  He is married and has three kids and a dog, all who put up with his incessant prattling about comic books.
Twitter - [email protected]