(IDW 2016)
Writer: Mike Johnson
Art: Stephen Molnar
Colors: John Rauch
Letters: Neil Uyetake
Cover Art: Tim Bradstreet Trek #1 IDWís Great Hits Edition
Get ready for warp speed with the introduction of IDW's Greatest Hits Editions, special one-dollar versions of significant issue featuring popular storylines and iconic moments from IDW Publishing's major comic book titles. March sees the release of Star Trek #1 IDW's Greatest Hits Edition, where IDW's comic book series followed on from the events of the 2009 Star Trek film, and continued the adventures of the crew of the USS Enterprise as they embark on their  five year mission to boldly go where no man has gone before.
Featuring the new cast of the blockbusting 2009 movie, Star Trek #1 kicked off IDW's comic book series in fine style as writer Mike Johnson quickly sets the tone and pace of the issue with a new mission, nicely bridging the gap with the movie, were the USS Enterprise is heading into deep space, and Scotty is still busy overhauling the ships systems after its refit. Kirk is enjoying a game of 3D chess with his old friend Gary Mitchell, but when Spock intercepts a distress beacon from an old Starfleet ship the SS Valiant, that went missing over two hundred years ago, its garbled recordings - including warnings of extra sensory perception and the Captain of the Valiant desperately ordering the self destruct of his own ship - sends the Enterprise and her crew on a mission to investigate what happened to the Valiant beyond the very the edge of the galaxy itself.

When the Enterprise attempts to cross the terminus of our galaxy it ultimately leads to an encounter with a strange force field, which seriously damages the ship, and results in the death of nine crew members from mysterious seizures. Gary Mitchell is also affected, but he survives, and slowly begins to exhibit uncanny abilities, including extra sensory perception and telekinesis. Mike Johnson builds the tension throughout, skillfully mixing elements from Star Trek past with its re-imagined present. With the Enterprises' Warp Drive damaged and Mitchell growing increasingly powerful and unstable, Kirk decides to head for Delta Vega in the hope  its Lithium-Cracking facility will have the materials that Scotty needs to effect repairs, and despite Kirk's reluctance to heed Spock's advice, its becoming increasingly clear that Gary Mitchell is now far from human.
Just as the 2009 feature film rebooted the Star Trek movie franchise in an alternative timeline with a new cast, IDW's comic book series has featured re-imagined stories based on those same classic themes and characters form the original series. As you might've guessed by now, this issue of Star Trek is based around the plot of the classic original series Star Trek episode: Where No Man Has Gone Before (1966), and Mike Johnson has done a superb job of utilizing the themes of this classic series storyline and updating it slightly for this modern film series interpretation, albeit with one or two significant differences. Johnson also has a good handle on the characters, particularly in the scenes between Kirk and Gary, and the early dynamic of Kirk's friendship with Spock and McCoy are well realized though some clever scripting and key moments of dialogue.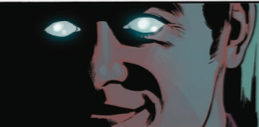 The art by Stephen Molnar is also very good, the page layouts are straightforward, but manage to convey the pace of the story and the drama adequately enough. All of the main characters and crew are well defined and look close enough to their new 2009 / 2012 counterparts, the way Gary's powers manifest, and his creepy eyes are just as unsettling as they were in the original series episode. John Rauch's colors are also very impressive, the subtle uses of tone and shade enhances the finer details of Stephen Molnar's artwork, making every detail come to life of the page, and that first full-full page view of the Enterprise near the start of the issue against the backdrop of glittering stars is sure to please many fans; its absolutely stunning!
Star Trek #1 IDW's Greatest Hits Edition is a perfect jumping on point if you want to check out the key issue that set up this ongoing series. Featuring a good new envisioning of Where No Man Has Gone Before by Mike Johnson, Stephen Molnar, and John Rauch, the price alone also makes it well worth a look if you've never tried IDW's Star Trek series before. There's also a handy Star Trek Readers Guide which maps out the new timeline in the comics as well, which is also perfect for new readers who might be wondering where all the different Star Trek comics, volumes, trades, and mini-series, available all sit in relation to each other.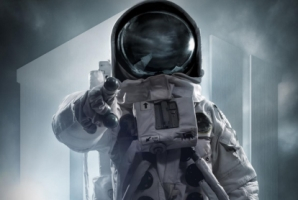 Paul Bowler is a self-Confessed Sci-Fi Geek, Doctor Who fan, and Zombie Disposal Expert. He likes movies, comic books, and all things PS3. He likes to write about his interests, would love to write a novel one day, and also enjoys chatting to the many people he has gotten to know on Twitter. When he's not busy being an Impossible Astronaut, he likes to take a break from his adventures in time and space to enjoy some of his favourite tv shows and movies, preferably with a nice cuppa tea & a sandwich! You can follow him on Twitter @paul_bowler, or find him at his website, Sci-Fi Jubilee.