(Kaboom! 2016)
Script by Roger Langridge
Art and Letters by Andy Hirsch
Colors by Fred Stresing
If there is any company out there right now that is successfully marketing itself to kids it's Boom! Studios imprint KaBoom!.  They've really taken the reigns on the Cartoon Network shows, with Adventure Time and Uncle Grampa, and original books like Lumberjanes and last week's new release The Baker Street Peculiars.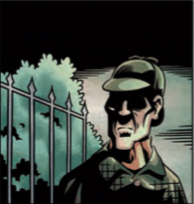 You can probably guess what's going on in the book to some extent merely by looking at the cover.  This is a Sherlock Holmes story, sort of.  The players are a group of kids brought together by the strangest of circumstances, that is, an animated stone lion terrorizing the streets of London.  Rajani Malakar, a young thief, Humphrey Hobbes-Davenport, the sixth son of a wealthy embezzler, and Molly Rosenberg, the orphaned granddaughter of a tailor and Holmes' biggest fan.  They band together to chase this stone lion through the streets, and lose it as they are fingered by a policeman.  Near the end of the book they are "deduced" by none other than Sherlock Holmes, the thing that bonds them as "the Baker Street Peculiars".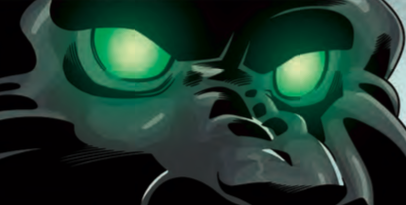 Roger Langridge (Dr. Who Magazine, Popeye) has a ton of credits to his comic work, and it shows here.  He writes in a way that doesn't talk down to kids (the intended audience) but keeps the story moving at "Saturday morning cartoon" pace.  (Are Saturday morning cartoons a thing anymore?  I suppose not.)  The story is enjoyable in a way that kind of wraps you up and speeds you through it before you realize how fast it's moving.

Andy Hirsch (The Regular Show, Garfield) and Fred Stresing (Bravest Warrior, Munchkin) team up to splash these pages with all of the cartoon glory you could ask for in a book.  At a time when alternative cartoons, i.e. Adventure Time, have changed the way we look at the medium and what a "normal" cartoon looks like, this is a return to a previous time.  Hirsch's style of cartooning really feels like the stuff I grew up reading, those glossy Disney comics in the late eighties and early nineties. Stresing's colors are bright and kind of make me want to reach for a bowl of sugary cereal.
If you have kids, this is a book that they might really dig.  But the beauty of this, and what KaBoom! does with all of their books, is that they are completely enjoyable as an adult as well.  The Baker Street Peculiars #1 is a book, and a series, that recalls those morning cartoons that I loved so much, and perhaps, if you look closely, the Sunday Funny Papers that my dad read when he was growing up.  This is a generational book for sure.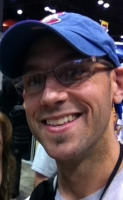 Brad Gischia is a writer and artist living in the frozen Upper Peninsula of Michigan.  He is married and has three kids and a dog, all who put up with his incessant prattling about comic books.
Twitter - [email protected]