Agents of S.H.I.E.L.D.  - Season 3 Episode 13
Summary: Inhumans have begun popping up all over the globe now that the Terrigen strain has been released into the ozone. Phil Coulson, Director of S.H.I.E.L.D., is leading a task force to detain these Inhumans before they unleash unknown catastrophe on the world. However he meets opposition from all sides including the U.S. Military. Things are not the same and this is a tale of a changed people.
"Parting Shot"
Directed by Michael Zinberg; Written by Paul Zbyszewski
[SPOILERS!!]
Review: Damn it. I cried. Thanks Coulson.
Seriously though, Parting Shot is what this series was built for. We end up with a heavy Bobbi and Hunter-centric episode taking place in Serbia hot off the heels of last week's episode. The team goes on a mission to keep Russia from creating a "sanctuary" (see: prison camp) for Inhumans. However if they get caught their involvement could be seen as an act of war.
High stakes spy action, great character drama and growth, and an incredibly thoughtful goodbye scene brings this episode to a close as one of the – if not the – strongest episode this series has ever achieved. Sometimes you don't require a character to die in order to bring out emotions in your viewers.
Neither Hunter nor Bobbi die this episode but after the mission does indeed go south the two are forced into an unthinkable situation for a spy: they're disavowed by the United States government and are officially never allowed to operate as an American agent again. Basically they're going rogue, and while this is most definitely not the last we'll see them in the season – that's not what SHIELD does – it is a tearful goodbye nonetheless.
I mean, in this show, you live or you die an Agent – or a traitor. But this is the first time anyone has been flat out kicked out of the gang. The mission itself is an incredible feat. Like the final episodes of season 1 showed us some of the best time are actually getting to see these spy agents do just that. Be spies. Shocker I know, but they do it a lot less in the show than you would imagine.
It's also a big part of what made last episode so good. We also get to see a new Inhuman this episode with a fantastic power. Of course he dies by the end, all the powerful ones do, but it's great to see the variety of Inhuman powers growing. This one – a Russian general – can manifest a dark matter shadow of himself that can act and think willingly against opponents.
It leads to a great fight scene with this dark force going up against Bobbi, Daisy and Mack. It's at this point I would say they should've found a way to keep the Inhuman alive. We need more variety on the show. But considering the General's death is what led to their eventual resignation I have to say it was a very smart move on the writer's part.
Damn it, guys this episode was really good. I can't give it enough praise. Like I said above, I know Bobbi and  Hunter will be back before season's end. Hell, Marvel and ABC have ordered a pilot episode for a possible TV show pick-up of the Bobbie/Hunter led series spin-off Marvel's Most Wanted (look it up).
However the Spy's Goodbye at the end really did have me in tears. Saying goodbye to a favorite even for a little while can be just as emotional as saying goodbye forever if done right. That's something this series has been able to well in the past as well. Remember Cal from season 2? Man, that goodbye almost had me in tears too. Mack's goodbye in particular is what broke me as he had to walk away from his best friends.
This show is so good. I am so looking forward to what's coming next. And I truly hope Marvel's Most Wanted makes it's way to airwaves for real. Perhaps in place of Agent Carter, though I still think that series should wrap in a single two-hour long TV special first.
Final Score: 5 Parting Shots out of 5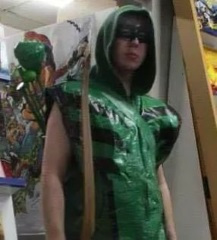 Derrick is a born and raised otaku with a love for comics, anime, manga and movies. The full list is pretty long, but that's just the basics. Stories set in space are his bread and butter.
You can find more of his writing at IndieComix.net
@KazekunForever