Vendors and Cosplayers: In the Trenches at Baltimore Comic Con 2014
By Shawn Warner
A major part of any convention is the show floor, sure lots of important panels, keynote speeches and endless informative programs are held in the meeting rooms and large ballrooms of the convention center, but the rank and file of vendors, fans and cosplayers can be found on the show floor making deals, finding that elusive issue that completes a favorite run or, for cosplayers, posing for pictures while displaying the fantastic results of months of planning, design and construction. This is where most convention memories as well as new friends are made.
My good friend and right hand man for the convention, Matt Seal and I made an early start of it on Friday, the opening day of Con. We arrived at the Baltimore Convention Center around 10 a.m. and picked up our passes without a single minor mishap or glitch to impede our progress. We had a few minutes to get our plan of attack in place before hitting the show floor a full hour before the general public; this is one of the nicest perks of having a press pass. After a quick study of the guest list we decided to hit Greg Capullo's booth first for some autographs and anecdotes, more on that in my next piece. We mutually agreed that our next stop would be the vendors, so we soldiered forth into the rows of long boxes, undiscouraged by the mounting crowd or the promised hours spent hunched over and kneeling on concrete floors; this is what Comic Con is all about friends. I love the musty smell of old newsprint in the morning, it smells like… victory!
There were plenty of high grade gems and cgc treasures displayed proudly on makeshift walls and folding tables, as beautiful and desirable as these books are unfortunately my bank account and desire to own these masterpieces of super hero history do not coincide, so into the dollar boxes I went like Boba Fett into the Pit of Sarlacc. It was here that I found an entire run of Infinity Gauntlet minus #1, but I was able to pick one up for a mere $10 from another vendor netting me a complete set for $15, a bargain by anyone's standards. That was not the only fantastic first day deal to be found, in fact it was from the same vendor's inventory that I extracted an entire run of V for Vendetta, several miscellaneous issues of various Grant Morrison works that I needed to fill in runs, including two issues of Doom Patrol which I was then able to get signed by artist Richard Case. I was scoring left and right when Matt approached me with some unbelievably rare dollar box gold, the first three volumes of Grant Morrison's very early 2000 A.D. series, Zenith. Anyone who knows me knows I would give my left arm for these books and there they were just feet from me but alas it was not to be for those books are now safely tucked away in my friend's collection. However, I offered reluctant and envious congratulations and we ventured further into the depths of the show floor.
To the casual observer the entire place must have been quite a spectacle; there were glass showcases full of wonderfully detailed and expensive collectible statues ranging in size from small busts of Green Goblin and Star Sapphire to a life size bust of Joker and even a full body raging Hulk that towered over six feet in height. The very center of this magnificent marvel was occupied by a mountainous mecca of pop culture t-shirts offered by StylinOnline. If you couldn't find a wearable portrait of your favorite comic book or movie hero here it may not exist anywhere. Most of the local shops were represented by booths full of their most prized merchandise including my favorite shop, Universal Comics; other local vendors included Cards, Comics and Collectibles, Cosmic Comix and Toys, Comics to Astonish and Third Eye Comics. Of course there were plenty of other fine establishments from further away equally represented like Comic X-plosion, Graham Crackers Comics and Big Planet Comics just to name a very few. Comic books and t-shirts were not the only items available, far from it; there was an endless array of action figures, posters and prints, gaming items such as cards and Heroclix as well as tons of original art and pages from some of the most legendary creators in comic book history. I was so happy to have three days to look at everything there was to see but in the end I know I didn't to get see it all and was even more bitter-sweet is that I left with the knowledge that I could never own every comic book I want.
One of the most unique and intriguing aspects of Comic Con is cosplay and this year had some of the best examples I have seen in quite a while. For instance Matt and I were lucky enough to be waiting in line to meet Watchmen artist Dave Gibbons with none other than Rorshach himself, of course it wasn't the real one but an incredible simulation! Everywhere we looked we were treated to fine homages to some of comics' finest heroes and villains; there was a spot on Cable, a platoon of Winter Soldiers, a horde of Harley Quinns and a gang of Govenors from The Walking Dead. Just about every corner of the Marvel and DCU was represented as well as many independent publishers' properties. The amount of time and painstaking detail that goes into some of these costumes is equaled only by the love that inspired their makers to create them. The well-deserved and earned pride of a job well done was evident on many of their faces as they were asked and happily posed for endless pictures with passersby and other cosplayers alike. This was their time to shine and many of them chose to do so in the costume contest held on the final day of the convention.
I love Comic Con more than any other time of year. It is a time when we can come together and embrace and share our love of super heroes and the creators who have brought them to life for our enrichment and entertainment. The good people who work behind the scenes to put the show together and labor in virtual anonymity are heroes as well in their own right because without their tireless efforts we would not have this awe-inspiring event to look forward to every year. So I would like to thank everyone who made the 15th Baltimore Comic Con the biggest and best ever both behind the scenes and on the show floor, it was an awesome event and I cannot wait until next year. Until then, Excelsior!
---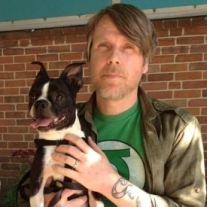 Shawn is an aspiring writer/ artist who has been reading, collecting and living comic books for over 30 years. He lives in Baltimore with his wife, their son, lots of cats, dogs and other various finned and furry friends.