(BOOM! Studios)
Created by Dan Abnett & I.N.J. Culbard
Written by Dan Abnett
Illustrated & Lettered by I.N.J. Culbard
I usually try to begin a review with a snappy anecdote, some little tidbit about my personal history with comics or entertainment that will bring the reader more easily over to my point of view.  (Because the long and short of it is if you're reading this you're wondering about the book and my review was one that popped up on your search engine.)  With Wild's End #1, out from BOOM! Studios this week, I don't feel I have an adequate story, one that will fill you with nostalgia or the insatiable lust that comes over a new find, although such lust in the comic book buying world should be encouraged at all times.  This book is good, I dare say, really good, the reason for which is because of the masterful storytelling and spot on artwork.  And let's face it we all like talking animals.
Ah…there's the tag.  Talking animals.  Wild's End is a story about all sorts of things, and this first issue begins to lay those things out, but if you want the long and short of it, it has talking, anthropomorphic animals in it.  Which is always a good time in my experience.
This isn't the first we've seen of this in comics.  Bill Willingham's Fables is rife with talking creatures, and Juan Diaz Canales' Blacksad is the most serious of talking animal books.  Wild's End is a somewhere between the darkness of Blacksad and the Wind in the Willows, the classic children's by Kenneth Grahame. (Also published as a four-volume comic by Cinebooks in 2005).
Dan Abnett (Nova, The Legion) has obvious love for Grahame's book.  It's hard not to draw lines between the two, and all other animal-based stories.  Wild's End is a sleepy little turn of the century village filled with all of the quaint characters you'd want to see there.  The couple of drunkards, wandering the overgrown and darkened lanes, the uppity gentleman, in everyone's business because, face it, they can't be expected to run themselves, and of course the stranger, new to town and a mystery the other townsfolk cannot help but wonder at.  All of these things are staples in this sort of out-in-the-country-village type of story.  And then the UFO crashes.  Mr. Toad's wild ride just got a little wilder.
I.N.J. Culbard (The New Deadwardians, 2000 A.D.) uses that children's book kind of style to keep the tone light, but doesn't pull any punches when it comes to incinerating the townsfolk.  It's disarming when you see a happy, homey-looking pig get it from an alien robot, because the style doesn't seem to fit the content.  But it does work, and as with many animal-based books, Culbard manages to instill so much humanity into his characters that we forget that they are supposed to be animals.
I would be remiss if I didn't tip my hat to BOOM! Studios for their constant release of new and interesting titles.  I'm certain that this kind of book wouldn't be seen out of either of the big two, and it's a solid reason why smaller companies are so vital to the growth and sustainability of the comic industry.  BOOM! Studios continues to find artists and writers that have new and original stories, and being fearless enough to put out those stories even though they don't revolve around emo spandex wearers.
Wild's End #1 promises to be a good title, not because of it's flashy storytelling, or bright, action-filled artwork, but because it is giving us a book that seems familiar while being totally new.  Abnett and Culbard are on the right track with Wild's End, one that you can drive on in a motorcar, enjoying the green men and shrubbery at the same time.
---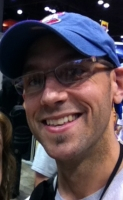 Brad Gischia is a writer and artist living in the frozen Upper Peninsula of Michigan. He is married and has three kids and a dog, who all put up with his incessant prattling about comic books.