Baltimore Comic Con 2014: A Brief Overview of Comic Book Bliss
by Shawn Warner
Friday, September 5th was the first of three magical days devoted as they were to all things comic book related; the 2014 Baltimore Comic Con opened and transformed the city into a sequential art inspired utopia. I was joined by my good friend Matt Seal who served as my right hand for all three days and was indispensable as my colleague and cohort; in fact he is responsible for the majority of the accompanying photos from the convention floor. The entire show was meticulously orchestrated and ran in an extremely smooth and well-ordered fashion, from the moment I picked up my press pass at 10 a.m. Friday morning until that final bitter-sweet exit with a bloated bag of dollar box treasure carried by an exhausted and battered body, this year's convention was a wonderful experience. The extended three day schedule was a blessing that afforded me the extra time to meet creators, get my books signed and in most cases a short interview as well as plenty of hours to scour hundreds of long boxes stuffed with bagged and boarded booty. The paid staff and crew of volunteers from line monitors and box office staff to greeters and hospitality workers were accommodating, helpful and friendly, I can't tell you how much difference this made at times especially on Saturday when the floor was beyond packed with hordes of milling fan boys, families and speculators all seemingly trying to occupy the exact same space, which at many times felt like anywhere I was going, but even during the most crowded, chaotic day of the show order reigned and a great time was obviously had by all.
This year's guest list featured some of today's top creators, a few which have reached legendary status as well as many bright up and comers. The "Big Two" were well represented as were many of the smaller independent publishers. This was reflected in the diverse selection of panels scheduled throughout the weekend. I was able to attend the Marvel and DC panels both of which featured some of the publishers' big guns. There were no bombshell revelations coming from either side but I was able to verify from the Marvel panel that Ben Riley will be making his return during the epic Spiderverse event and in the cosmic corner of the Marvel U, Charles Soule assured me personally that Black Bolt will be appearing in issue #7 of Inhuman along with other classic Inhumans in future issues, also is Marvel space related news but in another universe, Mark Waid gave some scoop on his upcoming Princess Leia series; the writer says that the events are set the day after A New Hope ends. After the medals are presented and the ceremony has ended Leia sets about the task of locating other surviving Alderaneans who may have been off world at the time of their home planet's ultimate destruction by the Empire. In other Marvel news Tom Breevort joked that if Wolverine comes back he gives us permission to kill Charles Soule, this was in response to an audience member's question about the events currently shaking out in Soule's Death of Wolverine mini-series which, as anyone not living in a cave knows, is being hyped as the last Wolverine story.
The DC panel was a bit more structured with its complementing slide show and with the exception of the incomparably charismatic Greg Capullo; the overall atmosphere was far less jovial. Capullo was in his usual rock star mode at the panel, speaking to fans on a much more personal level and with the air of a guy you could just have a few beers with. I have to admit I was completely impressed with this guy, his demeanor is so laidback and approachable I felt like I could ask him anything. He confirmed that he and Scott Snyder's brilliant run on Batman will be ending in just 16 issues. When asked about the final arc Capullo would only say that it is going to be a bombastic ride. Another fantastic and wonderfully witty DC artist is the talented Ivan Reis, the gifted creator called The Multiversity series he is currently working on with the genius Grant Morrison a "love letter to the heroes of the DCU from Grant", Reis went on to say that working with Morrison was an overwhelmingly positive experience and he would love to work with him again in the future.
We spent much of the three daylong event meeting creators at their respective booths where it is much more conducive to conversation and they are more likely to reveal elements of upcoming stories. For instance, when I asked the amazingly talented writer of Green Lantern: New Guardians, Justin Jordan about the future of Kyle Rayner, he assured me that we have not yet seen the extent of Rayner's Godlike power. Jordan's Luther Strode collaborator, Tradd Moore was also present at this year's con. Moore is one of the most dynamic and innovative artists working today, when I inquired as to his plans after leaving Marvel's All New Ghost Rider Moore said he planned on devoting his time to the next Luther Strode project.
Moore was one of several of my favorite artists I was fortunate enough to meet this year; Greg Capullo, Joe Quinones, Richard Case and Francesco Francavilla were all super cool and really down to Earth guys as were the living legends George Perez, Walter Simonson and Dave Gibbons. There was no shortage of great writers present either like Garth Ennis who was just a really nice guy, Charles Soule, Peter Tomasi and James Tynion IV. This is only a tiny example of the staggering talent on hand to meet and greet their adoring fans; I will be covering more specific events in greater detail in my accompanying pieces which will be posted over the next few days but I would be remiss if I didn't mention here the amazingly cool Paul Pope. Not only is this guy an accomplished artist and writer in the independent comics scene, his work on Batman is viewed by many, including Scott Snyder, as mandatory reading but he is without a doubt one of the most magnetic and engaging people I have ever had the pleasure of meeting. Meeting him was certainly a highlight of the three day event and one I hope I get the chance to repeat. The conversation we share was not particularly focused on comic books or even art in general; mostly we talked about music and the state of the scene. I don't want to gush or sound like an enamored schoolgirl but it took me all weekend to meet Paul Pope and the experience was well worth every second of the wait.
Well that's going to wrap up this brief overview of Baltimore Comic Con 2014. I will be back with more in depth pieces on vendors, cosplayers and of course more creator stories and scoop right here at Bag and Bored. So please check back in with us and I hope that if you didn't get the chance to attend that my reports help share the fun and excitement of the event, until next time True Believers, excelsior!
---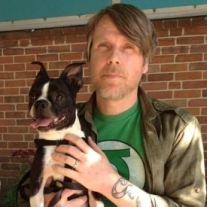 Shawn is an aspiring writer/ artist who has been reading, collecting and living comic books for over 30 years. He lives in Baltimore with his wife, their son, lots of cats, dogs and other various finned and furry friends.