(DC Comics, 2014)
Written by Ray Fawkes
Pencils by Edgar Salazar
Inks by Jay Leisten
Color Artwork by Tanya & Richard Horie
Lettering by Taylor Esposito
John Constantine has always been one of my all-time favorite characters for the simple reason that he is a consummate survivor. He's survived every sort of occult enemy, ethereal attackers of all sorts, sizes and denominations and he has even faced the sinister scenery chewing, perpetual surfer boy Keanu Reeves, who almost single handedly wiped Constantine from our collective memories with his hackneyed portrayal of the cockney mage. Let's face it, that was one of his toughest tussles ever and here we are with Johnny 17 issues into his new series after a stellar Hellblazer run, he is the reluctant leader of the Justice League Dark and we are counting the days until the premiere of his eponymous television series, bravo John and cheers. Not too shabby for a guy who made his debut as a second fiddle to Alec Holland in the pages of Swamp Thing I'd say.
Unfortunately the New 52 has not been the easiest place for Constantine to fit in, unlike the Vertigo Universe he called home during his Hellblazer days, the New 52 is a fickle universe built on an ever changing and somewhat unsure continuity, just ask Lobo. Series writer Ray Fawkes has done an admirable job of crafting stories that would feel more at home in Constantine's previous universe while maintaining his footing in the current super hero stomping grounds, the New 52. That's not the simplest task when you consider the more straight forward horror slant inherently attributed to this character and his supporting cast of crazies, black magicians and monsters. Fawkes is a clever writer, obviously well read and no slouch when it comes to crafting a complex narrative full of horror tropes but based in a super hero universe. This Constantine is not so different from his Vertigo persona however the world he occupies is necessarily brighter, slicker and far more polished and that is more a visual element than a written one. The artwork is vastly different which makes sense when you look at the big picture of tying this series into an overarching DCU, which was not an issue at Vertigo, in fact the farther out the better back then. Editor Karen Berger had an amazing ability of finding and developing the most imaginative creators the cutting edge had to offer and plugging them into the Vertigo universe to the delight of fans and critics alike, however now the rebellious Constantine must conform. This has not been as soul sucking an endeavor as I had originally thought when this series was announced, in fact more times than not I have been pleasantly surprised by this book, that is not to say that it has been consistently brilliant but it has had more shining moments than shameful ones thus far.
This issue for instance is told in a most peculiar fashion in that the majority of the narrative is built of Constantine's conjecture. Like most Constantine stories this one is at least partially narrated by the cockney conjurer however, the difference that makes this so unique is that the narration is written as what may be happening or what most likely happened. It is only through Edgar Salazar's artwork that we see he is correct or at least we are further led to believe that these events as described by Constantine have in deed come to pass and are now factual.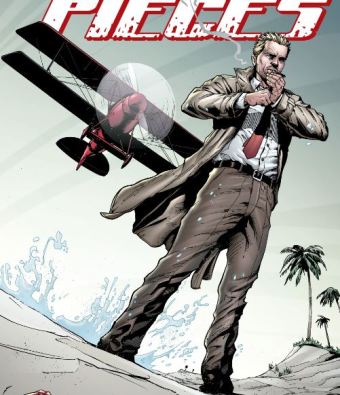 The issue begins with Constantine's metaphysical death and re-birth which makes for one of the more visually stunning scenes in the series to date. John is re-born from the ocean, as he makes his way from the foaming surf his skeletal form is covered by muscle then flesh and finally he crawls upon the beach of Tanzania circa 1914 during World War I. It seems Tannarak has cast a fraudulent spell on Constantine that he obtained from Papa Midnite called the Kill Switch. Allegedly the spell was to kill Constantine instead it sent him a few miles from the Temple of the Cold Flame precisely two weeks prior to the casting of the counterfeit curse. All types of skullduggery and back stabbing ensue including Julia attempting to release the Spellbinder which would spell the demise of the members of the Cold Flame Cult since the Spellbinder would effectively sever the restraints currently in place protecting them. Then Julia is to turn her attention upon Saragon however John had placed a subliminal in Saragon's mind during an intimate moment which would reverse any kill spells aimed at her. Wow is this deep and complex and just a bit complicated? Hell yes but it is a blast to read and work your way through along with the characters, nobody is sure of anybody else's allegiance, it's like an occult version of Big Brother without the power of veto! During all of this John is still in World War I era Tanzania where his only companion is Mister E who is currently trapped in the blade of a dagger, so for all the world it looks like John is walking around talking to his knife. He then bursts in on Doctor Occult and much more magical exposition ensues. From there Constantine is pulled forth into some sort of Hellish realm where he is confronted by what look like several sinister Ultron inspired demons. The fun never ends.
Ray Fawkes' narrative is complex there is no doubt about it, this book is not for the un-indoctrinated. It is just too deep and complicated for the casual reader, in fact I would be very careful to whom I recommended this book for fear of scaring off a potential future comic book fan because as Stan Lee told us "every comic book is someone's first", so with that in mind I would say that I totally enjoyed this book. It feels like Fawkes is hitting his stride and becoming comfortable with these characters and this world. The dialog is sharp, it's witty and Fawkes nails that trademark Constantine smugness that we have come to love so much about him. Although the plot is dense and full of unseen twists and turns that are left to be explained later, it is engrossing, entertaining and fun in the way that taking a Mensa IQ test is fun, you have to work for it but you reap what you sow.
Visually Edgar Salazar creates some pretty macabre images that really bring this world into sharp focus. His dynamic use of panel placement and extremely esoteric page composition work very well with Fawkes ethereal subject matter. Salazar's pencils are inked with precision and attention to detail by Jay Leisten who does a solid job of bringing an enhanced depth to the work overall. The coloring collaborators Tanya and Richard Horie bring a nuanced sense of illumination to Salazar's imagery tying the entire work together in a cohesive and effective fashion.
Constantine is not for everyone, it's just not that kind of book but, if you enjoy an ethereal head scratcher full of occult imagery and exotic settings then don't be afraid to dive into the world of John Constantine, former Hellblazer turned Justice League Dark member. (3.5/5)
___________________________

Shawn is an aspiring writer/ artist who has been reading, collecting and living comic books for over 30 years. He lives in Baltimore with his wife, their son, lots of cats, dogs and other various finned and furry friends.