(Comix Tribe, 2014)
Story – John Lees
Art – Iain Laurie
Colors – Megan Wilson
Letters – Colin Bell
The things you love as a child shape the adult you'll become.  The popularity of geek culture (because "geek culture" is a common term now) rest on the fact that the people making the big decisions (and consequently the big money) were the ones that grew up on the '89 Batman, the Richard Donner Superman, and the oft-talked about and seldom seen Roger Corman Fantastic Four. (Forgive us, we had nothing else.)   So it would pass muster and the high-falootin' minds of the internet that those things that scared you as a child would still reside in some dark corner of your brain, waiting to creep out and stick you with a sharp something.
This, of course, is what the Grimm Brothers counted on when writing their tales.  If you haven't read the original versions you may be surprised to hear that they're much gorier and deadlier than the tame Disney version we remember.  There's heel and toe slicing in Cinderella (gotta get that shoe on) witches usually get the kids, suspicious kings go to great lengths to prove that the damsel has been unfaithful.  This is the spirit in which you should read And Then Emily Was Gone.
John Lees (Oxymoron, The Standard) has taken a tale from his childhood, that of Bonnie Shaw, and transferred that into a comic book.  And believe me, the Bonnie Shaw myth is one that will keep your children staring wide-eyed at the crack of light beneath their bedroom doors.
The origin of the myth is not nailed down, but it did find a solid home in the Orkney Islands, north of Scotland.  Bonnie Shaw would come to parents who had fallen on hard times and offer them respite, in exchange for a child.  It would also use dark magic to "break the resolve of communities"…literally rotting the society so that losing a few kids would seem a small price to pay.
Lees introduces us to Greg Hellinger, a former detective plagued by his own demons, weather real or imagined we can quite tell.  He opens his door one day to see Fiona, a friend of Emily (from the title of course), who has vanished.  The two planned on escaping Bonnie Shaw, whom Emily's parents traded with, before it came to get her.  It seems they weren't in time, because "and then Emily was gone."  There are also shots of Emily's parents, who seem to have not got on at all well have their daughter's disappearance.
Iain Laurie's (Oxymoron) art is not, in this case, your typical, flashy comic art, but is great for the tone of the book.  He sprinkles demons in the background inside the panels, infecting the reader with the doubt in Greg's sanity that was already established by Lees' narrative.  (And the Riley Rossmo alternative cover is creepy as sh#t.)
If you have ever watched a "children's movie" and loved it even though it scared the bejesus out of you (I'm looking at you Dark Crystal), if you ever listened with rapt attention as your school mates told you to never, ever, stand in front of a mirror and say "Bloody Mary" three times while spinning (ugh, never got past two, and I still won't), than pick up And Then Emily Was Gone.  John Lees has channeled the Grimm Brothers with his sublimely scary story, one that promises to get weirder as time goes on.
___________________________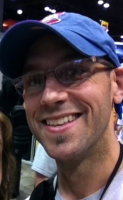 Brad Gischia is a writer and artist living in the frozen Upper Peninsula of Michigan. He is married and has three kids and a dog, who all put up with his incessant prattling about comic books.