(BOOM! Studios, 2014)
Created and Written by Max Bemis
Illustrated by Ransom Getty and Andrea Mutti
Colored by Chris Blythe
Lettered by Ed Dukeshire
The altered reality is a constant source of inspiration for writers.  What better way to craft a convincing story than to build it on a foundation of truth?  And some of my favorite comic stories over the years, from Marvel's What If…? series to DC's Elseworlds line, covered characters with changed traits because of altered history.  It makes for a compelling read every time.
Max Bemis (Polarity, lead singer for Say Anything) has given us another altered history, one whose foundations are those of our very own country and that we can see shades of on any television news channel every day.  The beauty of Evil Empire is not in its great writing or art, but in the way that Beamis chooses to show the action, happening in the past and future at the same time.  (No Doctor or DeLoreans, we are completely sans time travel.)  We see the birth of the empire and the result of said empire's reign.  It's kind of like watching the original Star Wars and the new trilogy at the same time. (Bemis, thankfully, has no Jar Jar avatar in this.) (A further note, I love the way Jar Jar avatar sounds, so any hip hop artists…feel free.)
Issue #3 begins in the future, which up to now has only made a token appearance. Ken Laramy is a former senator and presidential candidate who murdered his wife and confessed on live television, and did it in such a way, at the perfect time, that the public loves him for it.  He's built a following, such that, as he's taken into custody, you have a feeling that he won't stay there for long.
Reese Greenwood is on the flipside of the coin, almost literally.  She is becoming romantically attached to Laramy's opposition for the presidency, as well as already being an outspoken critic of the government.
One very cool thing about this is that Bemis has changed things up a little.  Both Larmay and Reese don't like the way the country is being run.  But they do disagree on how it should be changed.  Laramy has used his political power and influence to gather an army to promote a civil war.  Reese still wants to change it from within, which is hard for a non-politician.  (Though it may be even harder for an insider.)  While Laramy preaches chaos and anarchism, Greenwood tries in her own way to make everything right.  True to form though, Bemis won't let it end that easily.
Ransom Getty (Guarding the Globe, War of the Green Lanterns: Aftermath) and Andrea Mutti (Noir, Star Wars: Lost Tribe of the Sith) take turns on the artwork in this, and I found both of their styles to work well with the content.  There is need in this for action, for violence, and both Getty and Mutti can work the movement needed into their art, but at the same time there are periods where the dialogue is the star.  Still the pair has managed to make the panels always captivating.
Evil Empire #3 hits the stands this week, and Max Bemis has continued to bring the action and intensity with which he began in issue one.  There may be social commentary here, or perhaps just a cautionary tale, but Bemis has provided a perfect altered history either way.  (Sometimes I wish politicians would read comic books.)  Big things happen in this issue, ones that will shape those very foundations that are now crumbling in the comic, and if you're a fan it is most definitely one you shouldn't miss.
___________________________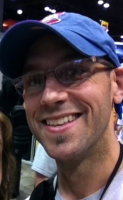 Brad Gischia is a writer and artist living in the frozen Upper Peninsula of Michigan. He is married and has three kids and a dog, who all put up with his incessant prattling about comic books.