(DC Comics, 2014)
Written by Jeff Lemire
Artwork by Mike McKone
Color Artwork by Marcelo Maiolo
Lettering by Carlos M. Mangual
Justice League United is a brand new monthly DC Comics series from writer Jeff Lemire and artist Mike McKone, featuring a great line up of superheroes that are drawn together to become Canada's very own Justice League.
This zero issue throws us right into the thick of the action in the Polaris System, with the members of Justice League United battling aliens conducting strange experiments. Before we have time to really take in what's happening, a strange wave of energy is unleashed and we flashback to events on Earth three days earlier at a convention in Toronto, where Animal Man and Star Girl encounter Dr Adan Strange. He asks them to help him find his fiancé, Alanna Lewis, who went missing while they were investigating an archaeological dig in Northern Ontario.
Stargirl and Animal Man agree to help and travel with Adam Strange to the site of the dig, where they are suddenly attacked a species of armoured aliens. Fortunately the Martian Manhunter and Green Arrow soon arrive to help, together they discover the alien's underground base; however it seems the aliens have a contingency plan and are ready to fight back. A new Canadian superhero, Equinox, also makes her debut in this issue, and somewhere on a distant world a group of prisoners watch as Hawkman emerges from the shadows to fight their captor.
Justice League United #0 gets this new series off to a good, if somewhat confusing start. Overall the story holds together well, there is a feeling of being thrown in at the deep end a bit, with so many plot threads unfolding and characters being introduced, but I think Jeff Lemire does a great job of bringing it all together. While it would have been nice to have seen all the members of this new team in action, what we get here is enough to serve as a good introduction to those we see in this issue. I also really liked how Miiyahbin was transformed into new hero, Equinox, when her seemingly ordinary day suddenly becomes really creepy after she arrives home.
What really makes this issue stand out from the crowd is how much fun it is. Lemire has crafted a really tightly plotted storyline, one that allows the characters to shine, and there is some great banter as well; especially between Animal Man and Green Arrow. With so many DC titles being so dark and deadly serious now, it's really refreshing to read a comic where the story doesn't take itself quite so seriously and also has some fun with the characters.
The art by Mike McKone is another really good point, each character is clearly defined, and the page layout relays the action concisely as it unfolds. I also liked the alien creature designs as well; they were very different and unusual. McKone's art is perfectly suited to the tone and style of Lemier's writing, the action is well structured, and Marcelo Maiolo's vibrant use of color brings an added level of enhancement to the characters and their environments.
It still puzzles me quite why this was a zero issue instead of being just a regular No #1, not that it spoiled my enjoyment of the issue, but it didn't exactly seem in keeping with the tone of DC's previous zero issues. However, as the first installment of this five part Justice League Canada storyline, it works surprisingly well, especially considering there are quite a number of unanswered questions here - a result I expect from Forever Evil being pushed back, leaving us with no idea how that ends.
Justice League #0 is still a great start to this new series. This title is fun and exciting, with solid art, and has a great ensemble of characters. I thoroughly enjoyed Justice League United #0 and look forward to seeing how this book develops over the next few issues.
______________________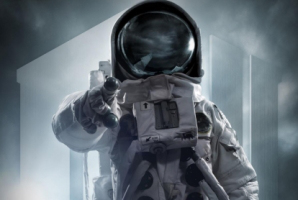 Paul Bowler is a self-Confessed Sci-Fi Geek, Doctor Who fan, and Zombie Disposal Expert. He likes movies, comic books, and all things PS3. He likes to write about his interests, would love to write a novel one day, and also enjoys chatting to the many people he has gotten to know on Twitter. When he's not busy being an Impossible Astronaut, he likes to take a break from his adventures in time and space to enjoy some of his favourite tv shows and movies – preferably with a nice cuppa tea & a sandwich! You can follow him on Twitter @paul_bowler, or find him at his website, Sci-Fi Jubilee.