This is one of the biggest deals in comic books; it's a day that was designed to reach readers who might otherwise never consider entering a local comic book establishment because in their minds these are dark dungeon-like basement dwellings populated by single white males most sporting some fashion of facial hair and wearing t shirts featuring their favorite super-heroes while debating which is the superior Star Trek, original or Next Generation, in Klingon of course.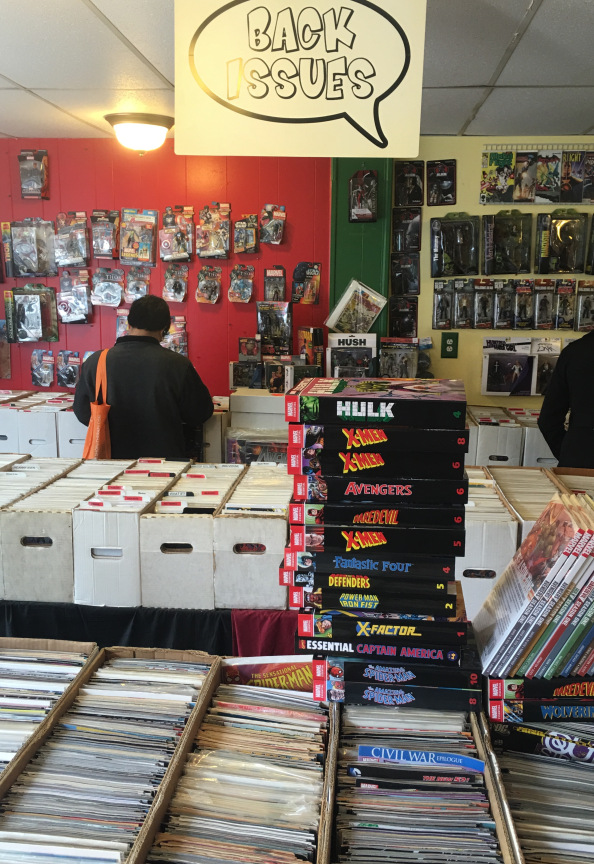 Those of us who have been venturing inside these hallowed halls for decades know this is not the case, well not entirely, my Klingon is rusty and I am married, so as you can plainly see I'm not one of these types. Okay so maybe I am but that's beside the point which is that New Comic Book Day has opened the doors to legions of new readers simply by offering free comics to anyone brave enough to come in and see these merchants, their customers and the shops they occupy are not scary places full of socially awkward weirdos. What is more likely to be found are wonderful shops full of exciting images and magical objects that capture the eye and the imagination staffed by intelligent, well-read individuals of diverse ethnicities, male and female who want nothing more than to share their love of comic books.
I started my Free Comic Book Day off with a stop at Cosmic Comix in Catonsville which already had a crowd out the door and lined up a good thirty feet beyond the entrance. These guys always pull out all the stops every year; they have one room full of games of chance, an old fashion popcorn wagon and a table where you could get all the FCBD offerings. Another room is full of deeply discounted trades, hard covers and collected mini-series. All of this is in addition to a huge sale in the main store where they also had a local artist signing and doing sketches. The two main guys at Cosmic, Andy and Rusty, have been staples in the local comic book scene for years and the shop is a solid old school comic book store where can usually find what you are looking for whether it is a vintage Star Wars figure, an elusive Pop Vinyl or just a good old hard to find back issue. I picked up two volumes of Grant Morrison's Zenith for five bucks a piece before heading off to visit my good friends at Universal Comics in Arbutus.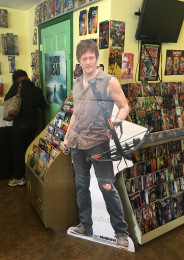 Anyone familiar with me knows I love this store and I have been a loyal subscriber for most of my comic book collecting life. I have watched the shop change owners but never change the commitment to customer satisfaction that has defined Universal Comics for decades. I watched cover prices go from thirty-five cents to four dollars and ninety-nine cents, several of my favorite characters die and come back, some of them more than once and I have seen Thor change gender, several heroes change race all the while I never changed shops; so it only stands to reason that a trip to the mighty Universal Comics will always be my main stop on FCBD.
     The shop was a bit more crowded than usual for a Saturday and with that came an air of festivity that only free comic books can conjure up.  John and Gordon, the co-owners of Universal went the whole nine yards, as they do every year, chopping 50% off the price on all back issues in their vast inventory even the key and rare issues on the wall and in the showcases were deeply discounted, as were action figures, trades and gaming materials. The shop always maintains such a welcoming atmosphere that it feels more like a friendly get-together than a place of commerce. In fact, I spend much more time hanging out with my friends at Universal Comics than I do anywhere else. Even Chloe, the adopted shop mascot, had a great time meeting and greeting old and new friends as they came in to enjoy Free Comic Book Day 2016 here in Baltimore.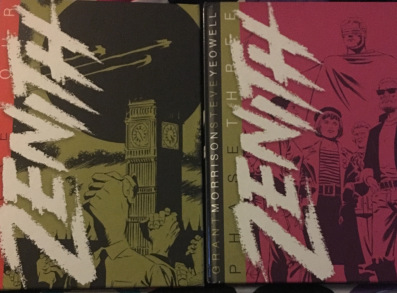 As for the publishers' offerings this year; Marvel gave us an introduction to Steve Rogers' return which also included a peek at the new Spider-Man event, Dead No More. The House of Ideas also offered a very timely introductory chapter to Civil War II. DC dropped the ball this year in my humble opinion, opting to go with a re-print of the New 52 Suicide Squad in a blatant attempt to drum up interest in the upcoming film. I don't fault the distinguished competition for this, but couldn't they have tossed us a Re-Birth bone. Valiant took the opportunity to introduce their fantastic 4001 A.D. crossover event, IDW gave us a zero issue of their recently acquired ROM, upstart publisher Black Mask gave us what was possibly my favorite book of the day with it's We Can Never Go Home and Young Terrorists split issue and the final book I picked up but by no means the last of the titles offered was Grant Morrison's next foray into India's super heroes, Avatarex: Destroyer of Darkness. This is a follow up to the prolific writer's 18 Days title for the same Graphic India imprint. I liked 18 Days but jumped ship when Morrison stopped actually writing the book, Avatarex seems more to my liking as it has a bit heavier sci-fi feel to it. There were plenty more free books available for all ages and all interests, in fact there were 50 FCBD comics in all, from Grumpy Cat to Archie and beyond you were sure to find something, all you had to do was come on in.
     Well True Believers, that was my Free Comic Book Day 2016, I hope you had a great day wherever you spent it. The local shops are the back bone of our wonderful subculture without them we would all be reading our comics on tablets or smart phones. I don't know about you but the smell of old comic books is something that I have always loved and it just cannot be duplicated digitally, however if Yankee Candle ever makes it one of their featured scents, I will be first in line to buy one. FCBD is the perfect excuse to get out and visit these fascinating places, pick up some new reading material and maybe make some new friends; until next year, Excelsior!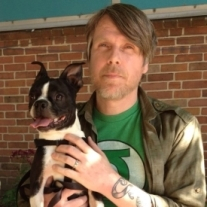 Shawn is an aspiring writer/ artist who has been reading, collecting and living comic books for over 30 years. He lives in Baltimore with his wife, their son, lots of cats, dogs and other various finned and furry friends.