(IDW 2016)
Writer: Mike Johnson
Art: Tony Shasteen
Colors: David Mastrolonardo
Letters: Andworld Design
Regular Cover: Tony Shasteen
The elder Spock has been incarcerated and put on trail by the Romulan Empire, now in Star Trek #57 distant memories from Spock's alternative past return, and the quest for a new Vulcan home world faces a dire threat. Legacy of Spock: Part 3 continues in IDW Publishing's Star Trek #57, written by Mike Johnson and with art by Tony Shasteen, this special storyline brings Spoc'ís life-long journey full circle as the gulf between the centuries and timelines converge in this startling new chapter of IDW's flagship comic book series.
In 2258 the planet Vulcan is no more, destroyed by the Romulan Nero. Having been blamed for the loss of their home world and cast out by his own people, Spock Prime began to reflect on the alternative timeline he left behind, but now a new threat rises as the Romulan Empire conspires to use the same microscopic Red Matter substance which Nero used to destroy Vulcan to wipe out the surviving Vulcan's as they prepare to settle on a new home world in the Ceti Alpha system. Following his secret mission to Romulus to bolster the peace movement in this timeline Spock was captured and now stands accused before the Romulan Senate, charged with the most sever crimes, and dammed by the testimony of two surviving Romulans from Nero's crew - who are now also the only survivors of Romulus' destruction in their own timeline.
Mike Johnson crafts a wonderful issue here. This third chapter of the Legacy of Spock storyline continues to deliver a rich mix of drama, action, and nostalgia, and now with Spock on trial; events in this alternative timeline established by the new Star Trek movie franchise take a dramatic turn as the search for a new Vulcan reaches a critical juncture. The big highlight of this issue are Spock's recollections during the flashback to events set in his own timeline, were his previous time spent on Romulus included a visit from some unexpected guests - Captain Picard and Lt Command Data. This meeting between Captain Picard, Data, and Ambassador Spock originally happened during the Star Trek the Next Generation story, Unification Parts 1 &2 (1991), now with Star Trek #57 Mike Johnson gives us further insight into this momentous encounter, and the result is both a thoughtful and extremely moving look back at this pivotal point in history.
Spock's trial on Romulus is also well handled. The pacing and characterization is spot on. Johnson weaves numerous suspenseful moments together here as the evidence against Spock unfolds, the Romulanís two star witnesses seem to have provided them with everything they need, but as in most Star Trek trials things are never quite as clear cut as they seem. Spock's verbal sparing with the Romulan Praetor is another marvelous moment in this issue, and you will find yourself hanging on every word as Spock makes his case.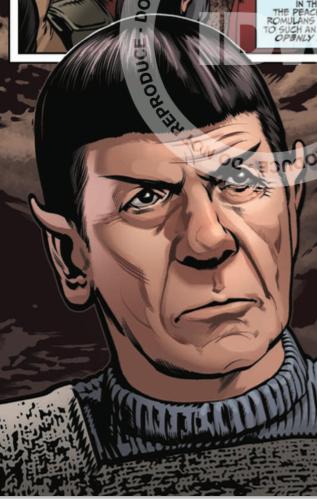 Tony Shasteen's artwork is as impressive as ever. This issue of Star Trek looks incredible, the trail scenes are especially epic and dramatic, and you get a real sense of the scope and scale of the Romulan Senate. Every scene is enhanced further by David Mastrolonardo's colors, a palette of subtle tones and shadows are delicately blended over the course of the issue, which heighten the drama on Romulus and make the scenes in space with the Vulcan fleet feel even grander. Of course, it is those wonderful flashback scenes with Ambassador Spock, Picard, and Data were Tony Shasteen's and David Mastrolonardo's work really shines. The characters likenesses are also very impressive too, which in turn brings added gravitas and poignancy to this key moment.
Sentenced to death along with Senator Pardek, it looks like Spock's fate has been sealed, but it seems that Spock might have underestimated the influence of the resistance moment in this timeline after all. This penultimate issue of the Legacy of Spock races towards its climatic final moments, with the Romulans hell bent on engineering the Vulcan's destruction, there's also a poignant reunion a for Spock, and the chilling realization that there is only one logical course of action left for the Vulcan people now as the Romulans close in.
The special Legacy of Spock event has already proved to be a gripping and moving storyline. Star Trek #57 is a terrific issue, with its beautifully structured story by Mike Johnson and great art by Tony Shasteen, this IDW series has been consistently good, and Legacy of Spock is shaping up to be one of the best storyline so far!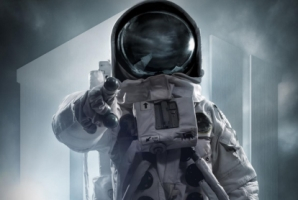 Paul Bowler is a self-Confessed Sci-Fi Geek, Doctor Who fan, and Zombie Disposal Expert. He likes movies, comic books, and all things PS3. He likes to write about his interests, would love to write a novel one day, and also enjoys chatting to the many people he has gotten to know on Twitter. When he's not busy being an Impossible Astronaut, he likes to take a break from his adventures in time and space to enjoy some of his favourite tv shows and movies, preferably with a nice cuppa tea & a sandwich! You can follow him on Twitter @paul_bowler, or find him at his website, Sci-Fi Jubilee.