(Image Comics, 2014)
Written by Chris Dingess
Artwork by Matthew Roberts
Color Artwork by Owen Gieni
Lettering by Pat Brosseau
I never thought a comic book about Lewis and Clark's historic expedition would up being one of my favorite horror comics ever! I mean sure Lewis and Clark's exploration makes for some interesting reading but now, thanks to Chris Dingess and Matthew Roberts' phenomenal imaginations their inventive recounting of the illustrious journey reads more like Len Wein or Alan Moore's Swamp Thing than a senior high history textbook. Dingess melds the factual with the fantastic so well that when Sacagawea appears in this issue it feels absolutely correct, even when she single-handedly slays a herd of "Buffalotaur". His penchant for blending supernatural elements with historic events is what gives this series it's extremely unique flavor and lends it an edge of originality over other historically inspired works like Kieron Gillen's Three which is more straight-forward.
This issue focuses on plot development a bit more than the previous issues but, there is still plenty of action and more zombie-plant creature drama concerning Floyd's transformation into a flora-monster unfolds by the time everything is said and done. Dingess relies on Lewis' journal entries as a vehicle for narration, this is not an especially original idea but it works exceedingly well here. He seems to have a gift for writing dialogue with a realistic and genuine feel to it; the characters speak as individuals because Dingess has established personalities for each of them.
This series has been paced really well thus far, the action is woven into the overall narrative at such a perfect tempo that the story seems to unfold quite naturally, it never feels artificially quickened or embellished for the sake of picking up the pace. Dingess writes at what I call an "organic pace", by this I mean that events have enough time between them that the narrative is allowed to grow and foster a sense of actuality. For instance, when Sacagawea shows up with her tale of slaughtering the Buffalotaur herd, Dingess uses an economic approach to the scene. He never employs gratuitous gore or overtly over the top violence to sell a scene, just good, descriptive writing. It is truly a case of less being more. I like the fact that the majority of that action takes place off the page, although I would have loved to have seen Matthew Roberts' interpretation of the scene as it was happening.
Speaking of Roberts' artwork, he has not failed to deliver on a single page of this series thus far. His work is clean, detailed and highly imaginative. He has a nicely stylized take on anatomy that gives his work a fresh innovative look, more dynamic than cartoony. His character designs reflect this stylized approach as well, however he maintains a sense of authenticity when it comes to attire, settings and other time specific details. Roberts' gets a lot of emotion out of his characters' facial features and body language, allowing his artwork to convey the tonal quality of Dingess' narrative. These guys share an amazing chemistry and the result is one heck of an impressive comic book.
This issue is full of all the things that have made Manifest Destiny another break-out hit for Image Comics. I have been on board since the first issue of this series and I cannot imagine jumping off anytime soon. I love where this book is going and it's a lot of fun getting there, brilliant writing and dynamic artwork are the foundation of any great comic book and this one has both in spades. I highly recommend getting in on this one before the story gets too far along. If you like your comics to have a bit of that early Vertigo sensibility you are going to love this book.(4/5)
___________________________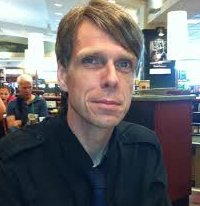 Shawn is an aspiring writer/ artist who has been reading, collecting and living comic books for over 30 years. He lives in Baltimore with his wife, their son, lots of cats, dogs and other various finned and furry friends.