Hello and welcome fellow followers of The Bat, to another Weekly Bat Signal where we dish all the dirt on the Dark Knight. From the palatial Palisades to creepy Crime Alley, we cover Gotham City better than a roll of yellow police tape. This week we are going to dissect the latest issue of Batman: The Dark Knight written by Gregg Hurwitz with really excellent art by Alberto Ponticelli, then we are going to turn our attention to the Batman and Robin Annual #2 written by Peter J. Tomasi with art by Doug Mahnke and Patrick Gleason. Finally we will take a look around Tinsel Town to report on the latest developments around the Batman vs. Superman film. So without further delay let us dive into this week's first issue.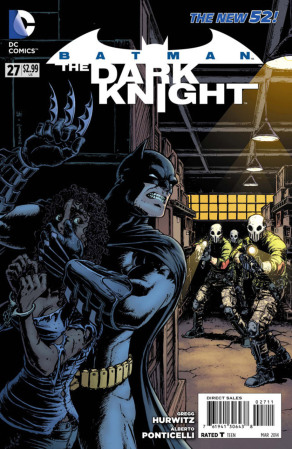 Batman: The Dark Knight has not been my favorite Bat-book of late so I recently came out and directly placed that blame on writer Gregg Hurwitz's portrayal of Batman as an inept and bumbling amateur detective. Where the depiction of a somewhat less than savvy investigator works in Scott Snyder's Zero Year time line, it does not fit so well here in Hurwitz's narratives which deal with an already established and accomplished Dark Knight Detective. However, Hurwitz has at least partially redeemed himself in my estimation with a really fine conclusion to the Penguin story he began last issue. This is another "silent" or wordless issue where Hurwitz foregoes the benefit of dialogue and caption boxes and allows the artwork to convey the story. Every detail from the major plot points to the subtle nuances of the narrative are meticulously presented through the amazingly poignant artwork of Alberto Ponticelli. This approach works even better in this second half of the narrative than it did in the previous issue, in fact this issue could be read as a stand-alone story and work just fine. Hurwitz almost makes up for the woefully easy way in which Batman ends up captive of the Penguin's henchmen by starting this issue with Batman's bombastic escape. This issue is jam packed with all the things we love to see in a Batman adventure; there's lots of literally explosive action, some darn fine detective work and an ample helping of heartfelt emotion underlying the whole thing.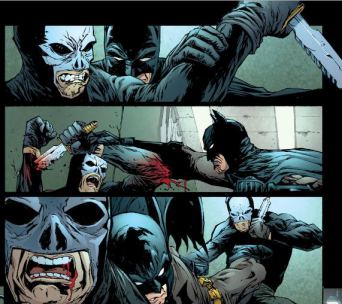 Alberto Ponticelli's artwork is the big star of this issue, even the heart-rending moments are expertly rendered by the artist. His kinetic and sketchy line work adds a dimension of urgency to this wordless narrative. Ponticelli is saddled with the burden of bringing all of the emotion of Hurwitz's words to the page and he does so with impressive proficiency, his style works particularly well with the big action sequences but overall Ponticelli does a superb job on this issue.
Hurwitz does a fine job of writing a solid Batman story, there are no big moments or instance of character development that must be read but this issue captures the essence of a Batman mission albeit in a rather concise manner. I would recommend reading issue #27 even if you skipped #26, you will still get the point of the story with all the action but without having to see Batman so shamefully handled.
Next up is the Batman and Robin Annual #2 which features a re-telling of sorts of Dick Grayson's first night on the job as Robin. Peter J. Tomasi has become something of a Damian Wayne apologist lately. The writer has crafted some of the most poignant posthumous narratives concerning Bruce Wayne's late son to come out of the untimely event. This annual deals more with Bruce and Dick's relationship but it is a tale told in the context of a comparison of the two very different team dynamics. This is, of course, a comparison made in light of the New 52 paradigm and the changes that has effected upon existing or accepted Bat-mythology but all rhetoric aside this story manages to retain a certain light-heartedness that Tomasi does so well. The writer captures the father/son dynamic that existed within the crime-fighting partnership of Bruce and Dick that never existed between Bruce and Damian to the same degree. Bruce's fatherly over protectiveness comes through in his staunch protestation of Dick's desire to go out on patrol a second time after disregarding prearranged parameters. Tomasi writes Grayson as the quintessential teenaged rebel in love with the idea of doing battle with the forces of evil while donning a costume and mask. Dick's is a story of revenge for a murdered family while being adopted into another. Tomasi shows us Gotham through the optimistic eyes of a newly redeemed young man enthralled by the concept of making the world a better place but not so much by his daily high school curriculum. The use of Damian's life as a framing device for this narrative is extremely effective and continues to show the depth of emotion elicited by his death. The changes that these characters have undergone during the mourning process will be felt for some time to come especially when the time comes for Bruce to choose another partner in his unending war on crime.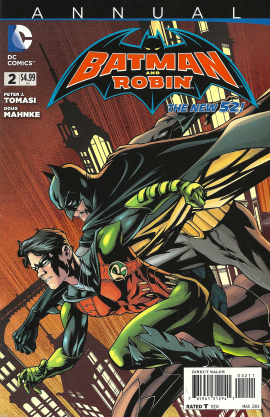 The collaborative result of Doug Mahnke and Patrick Gleason is a seamless melding of similar styles. These two artists possess complimentary chemistry thus enhancing the work in its entirety. The larger than life action sequences in this issue are a major highlight, the double page spread of Batman and Robin swinging through the Gotham night sky is one of quite a few stunning examples. The bold confident line work and imaginative panel placement of both of these artists bring a dimension of graphic art sensibility to the page composition and overall storytelling dynamic of this issue. Their shared sense of timing is a perfect fit for Tomasi's fast paced narrative. The only downside to the visuals on this book is one of costume design mostly due to the New 52 and its mandate for over embellished uniforms that lack any trace of personality. Particularly in Robin's case the costumes are an amalgamation of squares and trapezoidal shapes ensuring that no smooth surfaces are allowed to exist within the design. Questionable at best, these new and vastly unimproved versions of the DC Universe's costumes lack any aesthetic enhancement that would make them preferable to their predecessors. In most cases, especially here, it is a case of fixing what ain't broke. However, none of this is the fault of Gleason or Mahnke. These horrendous design decisions go much further up the ladder than the creative teams now in place on any New 52 title. Unfortunately these abysmal uniforms are what we are stuck with for the foreseeable future.
This annual is definitely recommended reading for any Bat-Fan out there that misses the good old days of Bruce and Dick hitting the streets and roof tops of Gotham. Tomasi writes a great Dynamic Duo tale with spot on dialogue and exciting action. He knows these characters so well and that enhances his stories in a way that a lot of writers are not able to do. Annuals used to be better avoided but in this case and in the case of recent annuals in general, they have really taken on a new and enjoyable direction.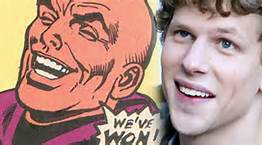 Finally this week a few quick from Hollywood about Batman vs. Superman, the big news is Eisenberg not Heisenberg to play Luthor. Jesse Eisenberg has been cast as Lex Luthor putting to rest all the speculation surrounding that role going to Breaking Bad star, Brian Cranston. The big speculation taking its place is, will The Rock be cast as Green Lantern John Stewart in the upcoming film's ever expanding cast now rumored to include Doomsday and Nightwing alongside the confirmed additions; Wonder Woman, Lois Lane and Metallo.
One last item of interest in that the wait is over for the 1960's era Batman television series' arrival on DVD. Earlier this month Warner Brothers Home Entertainment announced that they will be releasing the fan favorite series in 2014. Bat-Fan Conan O'Brien tweeted the news complete with a photo of him in the Batmobile.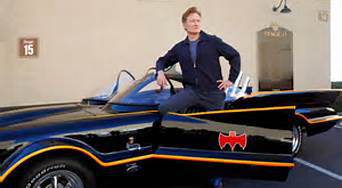 Well that's going to wrap up another Weekly Bat Signal; I hope you've enjoyed reading it as much as I have enjoyed putting it together. If so, please be sure to join us here next week, same Bat-time, same Bat-channel.
___________________________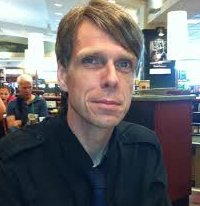 Shawn is an aspiring writer/ artist who has been reading, collecting and living comic books for over 30 years. He lives in Baltimore with his wife, their son, lots of cats, dogs and other various finned and furry friends.