(Valiant Entertainment, 2014)
Written by Greg Pak
Art by Robert Gill
Colour by Guy Major
Letters by Dave Sharpe
Eternal Warrior #5 is advertised as a jumping on point for new readers. The first arc of the re-launched titled ended in Eternal Warrior #4 and here a new arc begins in 4001 AD as Gilad and his granddaughter are attacked by a machine. As Brad Gischia wrote in his review of #1, the fight scenes are fantastically choreographed. They are fast-paced but easy to follow, as is the comic as a whole. Greg Pak skilfully sets scenes and contexts briefly, establishing them without lingering on them, and progressing the plot at a ripping but accessible pace. Over the years hundreds of comics have left me frustrated with too much happening at the expense of atmosphere, or with too little happening plot-wise so that an atmosphere can be established. In my mind Pak has set a perfect pace here. The juxtaposition between calm and chaos, between dialogue and action, is great and makes the comic very readable. He contextualizes and contours the setting very effectively in dialogue that is never ostentatiously expositional. I think he has a good understanding of his character too, showcasing briefly in one exchange between Gilad and his granddaughter a hardness precipitated by a lifetime of outliving everyone else. He deals with this sensitively and understatedly without dwelling. In this same scene, and elsewhere in the comic, a bond between grandfather and granddaughter is established and given contour unpretentiously in what is, again, a relatively small space. It is not often that I try new comics –particularly random review picks – and can honestly say that I'll be adding them to my pull list. In fact, this is a first. Eternal Warrior #5 is an enjoyable, fast-paced, interesting, and well-written comic from a skilful creative team. Recommended.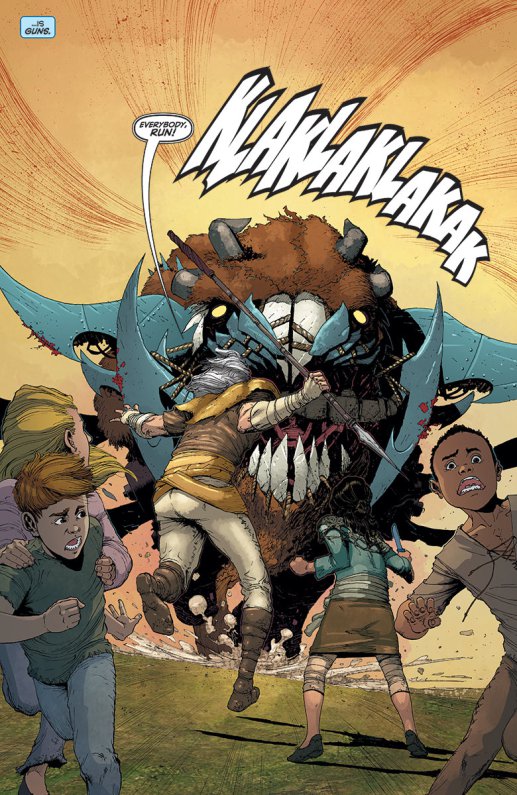 ___________________________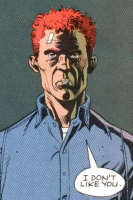 John is a writer, wrestling fan, and man of the people from Glasgow, Scotland. On a class outing to the library when he was ten, John stole a Sandman trade paperback because they wouldn't let him hire teenage books on his children's card. He's been reading comics ever since.