(DC Comics 2016)
By Shawn Warner
     Anyone who has ever talked comic books with me for more than ten minutes knows I love Grant Morrison only slightly less than my wife and son, that being the case you may think that I would be more than a little skeptical as I dove into the first issue of Gerard Way's take on the Doom Patrol; a book that Morrison has left his indelible mark of genius upon and, in my opinion, remains the quintessential work on the title.
That, however could not be further from the truth, in fact I was not the least bit skeptical  ever since Gerard Way was announced as not only the new writer of Doom Patrol but the visionary behind an altogether new and different direction for certain DC properties that might not fit quite so neatly into the Rebirth event. Not unlike Karen Berger and the Vertigo group of innovative and imaginative creators of the late 80's through 90's that spawned such amazing and eclectic books as Grant Morrison's The Invisibles, Sebastian O, Kill Your Boyfriend, We3, Sea Guy, Neil Gaiman's Sandman, Death and Garth Ennis' Preacher, just to name a very few of the multitude of brilliant, unconventional books that came out of the Vertigo imprint. Fast forward to 2016 and we find ourselves at a very similar precipice as we did in those heady late 80's days, on the cusp of the night of Joy Division and the dawning of the day of Nine Inch Nails, the changing of the guard from Regan to Clinton transitioning via Bush. Wonder Years indeed, but not so unlike the days we face in our current political climate; this is a time for change and once again DC Comics is there to lead the charge with Young Animal.
  Although Rebirth has done wonders for the erasing some of the damage done to their mainstay heroes like Flash, Wonder Woman and just about every other member of the JL , in solo series during the New 52, they have done little for the likes of Swamp Thing, Black Orchid and other of the DCU's darker brethren, that is until now. Sure John Constantine has his very own Rebirth title but now we get to explore that eccentric side of the DCU where things can get peculiar in a hurry. The Young Animal books are not set in a different universe from Superman and the rest of the more conventional DC heroes, they are just a fresh set of eyes for us to view that universe through, eyes that are being guided, at least for the foreseeable future by Gerard Way who just happens to be the writer of record for Young Animal's very first offering, Doom Patrol #1.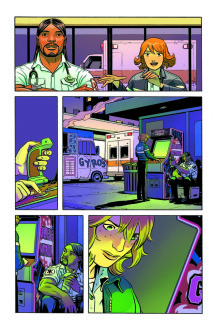 Gerard Way has a long standing association with Grant Morrison, so who better to get the nod to head up such an endeavor as restarting the quirky Doom Patrol series. Although Way's iteration of the team does take generously from Morrison's run he does manage to make his own very distinct voice heard. Much more than just a re-tooling of Morrison's direction for the characters, Way gives us his own interpretation of the team that is just as inventive as his predecessor's. That is high praise coming from this guy. Way takes us on a guided tour of the surreal stops in the DCU that is as new reader friendly as it gets, in fact any knowledge of former Doom Patrol iterations, including Morrison's, is only going be so helpful in the light of Way's inspired approach to keeping the narrative original. He uses a fractured method of storytelling in this opening chapter bouncing the narrative from scene to scene and character to character in such kinetic style that it could easily become confusing in the hands of a less talented writer, but Way very adeptly maneuvers the plot through the intentionally chaotic construction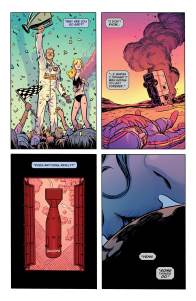 like a hyper-focused race car driver fueled on Heisenberg's finest blue meth. This book is fast, fun and fantastically fractured. The unorthodox method employed by Way would mean little if his character work was lacking, lucky for us it is not. Way has a track record of creating emotionally damaged or flawed characters and using these traits to endear and humanize them in ways that more conventionally designed characters are not. In Fact Way doesn't immediately use the more familiar face of Robotman as the focal point of the introductory story opting instead to build up the far less familiar Sam and Casey. The pair is much more conventional and accessible as EMT's but is also struggling to fit into "normal" society. Way touches on some of the very same foibles with Doom Patrol as the Duffer Brothers did with their phenomenal show Stranger Things, the protagonists are endearing but scarred by life in ways that we cannot always understand or even imagine. Gerard Way has the ability to tell a story using these flaws to great effect, to elicit emotions that at first may seem misplaced. I love the confusion a great writer can create when making us feel sympathy or even empathy for an otherwise reprehensible villain, not that any of the Doom Patrol fall into that category but Way is a master at using emotions to further color a narrative.
     Nick Derington's character designs work perfectly with Way's writing. Derington's images give the DCU a surrealism that really speaks to Way's script, although it doesn't appear to be in the Rebirth universe rest assured it is and these stories matter. His line work is clean and sharp but with a kind of cartoonish overtone that only increases his effectiveness here. Tamra Bonvillain's colors provide a tonal warmth that plays up the surrealism while maintaining an inviting sort of air that works wonderfully not only with Derington's images but with Way's narrative as well. Doom Patrol is one beautiful book to look at but more than that it is an amazing world to enter.
     DC is certainly at the top of their game with Rebirth, I can't remember a time that I was reading less Marvel titles and more DC than I am now. I have always loved both but my love seems to be flowing in a DC centric direction lately and if Doom Patrol is any indication of how good these Young Animal books are going to be, that does not seem likely to change anytime soon. Doom Patrol triumphantly trumpets the journey back into the more esoteric realms of the DCU and with it the opportunity for some of the lesser used heroes and villains to get some time in the spotlight. For those of us who like our super heroes just a little weirder than usual, Doom Patrol is a great book to find some of those characters and join them on this journey. If you didn't pick it up Wednesday, be sure to head out this weekend and grab a copy; the first issue has six different covers, all of which are exquisite, so you cannot lose no matter which one you get. 5/5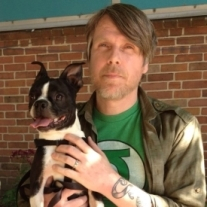 Shawn is an aspiring writer/ artist who has been reading, collecting and living comic books for over 30 years. He lives in Baltimore with his wife, their son, lots of cats, dogs and other various finned and furry friends.